SkyKick Platform Upgraded with Intelligent Cloud Backup Product, Revamped Security Manager, and Next-Gen Migration Suites
Upgrades include SecurityRadar and SmartInsights - designed for ITSPs to build, sell, and deliver security services for all of Microsoft 365 customers.
This is a Press Release edited by StorageNewsletter.com on July 31, 2023 at 2:01 pm
SkyKick LLC announced enhancements to its cloud management platform.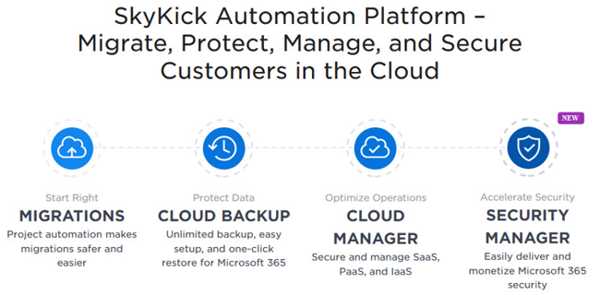 New products and updates deliver enhanced data protection capabilities and personalized security insights, enabling ITSPs to meet the growing demand for robust security solutions and conversations in the SMB market. This marks the biggest platform update in the company's 10-year history.
In an era dominated by data and AI, security is a top concern for 88% of SMB customers. Despite overall IT budgets staying flat or even declining, 42% of SMB business owners are open to investing more in security and data protection solutions. SMB appetite for MSP security services continues to grow against the backdrop of increased Microsoft 365 adoption (now with an estimated 382 million commercial users WW) and the proliferation of sensitive data that is being created in the cloud. ITSPs are struggling to meet demand.
"As pioneers in Microsoft 365 cloud data protection and security, we closely monitor usage and adoption trends among customers and partners," said Todd Schwartz, Co-CEO. "We're seeing that in order for ITSPs to turn customer appetite into a successful security and data protection business, they need better and more intelligent tools. Our new products make it easy for ITSPs to not only meet customer demand, but also build a successful security practice – one that is easy to sell and easy to manage."

The company is announcing a reimagined Cloud Backup product, offering Intelligent Data Protection for Microsoft 365. Among the new features is SmartInsights, a capability that enhances customer engagements through insights on data growth and protection trends. Today, customers are proactively seeking to understand their data protection status. With SmartInsights, ITSPs can tap into this customer appetite and transform data protection into a valuable differentiator.
Beyond SmartInsights, Cloud Backup introduces a user-centric architecture that streamlines ease of use for ITSPs. Examples include a new 'Groups Management' functionality, which scales onboarding and offboarding processes. Extending the Microsoft 365 coverage, protection for Microsoft Planner data is now also included. Collectively, the Cloud Backup reimagines data protection for the modern ITSP, reducing time to resolution and increasing customer satisfaction.

Additionally, the firm has revamped its Security Manager solution, which now has millions of SMB end-users under management since its debut in the fall of 2022.
"For partners to fully deliver on the customer promise, they need to go beyond data protection. We created Security Manager to help partners be more proactive on security and grow a stronger practice," said Evan Richman, co-CEO. "Today, SkyKick is announcing SecurityRadar, a key innovation within Security Manager, purpose-built to arm 100,000 Microsoft cloud partners with data-driven security insights they can use to drive proactive and personalized customer engagement."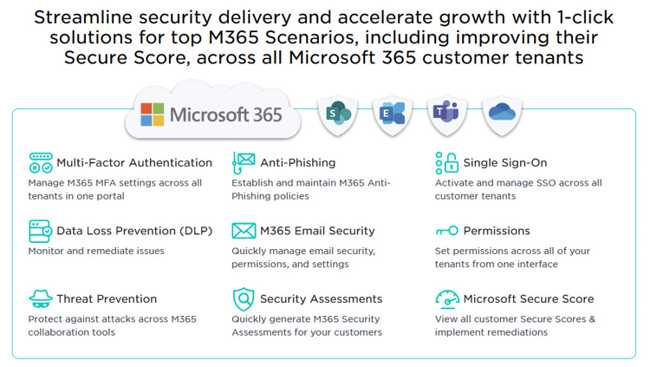 Beyond SecurityRadar, Security Manager is upgrading its proprietary Microsoft Partner Center Connector (PCI) with new sync technology that is 2x faster and more automated – further simplifying day-to-day customer management and Microsoft-mandated GDAP compliance.
Early market reaction to these updates has been positive.
Security Manager screenshot
Click to enlarge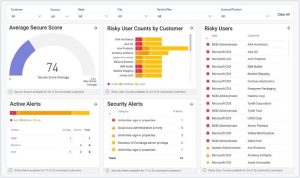 "Security is a top priority for Kinetix and New Charter Technologies. We are excited about the new innovations in Security Manager, and SecurityRadar is a game-changer for us," said Robert Herbaugh, security and strategy specialist, MSP's company. "By facilitating strong customer conversations on security, it is helping us drive increased customer value and revenue growth."
The firm is also announcing the next version of its Migration Suites. Between a streamlined setup, a performant sync technology, and a configurable new migration experience – it has reimagined the 'easiest way to Microsoft 365' with more ease, flexibility, and control for the modern ITSP.
ITSPs, as well as their customers, deserve the assurance of knowing that their technology itself is certified to be robust and enterprise-grade. Building on its numerous other certifications, the firm's platform and system is now certified for ISO 27001, ISO 27701 and Data Pro.
Richman noted: "Our fundamental vision remains to be the platform of choice for ITSPs building and growing a business around Microsoft 365. With the major enhancements that we are announcing now across Migrations, Backup, Security Manager, and Certifications, we are confident that SkyKick will help IT partners to stay ahead of challenges and deliver a truly differentiated value in the channel."
Read also :