WW 2023 Memory Market Declining to $42 Billion for DRAM (-47% Y/Y) and $37 Billion for NAND (-37% Y/Y)
But expected to comeback by end of 2023 and grow to over $200 billion by 2025.
This is a Press Release edited by StorageNewsletter.com on July 21, 2023 at 2:02 pm
This is a market report published on July 2023 by Yole Intelligence.
Over the past several quarters, the memory markets have faced the most dramatic downturn of the last 15 years. DRAM and NAND prices have fallen 57% and 55%, respectively, since 3Q21. The most severe drop started in the final weeks of 2Q22 when a perfect storm of demand-side developments (global conflicts, high inflation, China Covid lockdowns, etc.) crashed into the memory markets.
The results for the full year 2022 were as follows: DRAM and NAND revenues, which account together for 96% of the overall memory market, decreased to ~$79.7 billion (-15% Y/Y) and ~$58.7 billion (-12% Y/Y), respectively; NOR flash declined 8% Y/Y to $3.2 billion.
Production cuts have set up suppliers to reach a market balance by the end of 2023. However, the financial losses incurred so far have been massive, and a recovery time longer than usual will be needed before suppliers increase their investments again. As such, 2024 and 2025 will be marked by undersupply and climbing prices, and revenues are expected to soar: after declining to $42 billion for DRAM (-47% Y/Y) and $37 billion for NAND (-37% Y/Y) in 2023, combined memory revenues are expected to grow to a new record-high of over $200 billion by 2025.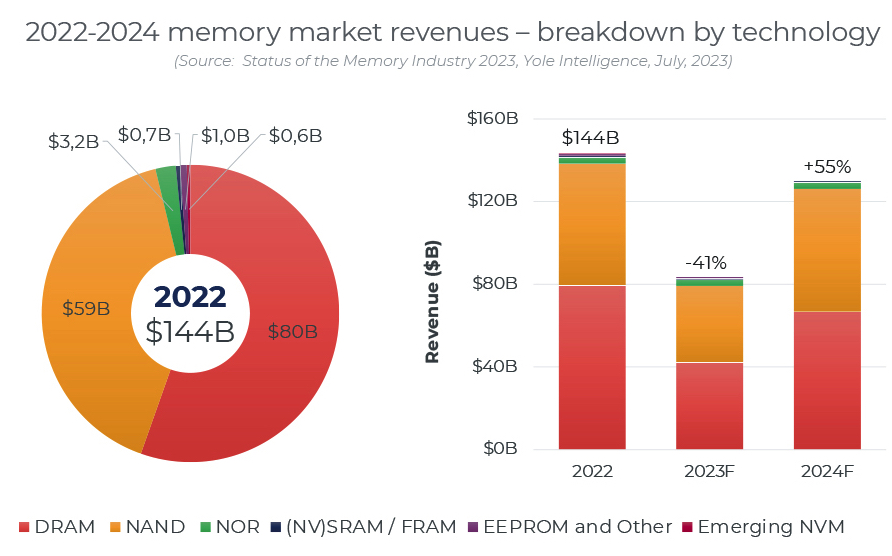 Amid escalating trade-war tensions, China's memory amition has not diminished
Due to the commercial restrictions set in October 2022 by the US Department of Commerce (DoC), the outlook for the ramp-up of Chinese memory production has become uncertain, and combined wafer capacities for YMTC and CXMT are likely to be limited to ~180kWpm in the next 5 years.
China has reacted promptly to the restrictions:
.Since 1Q23, YMTC has considerably intensified its efforts to work with Chinese equipment vendors, among which is Naura Technology, through a not-so-visible project code-named Wudangshan and received funding of the order of $7 billion from its state-backed investors.
.A Bloomberg article published on April 20, 2023, introduced the rumor that CXMT is seeking an IPO at a valuation of  $14.5 billion. For a 6-year-old company, this is an astonishing figure, but this should be put in the context of the global memory industry, where memory capital expenditures by international suppliers can easily surpass a single-digit billion-dollar amount over a 2-year period.
Although the future of China's memory industry remains uncertain, what is clear is that memory will continue to be a strategic priority for the Chinese semiconductor ecosystem. China will do everything possible to keep their workhorse memory companies – YMTC and CXMT – alive and running.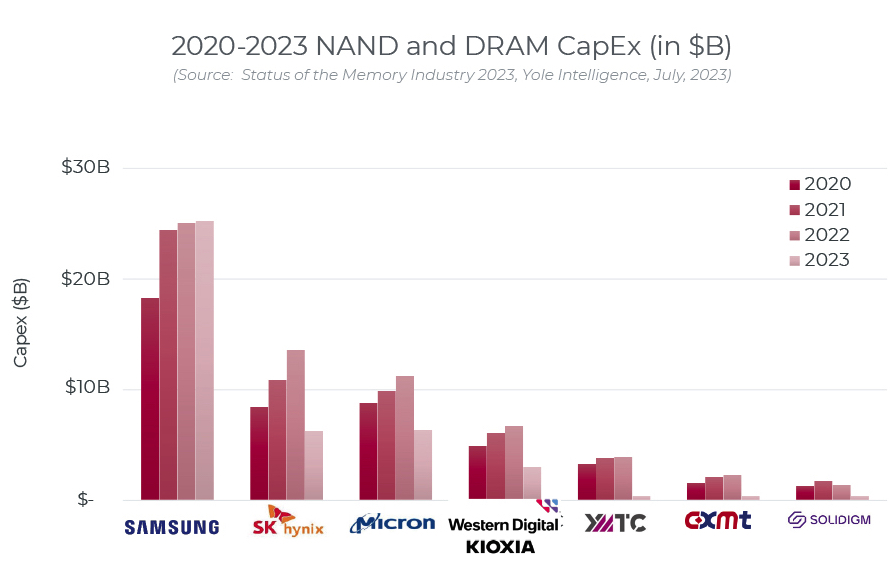 Hybrid bonding is key for next gen 3D NAND and HBM. By 2030, DRAM is poised to become 3D.
In 2022, the 3 major memory players (Samsung, SK hynix, and Micron) have all been shipping large volumes of 1α DRAM. Whereas SK hynix and Samsung have already adopted EUV lithography for DRAM manufacturing, Micron will finally start using it from the node.
In the 3D NAND business, all leading companies have introduced 3D NAND technologies that rely on specific strategies for optimizing the logic-circuit area and position, such as CMOS-Under-Array (CUA) and wafer-to-wafer bonding solutions – for example, Xtacking by YMTC. Nowadays, all memory manufacturers are carrying out R&D on hybrid bonding, and major NAND suppliers have included it in their roadmaps: Kioxia and Western Digital have announced it for their 218L 3D NAND generation, Micron entered into a license agreement with Adeia in 2022, and SK hynix announced that hybrid bonding will enter mass production in 2025. Hybrid bonding is not yet in use in current HBM generations, but it will be needed in the coming years to continue to improve memory bandwidth and power efficiency, as well as to minimize HBM stack thickness. The adoption of hybrid bonding by HBM manufacturers will start with the HBM3+ generation, featuring 16 DRAM dies per stack.
Monolithic 3D DRAM is being investigated by all major DRAM manufacturers as a potential solution for long-term DRAM scaling and has been included in the roadmaps of major equipment suppliers. 3D DRAM is set to happen, but it will not be within the next 5 years.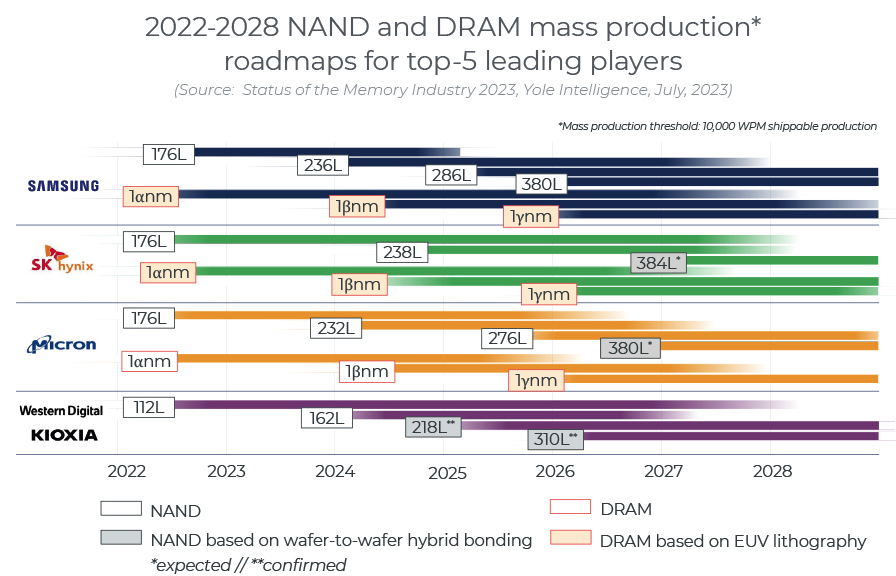 Companies cited in the report:
4DS, Adata, Adesto, Advantest, Alliance Memory, AP Memory, Apacer, Apple, Applied Materials, ASE Tech. Hold., ASML, Avalanche, Buffalo, Canon, Centon, CXMT, Cisco, CNE, Crocus, Crossbar, Cypress, Dell, Dosilicon, Etron, ESMT, Everspin, Facebook, Ferroelectric Memory Company, Fidelix, Freescale, Fudan Microelectronics, Fujitsu, Fusion IO, GigaDevice, GlobalFoundries, Google, GSI Technology, HHGrace, Hikstor, Hitachi, HLMC, Honeywell, HP, Huawei, IBM, IDT, IMEC, Infineon, Innostar, Intel, ISSI, JHICC, Kingston, Kioxia, KLA Tencor, Lam Research, Lapis, Lenovo, Longsys, Liteon, Lyontek, Macronix, Marvell, Maxio, Maxim, Materion, MediaTek, Microchip, Micron, Montage Technology, Nantero, Nanya, Naura, Nikon, NEC, NetApp, NetList, Numem, Numonyx, NXP, ON Semiconductors, Panasonic, Phison, Powerchip, Powertech, ProMOS Technologies, Qualcomm, Rambus, Reliance, Realtek, Renesas, Rohm, Samsung, SanDisk, Seagate, Semtech, Silicon Motion, SK Hynix, SK Materials, Smart Modular Technologies, SMIC, Sony, SPIL, SST, Spin Memory, STMicroelectronics, STEC, Swissbit, TDK, Texas Instruments, Tezzaron, TEL, Teledyne e2v, Toshiba, TowerJazz, TPSCo, Transcend, Truth Memory, Tsinghua Unigroup, TSMC, UMC, UniIC Semiconductors, Unimos Microelectronics, Unisantis Electronics, Viking, Violin Memory, Weebit, Western Digital, Winbond, XFab, XMC, XTX Technology, YMTC, and more.