TerraMaster U8-450 8-Bay Short Depth Rackmount NAS with 10GbE Ports for 4K Video Editing
$1,300 with Atom C3558R quad-core 2.4GHz CPU, 8GB RAM DDR4 (expandable up to 32GB), 2 built-in M.2 2280 NVMe SSD slots support SSD cache acceleration, dual SFP+ 10GbE ports, and dual 2.5GbE RJ45 ports
This is a Press Release edited by StorageNewsletter.com on June 6, 2023 at 2:01 pm
TerraMaster Technology Co. Ltd. released the U8-450 8-bay short depth rackmount NAS with dual SFP+ 10GbE ports and dual RJ45 2.5GbE ports providing up to 20Gb/s transmission bandwidth through Link Aggregation. U8-450 supports up to 176TB storage space, and adopts 2U rackmount case with a depth of 384mm (15.1 inches) weighs 6.9kgs.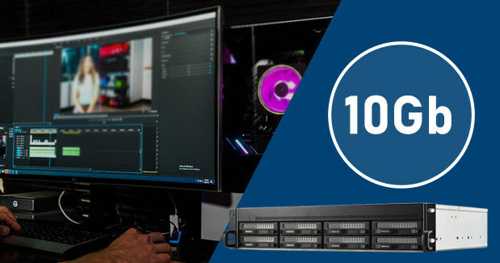 It has been developed for users who require high-speed storage, which can meet the stringent demands of 4K video editing, virtualization, databases, and other applications with high storage performance requirements. The space-efficient short depth design makes it to install in small media cabinets.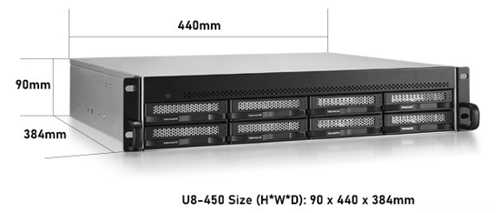 Hardware
Features an Atom C3558R quad-core 2.4GHz CPU, 8GB RAM DDR4 (expandable up to 32GB), dual SFP+ 10GbE ports, dual 2.5GbE RJ45 ports – providing up to 20Gb/s transmission bandwidth through link aggregation. The 2 built-in M.2 2280 NVMe SSD slots support SSD cache acceleration, improving storage.
U8-450 NAS rear

10Gb/s network sharing
The U8-450 NAS server supports 10Gb/s network connectivity, allowing multiple Windows/Mac workstations to connect simultaneously. This enables seamless collaborative editing of multi-track 4K media, special effects production, video synthesis, and import/export of clips using various video editing software such as Edius, Adobe Premiere Pro, DaVinci Resolve and Final Cut Pro. With faster data transfer rates, these servers enhance work efficiency and reduce production time for projects.
Miniaturized rack-mounted server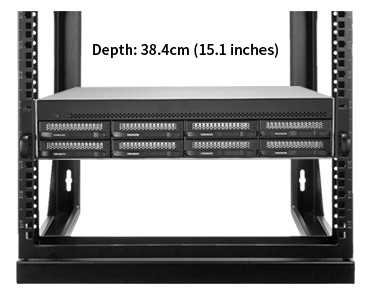 The U8-450 adopts 2U rackmount case with a depth of 384mm (15.1 inches) weighs 6.9kg, which saves space. It features installation without any rail, it is applicable to most 2-column cabinets and wall-mounted small cabinets, and can be used in a machine room, storage room, staircase, office along with a plethora of other places.
Multiple backup solutions
The U8-450 NAS features multiple backup applications including Centralized Backup, Duple Backup, Snapshot, CloudSync,to enhance the safety of data. These backup solutions ensure that data is safe and secure at all times.
Reliable data protection and restoration
The U8-450 NAS offers reliable data protection with support for TRAID, preventing data loss due to hard disk damage. The NAS supports regular snapshots, allowing for quick restoration to a specific point in time when necessary. The TerraMaster one-click Security Isolation Mode provides emergency protection against virus and ransomware attacks. Users can rest easy knowing your data is secure and recoverable in the event of an emergency.
The U8-450 NAS is available WW. Its price on Amazon website is $1,299.99

Read also :