History 2002: Exabyte Roadmap Privileges VXA Technology
Doesn't intend to take on high-end LTO and SDLT drives.
By Jean Jacques Maleval | June 6, 2023 at 2:00 pm
As Exabyte's CEO Juan Rodriguez already indicated at the time the merger with Ecrix was announced, the guiding principle of the new corporate entity will be to build a new line of tape drives combining 8mm helical scan VXA and Mammoth technologies.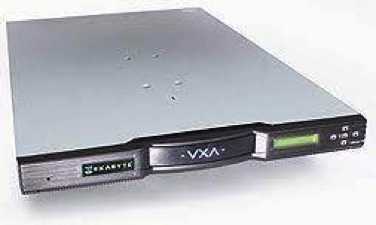 Closer analysis of the company's road map reveals clearly that the ultimate goal is, in fact, to refocus all products on VXA technology.
Consequently, 2 product lines are planned. The first is presented as a continuation of the Mammoth line, with 250GB native capacity and 24MB/s transfer rate (compared to 60/12 for the current Mammoth-2). It will be available in 2 versions, one priced under $3,000 with VXA tape read compatibility, and another, more expensive, with additional M2 cartridge read compatibility.
Gone, then, is any semblance of compatibility with M1 cartridges, while M2 compatibility is not only costlier, but read only.
Officially, Exabyte doesn't intend to take on high-end LTO and SDLT drives directly, both priced at least $1,000 more, but instead is seeking to place a mid-range product.
Everything will depend on the release date for the future Mammoth, which nevertheless should hold its own vs. Quantum's SDLT 320 (160/12) or the forthcoming LTO-2 (200/20-40).
"It's planned for introduction toward the end of 2003 or early 2004," replied a spokesperson for the company, in response to our email query.
With VXA-2, the successor to VXA-1, which still seeks to supplant DDS DAT drives, Exabyte shifts from 33/3 to 80/6 as expected. This time, however, a release date is imminent, mid-2002, with a street price in the $1,000 range. VXA-3 (160/8) and VXA-4 (320/16) will follow.
As for tape automation products, the firm is focusing on 8mm (VXA and Mammoth) and LTO cartridges.
"We still offer a limited number of our 6900 and 2300 automation for the DLT7000 drive and the EZ17A, 215A and 430A automation for the AIT-1 drives," according to the same spokesperson. "However, no further automation is planned for development to support either the DLT/SDLT or the AIT format."
VXA-1 drives continue to make gradual strides with OEMs, with the recent decision by Toshiba to adopt the units for its Magnie servers. Among OEMs and resellers that are computer manufacturers, we also find Apple, Bull, Compaq, Fujitsu, Fujitsu-Siemens and IBM.
Recommended retail prices for the VXA-1 line were recently reduced to €1,070 for the internal drive, €40 to €90 for the cartridges.
This article is an abstract of news published on issue 172 on May 2002 from the former paper version of Computer Data Storage Newsletter.
Read also :