Computex: Phison Showcasing PCIe 5.0/PCIe 4.0 Storage Solutions and High-Speed Transmission
Including PCIe 5.0 SSD PS5026-E26, PS5031-E31T and PS5027-E27T SSD controllers, PCIe 4.0 SSD X1, P1, PCIe 5.0 PS5026-E26DC and PCIe 4.0 PS5018-E18DC storage solutions
This is a Press Release edited by StorageNewsletter.com on June 5, 2023 at 2:01 pm
Phison Electronics Corp. will showcase its high-speed transmission and storage solutions at the annual Taipei International Computer Show in Taiwan.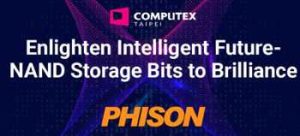 It will illuminate the future of intelligent storage. The show kicked off on May 30 through June 2.
Click to enlarge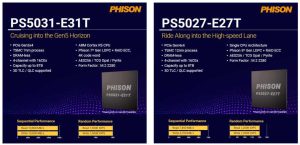 Building upon its globally PCIe 5.0 SSD PS5026-E26 storage solution, the company will unveil its latest offering at Computex. The addition is the PCIe 5.0 DRAM-less SSD controller PS5031-E31T, featuring a 7nm process that ensures low power consumption. With a maximum RW performance of 10.5GB/s, it represents a PCIe 5.0 SSD storage solution that excels in performance and power efficiency. In addition, the firm will introduce the next-gen PCIe 4.0 DRAM-less SSD controller PS5027-E27T, engineered with a 12nm process and offering a maximum RW speeds of 7,400/6,400 MB/s. It is anticipated that the PCIe 5.0 PS5031-E31T and PCIe 4.0 PS5027-E27T SSD storage solutions will meet the diverse needs of PC OEM partners and customers.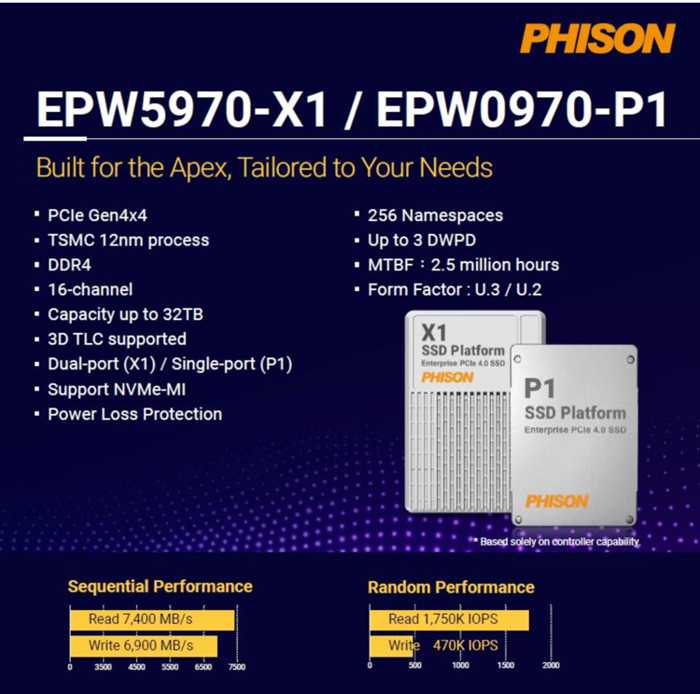 The firm will also demonstrate the company's suite of enterprise SSD solutions, designed to accommodate the intensive data associated with the rise of AI servers and cloud services. These include the PCIe 4.0 SSD X1 and P1 storage solutions, which support 'Dual-port and Single-port', respectively, and offer a maximum capacity of 32TB.
Click to enlarge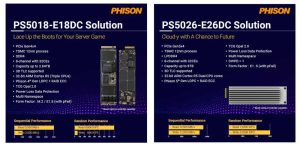 Additionally, the firm will present the PCIe 5.0 PS5026-E26DC and PCIe 4.0 PS5018-E18DC storage solutions in the E1.S form factor. These offerings are designed to assist enterprises, data centers, cloud services, and AI servers in overcoming various challenges in enterprise storage applications.
Click to enlarge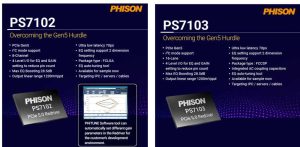 "Technology is advancing at a tenfold pace and countries worldwide are increasing their investments in the semiconductor field after experiencing chip shortages," said K.S. Pua, CEO. "Technological innovation has become one of the most important topics globally. Storage and high-speed data transmission play a crucial role in all technological innovations. Leveraging the success of being the first in the world to receive PCI-SIG certification for the PCIe 5.0 PS7101 Redriver IC, Phison has introduced the next gen of PCIe 5.0 Redriver ICs: the PS7102 (8-channel) and PS7103 (16-lane). These new solutions are specifically designed to assist global customers in overcoming signal attenuation issues in high-speed applications."
Click to enlarge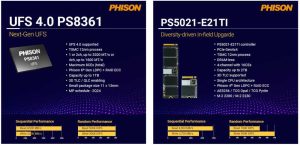 Pua further adds, "The rise of generative AI such as ChatGPT will positively impact the demand for AI servers and storage by becoming ubiquitous in various NAND storage applications, including mobile voice recognition, computer-assisted software, industrial automation, and autonomous driving systems. All of these applications are closely related to NAND storage products. In response to these emerging demands, Phison has introduced NAND storage solutions that cater to various applications, including the PS8361 controller, Phison's first UFS 4.0-compliant controller suitable for high-end mobile devices; the next-generation industrial-grade PCIe 4.0 SSD storage solution PS5021-E21TI that can withstand harsh environments; the high-end PCIe 4.0 PS5021-E21TI MPT5 BGA SSD; and UFS 3.1 PS8317 MUM7 storage solutions that comply with AEC-Q100 automotive standards. These offerings provide comprehensive support for customers in creating value-added NAND storage solutions, and contribute to Phison's future growth."
Click to enlarge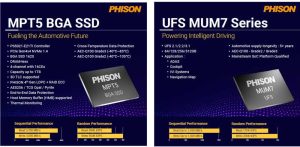 More than 1,000 global brands are expected to exhibit, focusing on 6 major themes: high performance, computing, AI applications, next-gen connectivity, hyperreality, innovations and startups, and sustainability.
Resources:
Phison empowering the PCIe 5.0 ecosystem            
Video : Phison's E26 PCIe Gen5 controller                 
Video : Phison's Gen5 SSD Controller PS5026-E26 Performance Demo – The Bottleneck is No Longer the Storage                     
Video : Phison's X1 Enterprise PCIe Gen4x4 SSD Solutions                 
Video : Phison's X1 SSD Controller PS5020-E20 Performance Demo                
Video : Phison Automotive Storage is Coming                 
Video : Phison Industrial SD / microSD Solutions Introduction               
Video : Phison Industrial Solutions Intro E18DI&E21TI
Read also :