Computex: Adata/XPG Exhibits Computer and Storage Solutions
Including Gen5 SSD, portable HDD, flash drives, CXL memory module, CAMM (Compression Attached Memory Module), XPG titanium power supply, and professional industrial storage solutions
This is a Press Release edited by StorageNewsletter.com on June 5, 2023 at 2:01 pm
Adata Technology Co., Ltd. in association with its subsidiary gaming performance brand, XPG, will took part in the Computex Taipei, Taiwan, computer trade show from May 30 to June 2, 2023.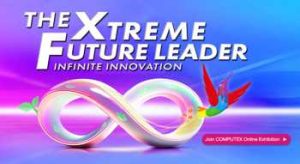 The firm continues to implement the company's brand philosophy of 'Innovating the Future' through its businesses. In addition to providing new technological products and solutions, it is also committed to promoting the sustainable development of corporations in order to lead the future.
To realize this year's theme of 'The Xtreme Future Leader – Infinite Innovation,' the company has leveraged emerging technologies to launch products that are sustainable and innovative including the Gen5 SSD, CXL (Compute Express Link) memory module, CAMM (Compression Attached Memory Module), XPG titanium power supply (XPG Fusion 1600W), and professional industrial solutions.

Simon Chen, chairman, stated: "The pandemic had changed people's lifestyles but our determination to continue using technologyto inject change into smart living has never changed. Adata implements ESG and looks forward to expanding on the idea of sustainability through its products. On May 30, whether you are online or offline, you are welcome to experience stunning innovation brought to you by a full series of new ADATA products."
The firm unleashes patented unequalled SSD cooling while leading in DDR5 applications
NeonStorm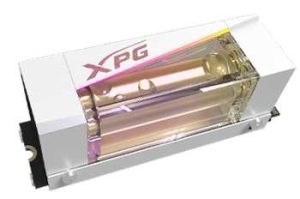 Gen5 SSD built with patented heat dissipating technology
The company is focusing its attention on heat dissipation solutions that meet next-gen specs and has launched Project NeonStorm and Legend 970, two Gen5 SSDs that feature patented heat dissipation design. Project NeonStorm is a combination of aluminum alloy, water cooling, and dual fans, that generate cooling. Legend 970 improves heat dissipation efficiency through the adoption of extruded aluminum fins and large-size fans. Both Project NeonStorm and Legend 970 SSD utilize the PCIe Gen5 x4 transmission interface with sequential RW speeds of 14,000/12,000MB/s and 10,000/10,000MB/s, respectively, and support the latest Intel and AMD platforms.
Legend 970 SSD

The SE920 external SSD won the 2022 Red Dot Design Award for its patented heat dissipation technology featuring an extendable case and micro-fan. It is equipped with a next-gen USB4 transmission interface that can provide read speeds of up to 3,800MB/s.
CXL memory module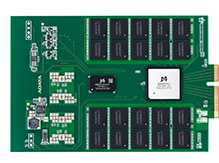 With the development of AI and ML, more efficient storage has become an important trend in industrial applications. The firm launched the CXL (Compute Express Link) memory module which assists servers in expanding memory capacity up to 16TB, improves the hardware limitations of AI and HPC, and optimizes costs. CAMM (Compression Attached Memory Module) is a next-gen memory standard. This system memory module device is 57% thinner than traditional SO-DIMM which reduces power consumption and improves heat dissipation. It is suitable for notebooks and small industrial computers.
DDR5 8400 MR-DIMM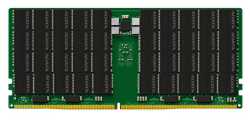 DDR5 8400 MR-DIMM is a dual in-line memory module with the latest-gen data buffer, doubling data transmission capacity and accelerating overall memory module operating efficiency.
Protecting Earth starts from memory
HC300 ECO thin external HDD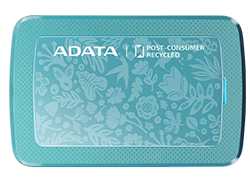 In order to promote environmental protection and sustainable operation, the company launched the HC300 ECO thin external HDD and UC310 ECO swivel flash drive, both of which use majority PCR (Post-Consumer Recycled) materials. The HC300 ECO manufacturing process effectively reduces carbon dioxide emissions associated with production by 48%.
UC310 ECO swivel flash drive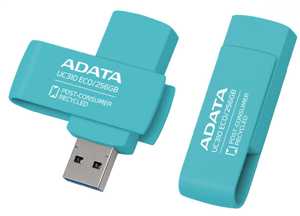 Products in the ECO series are all locally sourced and manufactured in an effort to further reduce their carbon footprints. The ECO series adopts packaging that has obtained FSC (Forest Stewardship Council) certification and is made from environmentally friendly materials, inside and out. ECO is firm's green storage concept product line that puts ESG into practice.
Legend 960 MAX SSD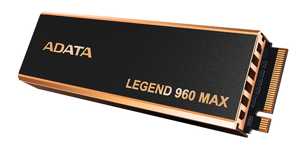 This year, the company continues espousing the spirit of 'Build to Create' to devise solutions for content creators. The ACE memory series won the 2022 Japan Good Design Award, based on a design concept of simple concentric circles, featuring a high-quality aluminum gray heat sink and fantastic nano-printing with unique coating technology. The Legend 960 MAX also won the 2022 Japan Good Design Award. It utilizes a PCIe Gen4 transmission interface with RW speeds of up to 7,400/6,800MB/s, is available in a high capacity 4TB format, and can expand PS5 system storage. In addition, each product line boasts new products that are considered top-of-the-line in the industry. In addition to a SD 7.0 Express memory card that won the 2023 Best Choice Award, a SD 7.1 microSD Express and SD 8.0 Express memory card with RW speeds up to 1,600/1,300MB/s were also launched. The UE800 Type-C flash drive offers a RW speeds of 1,000MB/s, making it the fastest flash memory drive.
Experience ultimate XPG performance, Zeus leads future of smart workstations

XPG will display a ange of new Xtreme performance products, demonstrating the firm's commitment to and investment in gamers. XPG's new product is the XPG Fusion 1600W titanium power supply, jointly developed by XPG and Delta Electronics. This PSU has a patented planar transformer and GaN solution, includes two 12VHPWR (12+4) connectors, supports full-digital control via Prime software, and provides customizable data monitoring. Additionally, the company will exhibit a range of Intel ATX 3.0-compliant power products: Cybercore II, CORE Reactor II, and Kyber.
It has also announced Project Zeus. To meet the needs of next-gen smart AI workstations, the firm has partnered exclusively with Cybenetics to create one of most powerful consumer-level systems. Project Zeus is an open workstation with top-of-the-line ATX specs. Powered by XPG Fusion, an ATX3.0 digital power supply, it will be able to run up to 4 RTX4090 graphics cards simultaneously, to meet advanced AI development and performance needs. Real-time performance was analyzed through a Powenetics ATX board, in cooperation with Cybenetics. To experience the true meaning of Xtreme Performance Gear, start with Project Zeus!
Battlecruiser II mid-tower gaming chassis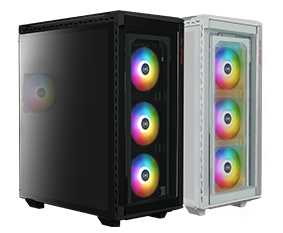 XPG will showcase its Battlecruiser II super mid-tower gaming chassis, featuring 4 glass panels which allows visitors to clearly see its performance interior and beautiful design. Following the Valor AIR, the firm has also launched the valor MESH gaming chassis. It doesn't stop with components though. New systems were on display as well. XPG recently launched both Intel and AMD series laptops. For Intel users, the XPG Xenia 15G comes equipped with a 13th gen Intel Core i7-13700H processor and Nvidia GeForce RTX 4070 laptop GPU. Meanwhile, the XPG Xenia 16P comes equipped with an AMD Ryzen 9 7940HS processor and AMD Radeon RX 7600M XT graphics card.

XPG set up a special themed area for its brand ambassador, Mera. In this section, you can experience a range of living coral colored designs and a complete set of Mera themed gaming peripherals. Mera is also featured on a number of cross-industry products where she demonstrates her style and charm. During the exhibition, come experience XPG's latest products and try XPG's newest e-sports chewing gum in blue grape flavor; and Mera's latest crossover product, CITY NO.1 chocolate sticks.
Industrial-grade embedded storage expert and lauded in hardware and software integration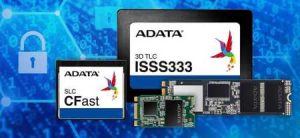 Adata Industrial is immersed in the industrial application market and possesses a professional and independent firmware R&D team which is committed to developing firmware that supports the latest specs while being highly customizable.
At Computex, the company dept. Industrial was exhibiting a variety of embedded storage products with technology and firmware that upgrade durability, security, reliability, and robustness, and meet the requirements of various vertical applications. The company's A⁺ SLC technology has pushed the P/E Cycles of 3D flash memory products to 100,000 and the company introduced a variety of industrial-grade SSDs and CFast memory cards to provide economical solutions with longer lifespans for various industrial applications. In terms of data security, the firm's industrial products support AES 256-bit data encryption technology, conform to TCG OPAL specifications, and resist network attacks while increasing security. In terms of reliability, a LDPC ECC error correction mechanism is provided which can automatically detect and correct errors to ensure the fidelity of data transmission. In addition, the company's industrial products also feature wide temperature resistance (-40°C to 85°C) and anti-sulfuration protection for harsh environments to increase ruggedness.
Online exhibition website 'Towards Infinity:' comment for lucky draw event
The company  was simultaneously launching its Computex Digital online exhibition starting from May 30, providing global consumers with the opportunity to experience firm's products regardless of time zone and region restrictions. In addition, Adata has launched a 'Towards Infinity' comment for lucky draw event. If you left your thoughts regarding a product on the event website, you get an opportunity to win the eco-friendly HC300 ECO external HDD, eXtremely performance Caster RGB DDR5 gaming memory, or high-speed SE900G external SSD.