Panasonic Toughbook 40 Rugged Notebook with Viasat Eclypt Core Encrypted Internal SSD
SSD certified for use in UK for securing top secret information and all security levels below, as well as certified for use by NATO and other European countries
This is a Press Release edited by StorageNewsletter.com on June 2, 2023 at 2:02 pm
Panasonic Connect Europe GmbH announced rugged notebook for the defence industry can be equipped with the Eclypt Core encrypted internal SSD from global communications company, Viasat Inc. making the Toughbook 40 unrivalled in its capabilities for the military, border control and emergency services.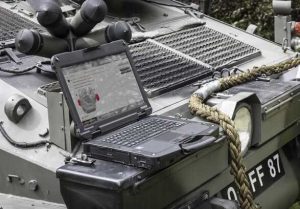 Available in May 2023, the Toughbook 40 notebook with solid state self-encrypting hard drive is certified for use in the UK for securing 'Top Secret' information and all security levels below, as well as certified for use by NATO and other European countries.
"This is the next step in extending our partnership with Viasat to offer the highest-level security drives across the Toughbook range," said Jon Tucker, GM, engineering, product and mobility solutions, mobile solutions business division, Panasonic. "With the current geopolitical tensions across Europe and beyond, the demand for this type of highly secure, rugged and modular flexible device is growing every day."
The 14-inch rugged notebook, is designed for defence, including operational use on foot and in vehicle, as well as for vehicle diagnostics, maintenance and for training. For oolice and border control, the device is for operational service, such as routing, numberplate or suspect identification. Taking rugged computing to another level, the modular design allows mobile workers to modify the device quickly and easily for different challenges by equipping 7 expansion areas.
Viasat Eclypt Core encrypted internal SSD

The all black model is built for use in the extreme conditions, with military-grade security and communications capabilities to support mission critical operations. The Windows 11 Secured-core PC is equipped with an Intel Core i5-1145G7 vPro processor (Core i7 vPro processor optional), 16GB RAM (up to 64GB optional), and a release 512GB NVMe OPAL SSD as standard (up to 2TB optional). It is now also certified for use with release NATO approved Viasat self-encrypting secure drives, as well as MIL connectors and docking stations. To immediately switch off light and electronic transmissions when on operations, it also has a one touch Concealed Mode function.
"We are excited to expand our partnership with Panasonic and integrate Viasat encryption into the Toughbook 40 to offer defence users next-generation rugged and highly secure devices," said Hisham Awad, managing director, Viasat UK. "Designed and manufactured in the UK, Viasat's Eclypt secure data-at-rest technology combines sophisticated authentication, entire-disk encryption and data storage into a tamper-evident internal or portable hardware. In the event of device theft, loss, or attack, the SSD helps ensure the data is protected and secure once powered off. We look forward to continue bringing forward advanced data-at-rest solutions to help defence users protect their most sensitive data."
Resources:
Toughbook 40 notebook
Eclypt Core encrypted internal SSD

Read also :