Protectimus Smart OTP 2FA App with Advanced Encrypted Cloud Backup, Outshining Google Authenticator
For iOS and Android, users can encrypted cloud backup, token transfer, customizable tokens, PIN and biometric authentication, and more.
This is a Press Release edited by StorageNewsletter.com on June 1, 2023 at 1:01 pm
Protectimus Ltd. announces the latest version of their free authenticator app Smart OTP.

The latest release delivers an end-to-end encrypted cloud backup feature, surpassing the capabilities of Google Authenticator. In addition, Smart OTP users can enjoy token transfer, customizable tokens, PIN and biometric authentication, and an array of other features.
Smart and Google Authenticator are both 2FA apps that offer cloud backup as-a-feature. However, there are several differences between them. Smart authenticator provides a more secure cloud backup solution as it uses end-to-end encryption to ensure that the backup data is transmitted and stored securely. The Google Authenticator app also offers cloud backup but without end-to-end encryption.
Also, in the Smart authenticator app, the user has the option to download their backup data into an encrypted file, which can then be stored in any secure place of their choosing. While the data is not stored directly in the cloud, this provides an extra layer of security and control for the user. They can choose to keep the encrypted backup file in a safe physical location or upload it to their own cloud storage account for added convenience.
Key features of updated Smart OTP Authenticator App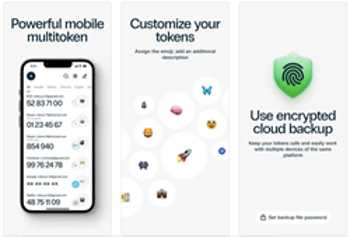 Enhanced security and control:
Encrypted cloud backup, secured with end-to-end encryption and a user-defined password, safeguards users' 2FA tokens, ensuring recovery in the event of device loss or upgrade.

A user can also securely download their backup data as an encrypted file for flexible storage in preferred secure locations, providing users with added security and control.

Outshining Google Authenticator, the Smart's encrypted backup feature offers superior security and control over authentication data.
Transition:
The users can effortlessly transfer tokens to a new phone and import tokens from Google Authenticator, ensuring a smooth transition to Smart OTP and migration to a new phone.
Convenience and customization:
Customizable tokens with emojis and descriptions allowing users to personalize their authentication experience.

Convenient token sorting by folders for organization.

Delivery of two-factor push notifications for instant access to accounts.
Security features:
PIN and biometric authentication protection, supporting Touch ID and Face ID.

Smart OTP app supports the CWYS (Confirm What You See) data signing feature, empowering users to exercise control over their financial operations by confirming the details before proceeding.
Additional benefits:
Support for all OATH one-time password generation algorithms (HOTP, TOTP, and OCRA), ensuring compatibility with various websites and applications.

Support for 6- and 8-digit one-time passwords.

Multiple language options (English, French, German, Italian, Spanish, Russian, and Ukrainian).
"We're thrilled to introduce the latest version of our Protectimus Smart OTP authenticator app," said Maksym Oliinyk, director, Protectimus. "With these new features and encrypted cloud backup, we believe our two-factor authentication app offers the perfect blend of security and convenience for users looking to safeguard their online accounts from hackers."
The updated Smart OTP authenticator app is available for download on the App Store and Google Play.
Resource:
2FA app Protectimus Smart OTP guide
About Protectimus Ltd.
Established in 2014, it is a provider of reliable multifactor authentication products. It is committed to delivering authentication solutions to businesses of all sizes, from start-ups to large corporations. As a member of the coordinating council of OATH (Initiative for Open Authentication), it offers certified 2-factor authentication solutions for various applications, including Windows and Microsoft RDP, OWA, ADFS, Citrix, VMware, VPNs, RoundCube, SSH, RADIUS, Office 365. With a focus on security, reliability, and versatility, The company continues to lead the multifactor authentication industry.