Kasten by Veeam K10 V.6 for Enterprise Ransomware Protection for Kubernetes
Integration with Veeam Data Platform and cloud native tools, combined with new features including intelligent policies, aim to scale Kubernetes data protection and expand ransomware detection for enterprises.
This is a Press Release edited by StorageNewsletter.com on June 1, 2023 at 1:01 pm
Kasten by Veeam announced its Kasten K10 V6.0 Kubernetes data protection platform.
Click to enlarge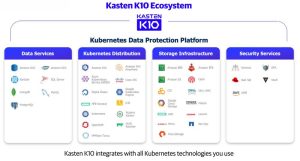 This release includes features that will help customers scale their cloud native data protection more efficiently, better protect their applications and data against ransomware attacks, and increase accessibility by adding new cloud native integrations.
Kubernetes was designed to enable productivity – helping enterprises scale automation to manage large deployments found within containerized environments. It has garnered industry-standard status as cloud native architecture fuels widespread application modernization. Now, IT budgets are tightening, and the pressure to do more with less is growing. At the same time, security issues remain top of mind across all business segments, with 85% of all organizations suffering at least one cyber-attack in the past 12 months.

Kasten K10 V6.0 bridges the need for increased operational in cloud native environments. The solution introduces newly enhanced capabilities to perform backup and DR with intelligent policies, extend threat detection capabilities, and uphold freedom of choice in terms of selecting best-of-breed components of the underlying infrastructure.
"Enterprises deploying cloud native applications today face two principal challenges. They need to protect their critical assets against cyberattacks while scaling applications and underlying infrastructure in the most efficient manner," said Gaurav Rishi, VP, product and partnerships. "Kasten K10 V6.0 addresses these issues head on, introducing intelligence and automation at all layers of the backup and recovery process with deep ecosystem integrations including Red Hat OpenShift for enterprise grade data protection. We also remove friction from the process by aligning with the tools and processes customers already use."
Capabilities of Kasten K10 V6.0 include:
Enterprise-grade ransomware protection: It enables organizations to create proactive ransomware protection strategies by improving suspicious activity detection capabilities, providing immutable backups, and elevating their capability for instant recovery. The new release extends threat detection capabilities by logging all events into Kubernetes Audit natively. The Kubernetes Audit logs can then be analyzed holistically by intelligent threat detection solutions to look for and flag patterns of abnormal, suspicious activity. The ability to interface with AWS Secrets Manager to store/retrieve passcodes allows for more flexibility in implementing a hardened, secure DR workflow for K10 itself. Also, Kasten K10's Kubernetes native policies can be integrated into Infrastructure as Code to provide 'guardrails,' allowing for risk mitigation, operational consistency, and automation.
Scalability and improvements: An application fingerprinting feature enables newly deployed stateful applications to be automatically mapped to appropriate blueprints to achieve proper data consistency. This helps to reduce risk, minimize complexity, nurture operational consistency, and enforce improved compliance, paving the way for scale. The V6.0 also offers an improved metadata transformation experience (as typically required when restoring or migrating applications across environments), a streamlined VM restore workflow for Red Hat OpenShift virtualization and multi-cluster license management, allowing for an improved and more efficient user experience.
Cloud native expansion: K10 continues to add the most up-to-date cloud native integrations that facilitate workloads and storage types, hybrid deployments and increased security capabilities. The V6.0 supports Kubernetes 1.26, Red Hat OpenShift 4.12 and a built-in blueprint for Amazon RDS, allowing for broader reach and interoperability. The platform also added additional hybrid cloud support on GCP, cross-platform restore targets for VMware Tanzu environments, and Cisco Hybrid Cloud CVD with Red Hat OpenShift and Kasten K10. Adding new storage options for NetApp ONTAP S3 and Dell-EMC ECS S3 allows for more freedom of choice and interoperability with storage targets.
"The increasingly intricate and sophisticated nature of Kubernetes clusters makes deploying new services and ensuring adequate data protection for them a daunting task," said Danny Allan, CTO and SVP, product strategy, Veeam. "With Kasten K10 V6.0 integrated into the Veeam Data Platform, customers can reduce complexity in their Kubernetes deployments, allowing their cloud native environments to reach their full potential. At the same time, the new release helps them double down on data protection and security resilience at a time when they can't afford to compromise on either factor."

Kasten by Veeam continues to be the leader in the Kubernetes backup and recovery market, as recognized by industry accolades. One recent example is the 2023 edition of GigaOm Radar for Kubernetes Data Protection, in which Kasten by Veeam is featured as both a 'Leader and Outperformer', a vendor achieving such a distinction for 3 years in a row since the inception of the report. This explains the considerable and accelerating momentum Kasten by Veeam is enjoying in the marketplace, yielding near triple digit, Y/Y-growth in FY22
Availability:
General availability of the V6.0 is expected in late 2Q23
"As the number of containers running in production continues to increase, organizations need security and data protection capabilities that are able to scale with their deployments. Through our collaboration with Kasten by Veeam, we are providing customers with additional flexibility and choice in how they protect their Kubernetes workloads," said Kirsten Newcomer, director, cloud and devsecops strategy, Red Hat, Inc
"Ransomware attacks are more prevalent than ever before, and it is no longer an option for companies to opt for solutions that do not offer the necessary protection, recovery and threat detection capabilities. Kasten by Veeam's Kasten K10 v6.0 provides detection capabilities, immutable backups and instant recovery to address this, but perhaps more importantly, this release also introduces automation and efficiency capabilities to open the doors for large-scale container protection deployment – an inevitability for any company using containers seriously;" said Johnny Yu, research manager, storage and computing, IDC.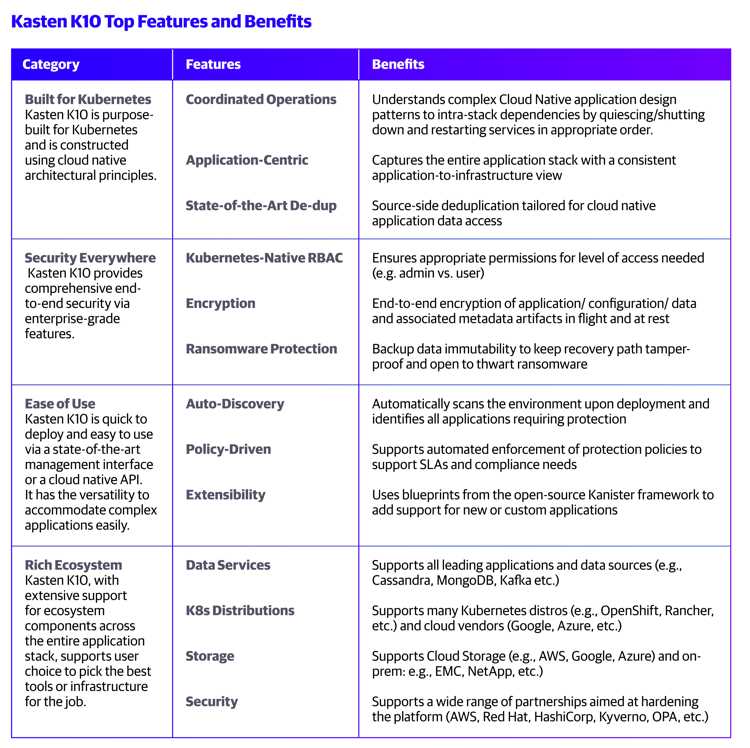 Resources:
The V6.0 will be featured during both Red Hat Summit and VeeamON 2023, the community event for data recovery experts, taking place online May 22-24 and in person in Miami, FL. Designed by and built for the backup and recovery professional, attendees will expand their skills, learn how to protect their businesses from ransomware, and share industry knowledge with exclusive content from Microsoft, AWS, Hewlett Packard Enterprise and more.
Blog: 6 New Ways Kasten K10 V6.0 Empowers Kubernetes Scalability
Blog: When Ransomware Threatens Modern Computing
Read also :