Achronix Semiconductor VectorPath Accelerator Board Featuring Speedster 7t FPGA Certified by PCI-SIG for PCIe Gen5
$8,500
This is a Press Release edited by StorageNewsletter.com on June 1, 2023 at 1:01 pm
Achronix Semiconductor Corp. announced that its VectorPath accelerator card featuring a Speedster 7t FPGA has been certified by PCI-SIG for PCIe Gen5 and is a 1st FPGA accelerated CEM add-in card certified for PCIe Gen5 x16 at 32GT/s on the PCI-SIG Integrator's list.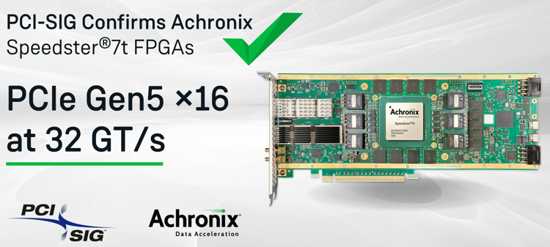 VectorPath S7t-VG6 accelerator cards are designed to reduce time to market when developing high-performance compute and acceleration functions for AI, ML, networking and data center applications and are shipping today.
VectorPath Accelerator Card powered by Speedster7t FPGAs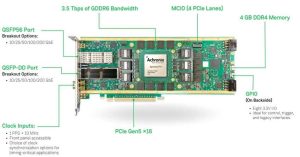 "Achronix continues to drive acceleration in the high-performance FPGA add-in card market," said Craig Petrie, VP, BittWare. "Achieving PCI-SIG Gen5 certification is an important milestone. Our customers can be assured of the highest PCIe bandwidths and have confidence that VectorPath cards will interoperate with Gen5 servers."
As the only FPGA-enabled PCI-SIG CEM add-in card to be certified for PCIe Gen5x16 at 32GT/s, VectorPath cards are powered by the company's Speedster7t AC7t1500 FPGA, delivers a high bandwidth I/O and memory interfaces connected using the FPGA industry's first 2D network on chip or 2D NoC. It includes high-speed data interfaces supporting 400GbE and PCIe Gen5 which are for high-performance networking and compute applications. In addition, Speedster7t FPGAs support high-bandwidth GDDR6 memory interfaces which provide over 4Tb/s of memory bandwidth and are the only FPGAs to support low-cost GDDR6 memory.
Speedster7t AC7t1500 FPGA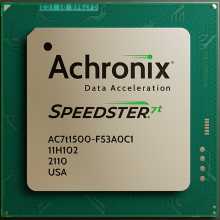 To provide high-performance compute capability, Speedster7t FPGAs include ML processors (MLPs) designed to address challenging AI/ML workloads which require high-speed mathematical computation capability, support for various number formats and closely coupled local memories for coefficient storage – all of which are included in the MLPs. The MLPs provide designers with 61 teraoperations/second (TOPs) which can be highly utilized due to the efficient architecture of Speedster7t FPGAs.
"Achronix is ipleased to announce PCI-SIG Gen5 certification for our VectorPath accelerator cards," said Steve Mensor, VP, marketing, Achronix. "Our customers are using VectorPath in a variety of challenging, bandwidth-intensive applications including automated speech recognition (ASR), network security, and high speed test environments. Certifying for PCIe Gen5x16 at 32GT/s with PCI-SIG provides our customers with the confidence that VectorPath cards can be utilized to support the highest rate PCIe systems available today."
VectorPath accelerator cards were jointly developed with BittWare, Molex company, to offer key features including:
Speedster7t AC7t1500 FPGA with 692,000 6-input LUTs

QSPF-DD and QSFP56 cages supporting 400GbE and 200GbE

16GB GDDR6 – 8 banks with 2 independent, 16-bit channels per bank

PCIe Gen5 x16 at 32GT/s
Pricing and availability:
VectorPath S7t-VG6 accelerator cards are available and shipping. The MSRP is $8,495 and can be purchased from the company.
Read also :