WekaIO Data Platform V.4.2 with New Features and Enhancements
Enhanced operational management, data reduction, and cloud performance for next-gen workloads like generative AI
This is a Press Release edited by StorageNewsletter.com on May 25, 2023 at 1:02 pm
WekaIO, Inc. unveiled version 4.2 of its Data Platform.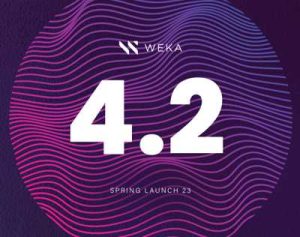 This release brings a variety of enhanced features and new capabilities to the company designed to increase the affordability and performance of next-gen technologies for the company's customers. These include data reduction and a container storage interface (CSI) plug-in for stateful containerized workloads that can help customers lower their storage and operational costs. The V.4.2 also offers performance improvements in the cloud, providing the limitless scale and application data protection needed to support thousands of containers for cloud-native AI and ML.
The release builds on the 4th gen of the company's software-defined, hybrid cloud data platform. Launched in June 2022, the V.4 runs in on-premises environments on commodity servers, natively in one or more major public clouds – including AWS, Azure, Google Cloud, and Oracle Cloud – or in hybrid configurations. It transforms stagnant data silos into dynamic data pipelines that can fuel next-gen technologies and performance-intensive workloads like generative AI, natural language processing engines, AI/ML model training, high-performance data analytics, genomic sequencing, and more.
The V.4.2 offers data reduction and cloud performance for next-gen workloads like generative AI.
Click to enlarge
With its V.4.2 software release, the company continues to deliver on its mission to provide speed, simplicity, scale, and sustainability benefits for organizations grappling with rapid structured and unstructured data growth, large-scale data analysis, managing performance-intensive workloads, and controlling data management costs.
Release offers features and benefits, including:
Enhanced data reduction: Block-variable differential compression combined with cluster-wide data de-dupe delivers data reduction at scale for an estimated cost savings of up to 6x for AI/ML training models, 3–8x for exploratory data analysis, and up to 2x for bioinformatic or large-scale media and entertainment workloads like visual effects (VFX).
Improved Azure performance and scale: The fastest file storage in Microsoft Azure offers a 6x performance improvement over market alternatives with better economics. The V.4.2 also fully supports Azure VM Scale Sets, so customers can auto-scale their storage up and down to control costs as workloads peak and recede.
Kubernetes support: A new CSI-plugin adds persistent volume claim (PVC) snapshots and PVC clone features to provide better data management at scale for large-scale container deployments, particularly for next-gen transactional workloads such as NoSQL distributed databases, events, message processing applications, and large language model processing for generative AI engines.
Increased DataOps efficiency with efficient client management: This capability makes data from multiple company's clusters accessible to a single client, alleviating the need for complex client management or data copies in data pipeline workflows and drastically improving the efficiency of data operations.
Superior observability: The firm's Home cloud monitoring platform now provides better observability for large-scale deployments, including improved filtering, anonymized upload of analytics and usage data, and software upgrade history.
Accelerated on-ramp with WEKA software appliance: A pre-packaged, software-only appliance that reduces time to on-ramp by automating the installation of the company's platform on bare metal servers and streamlining technical support so customers can get started within 30mn.
"The recent explosion of data-intensive workloads like generative AI and containerized cloud-native stateful applications is driving a monumental upsurge in data infrastructure complexity and costs," said Nilesh Patel, CPO. "The latest enhancements in WEKA 4.2 are designed to give our customers an easy button for managing AI and other next-generation workloads. For any organization managing commerce-attached applications, performance-intensive workloads, or that require a modern containerized infrastructure, WEKA can provide a highly efficient, affordable, and easy-to-deploy solution that supports faster time to market, insights, and improved production capabilities."
These features and capabilities in the V.4.2 platform release will be generally available later this month.
Resources:
What's New in the WEKA Platform
Blog: The Industry's Fastest Onramp to The Cloud and AI Is About To Get Even Faster      
Blog: Ready to Get More From Your Azure Workloads?
Analyst Report: Leader in the 2022 Coldago Map for File Storage
Read also :