History 2002: Seagate Hornet 40, Last Travan Tape Drive?
$369
By Jean Jacques Maleval | May 24, 2023 at 2:01 pm
Seagate, with help from Imation, has launched a successor to its Hornet 20: the Hornet 40, with 2x the capacity and transfer rate, or 20GB native and 1MB/s, respectively.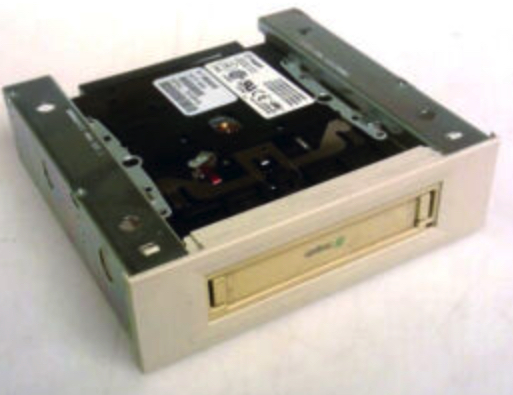 This doubling of the specs is, more specifically, the result of adopting Overland Data's VR2 technology (recall that Seagate acquired Overland's tape drive industry last year).
The new unit will be available initially in an internal ATAPI version for $369.
There is also a TapeStor branded internal version for $399.
The Imation-made cartridge is priced a $50.
Announced MTBF increases from 330,000 to 373,000 hours at a 20% duty cycle.
An external USB 2.0 version will be released later, as soon as the interface has been integrated into PC motherboards, according to Brad Renfree, Seagate's director of LTO product line management.
He concedes that CD-R has made significant inroads on the PC backup market, but believes that its limited capacity (650MB) does not allow for the total backup of the machine (data, system, applications), something now possible with the new Hornet's 40GB (compressed).
The drive manufacturer is relying on data from IDC, which estimates that entry-level tape devices accounted for 18% of all tape drives in 2001, as justification for launching what may well be the last device in the QIC Travan family, which Seagate and Imation are the last manufacturers to support. IDC also noted a 45% decrease in shipments in this niche for 2001, and its forecasts for this year indicate another 19% drop. OnStream is the only serious competitor to Seagate in this low-end segment of the tape drive market.
This article is an abstract of news published on issue 171 on April 2002 from the former paper version of Computer Data Storage Newsletter.
Read also :