CITIC Telecom CPC in Hong-Kong Strengthens Partnership with Veeam
Adding 2 Veeam Customer Ready competencies while receiving VCSP Partner of the Year award for 6 consecutive years
This is a Press Release edited by StorageNewsletter.com on May 24, 2023 at 2:00 pm
CITIC Telecom International CPC Limited, a Hong-Kong-based provider of scalable and tailored ICT solutions, obtained 2 Veeam Customer Ready competencies: Off-site Backup and BaaS for Microsoft 365.
Their next goal is to earn a third credential: DRaaS.
CITIC Telecom CPC has been crowned as a Platinum Veeam Cloud & Service Provider (VCSP) partner and received the VCSP Partner of the Year award for 6 consecutive years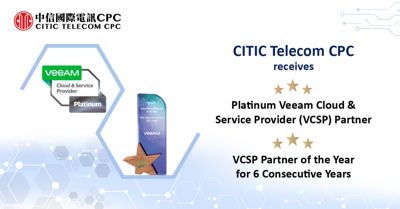 CITIC Telecom CPC partnered with Veeam Software, Inc. in 2010 and was the first cloud service provider in AsiaPac to offer virtual-to-cloud BaaS powered by Veeam Cloud Connect. The company has been crowned as a VCSP partner and received the VCSP Partner of the Year award for 6 consecutive years. These accolades reaffirm CITIC Telecom CPC demonstrates a strong collaboration with Veeam as well as professional expertise in supporting cloud-based solutions to meet the demand of clients.
"As one of our top VCSP partners, CITIC Telecom CPC serves multinational enterprises in nearly 160 countries," said Dick Tang, senior regional business manager, Hong Kong and Taiwan, Veeam. "Multinational enterprises understand the value of Veeam Customer Ready competencies because they represent industry best practices. We applaud CITIC Telecom CPC's continued double-digit annual growth of their SmartCLOUD BRR backup, replication and DR solution."
CITIC Telecom CPC helps customers future-proof their businesses with cloud computing solutions that transform their IT environments and protect their data. As a Global-Local DICT MSP, CITIC Telecom CPC offers a suite of highly customizable cloud offerings such as IaaS, Platform as-a-Service, SaaS, Anything as-a-Service, multi-cloud connectivity and managed services. The company's SmartCLOUD BRR provides a range of on-premises and off-premises backup and replication services to prevent data loss and guarantee BC including BaaS and DRaaS.
Veeam Data Platform and Veeam Backup for Microsoft 365 underpin SmartCLOUD BRR. They deliver safe, secure and simple data protection across platforms, as well as flexible and simple pricing. They also protect vs. ransomware attacks through data encryption and backup immutability to ensure all data is always accessible.
CITIC Telecom CPC uses Veeam Data Platform's Veeam Backup & Replication to power SmartCLOUD BRR for versatile backup and DR solutions. Veeam Data Platform delivers a single data protection solution for cloud, virtual, physical, SaaS and Kubernetes environments. In addition, CITIC Telecom CPC uses Veeam Backup for Microsoft 365 for flexible data recovery and powerful eDiscovery of individual Microsoft 365 items.
"Veeam's comprehensive data protection empowers us to meet customers' DR and BC requirements," said Danny Tang, senior manager, cloud services, CITIC. "Veeam supports backup and replication in every scenario: physical to cloud (P2C), cloud to cloud (C2C), virtual to cloud (V2C) and SaaS backup. Veeam's support for ICT environments is extensive too. For example, some customers are moving from traditional VMs to containers, so Kasten K10 by Veeam protects their Kubernetes workloads."
He said customers' data is backed up, secured and recoverable, which is vital for meeting SLAs and protecting vs. ransomware attacks. Customers can verify recoverability of backups and recover instantly. If their users accidentally or intentionally delete data in Microsoft 365, a self-service restore portal helps recover data immediately. In addition, CITIC Telecom CPC offers 24/7 monitoring and management services.
"We keep track of customers' status, so if something goes wrong, we can take immediate action and mitigate the problem before it impacts their daily operations," Tang said. "These value-added services are a big reason why customers choose CITIC Telecom CPC as their MSP."
Trustworthy partner to build data protection service
VCSP partners like CITIC Telecom CPC give organizations the power of choice when deciding what level of service is required for their data protection needs. From self-managed, off-premises backup storage options to managed BaaS and DRaaS solutions that include implementation, management, monitoring, testing and recovery, the level of service can vary; however, one thing is certain: security matters.
"At CITIC Telecom CPC, we strive for security and innovation excellence," Tang said. "We are very honored to receive 2 Gold awards for best AI threat detection – Asia and the Most Innovative Cybersecurity Company – Asia in the Cybersecurity Excellence Awards 2023. This accomplishment is testament to our efforts to spark innovation and underscore our commitment to staying at the forefront of the cybersecurity industry."
CITIC Telecom CPC remains steadfast in their motto "Innovation Never Stops." Their AI visual security solution uses AI and visual computing to identify malware variants and catch malware families in a fast and accurate way. With a patent-pending algorithm, their system and method for detecting malware, which uses a 3D RGB color image algorithm, specialized autoencoder and weakly supervised learning network allows security professionals to detect malware with the highest accuracy. It enables the company to offer customers a faster and more effective way to handle complex malware analysis tasks while reducing their carbon footprint. These awards are important recognition that empowers the company's ongoing innovation and growth, enabling CITIC Telecom CPC to maintain a position in the data protection space as a VCSP offering ICT solutions to customers so they can protect their data.
A survey conducted among 1,700 IT businesses using cloud services in both production and protection scenarios revealed organizations are moving from self-managed data protection to managed data protection. 48% of respondents said they began with self-managed cloud backup but switched to managed cloud backup to leverage their MSP's expertise. Veeam makes it easy for organizations to find MSPs that meet their precise needs, including CITIC Telecom CPC, through the VCSP Partner Directory.