Micron 6500 ION NVMe U.3 and E1.L Up to 30.72TB SSDs and XTR NVMe U.3 Up to 1.92TB SSD for Data Center
Featuring 200+ layer NAND and high endurance NVMe cache drive
This is a Press Release edited by StorageNewsletter.com on May 23, 2023 at 1:01 pm
Micron Technology, Inc. announced 2 SSDs, the 6500 ION NVMe SSD and the XTR NVMe SSD.
6500 ION E1.L and U.3 NVMe SSDs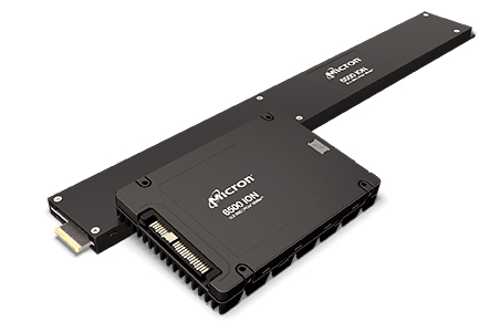 Designed to keep pace with the accelerating growth of data, these drives provide a advancement for data centers by lowering operating costs and improving storage efficiency. The 6500 ION is a high-capacity SSD that offers a value over competitive QLC-based drives by providing performance and enabling a more environmentally sustainable data center. The 6500 ION is able to deliver TLC performance and QLC-like cost due to the company's 232-layer technology node compared to the competition's use of sub-200-layer QLC technology. When paired with 6500 ION drives or other SSDs, the XTR SSD delivers endurance that enhances system performance.
"Customers are looking for new capabilities to address the data growth and performance needs of artificial intelligence data lakes and other demanding workloads. As a result, we are seeing tremendous traction on the 6500 ION and XTR with customers who are deploying storage at scale due to their unrivaled combination of large capacity, superior performance, and amazing endurance," said Alvaro Toledo, VP and GM, data center storage group. "The 6500 ION SSD offers QLC value with TLC performance and up to a 20% reduction in power consumption versus competing QLC SSDs, allowing our customers to reduce their carbon footprint. Together, these SSDs enable customers to leap ahead and harness the power of artificial intelligence without compromising performance."
6500 ION SSD: QLC value. TLC performance. firm's innovation. ​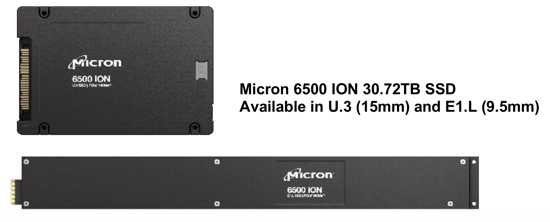 The 6500 ION SSD is the demonstrably better performing high-capacity value SSD compared to the primary alternative (1) with:
34% better average read latency (2)
58% faster sequential writes (3)
Up to 62% more 4KB random read IO/s (4)

Over 30x more 4KB random write IO/s at a queue depth (QD) of 128 and over 10x more at QD1

More than 10x better 4KB random write endurance (RDWPD) (5)
Click to enlarge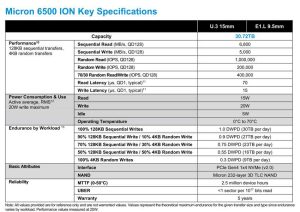 The 6500 ION SSD also unleashes this high performance in real-world workload testing:
For Ceph object storage workloads, high-performance, high-capacity NVMe SSDs like the 6500 ION are a fit offering high performance and massive capacity in the same object store. Moreover, the 6500 ION NVMe SSD test results show meaningful performance improvements in all tested workloads against the leading competitor. (1)

Ceph object storage workload results (6):

100% sequential writes are up to 3.5x better

100% sequential reads are up to 47% better

100% random reads are up to 49% better

Mixed I/O (sequential RW) are up to 62% better

Mixed I/O (random reads and sequential writes) are up to 27% better
For Cassandra NoSQL database, a highly scalable, distributed database used for workloads such as fraud detection, global logistics, cloud document storage, and social media applications, the 6500 ION SSD routinely demonstrates higher peak performance and better 99.99% (four nines) read latency than the competitor's QLC SSD. The 6500 ION's peak performance is up to 2.6x better than the competitor's drive for the Yahoo! Cloud Serving Benchmark (7) (YCSB) Workload C (100% read profile). The 4 nines read latency is up to 9.2x better for the YCSB Workload F (recording user sessions profile). These improvements across a range of common NoSQL workloads will often have a significant impact on data center performance, making the 6500 ION SSD the preferred high-capacity SSD for Cassandra and other NoSQL database deployments.

For WEKA SDS, a high-performance, scalable software storage solution, the 6500 ION proves that it can help deliver massive storage capacity and workload results without the compromises of the competitor's QLC SSD. In a 6-node cluster configuration, the WEKA cluster with 48 6500 ION SSDs delivers up to 5.2 million IO/s and up to a whopping 112GB/s throughput per node – all while providing nearly 1.5PB to the cluster.
"WEKA is leading a paradigm shift in how data is stored, managed, and processed. Our software-defined solution helps organizations transform their traditional, stagnant data silos into dynamic, fluid data pipelines that fuel next-generation workloads like AI, ML, and HPC seamlessly and sustainably," said Nilesh Patel, CPO, WEKA.io, Inc.. "The WEKA Data Platform requires a high-performance hardware or cloud foundation to deliver maximum value to our customers. Through our collaboration with Micron and its new 6500 ION, we can deliver the performance our customers rely on with improved power consumption and cost savings."
Click to enlarge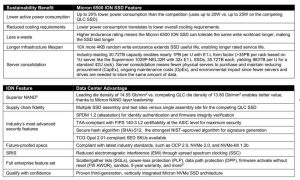 The 6500 ION reduces upfront purchase costs by coming in at a comparable price point to QLC SSDs while improving performance and endurance.(8) It decreases operating expenses by using less power and requires less cooling. The drive's 30.72TB capacity and dense form factors facilitate server consolidation lessening server software license costs (9) and carbon emissions – all while outperforming and outlasting the competition. It also provides security features including Federal Information and Processing Standards (FIPS) ASIC certifiability and compliance with the Trade Agreement Act (TAA).
"Supermicro works with leading suppliers such as Micron to bring the latest technology to demanding customers worldwide who require a high-performing and secure storage technology," said Wally Liaw, co-founder and SVP, business development, Supermicro Computer, Inc. "Customers that choose the new Micron 6500 ION SSD for their storage solutions can leverage its security features and the value of QLC with TLC performance."
XTR SSD: Extreme endurance for write-intensive workloads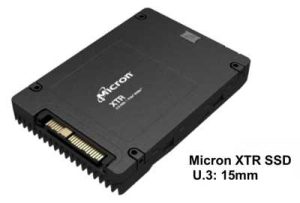 The company's XTR SSD delivers extreme endurance to enable the reliable caching necessary for write-heavy workloads. When paired with the 6500 ION, the XTR SSD optimizes storage workloads with minimal investment when compared to storage class memory-based solutions. The XTR is for use cases that are write-intensive such as caching tiers, write buffering, logging and journaling, and online transaction processing workloads. Designed with the firm's vertically integrated storage architecture, the XTR SSD also features an industry-leading security suite to instill confidence in data center deployments.
XTR SSD allows:
Up to 35 random drive writes per day (DWPD) and up to 60 sequential DWPD; endurance ratings that far exceed conventional SSDs

Up to 35% of the random DWPD endurance at 20% of the cost of a SCM SSD (10)
Up to 44% less power consumption (11)
20% more usable capacity (12)
Click to enlarge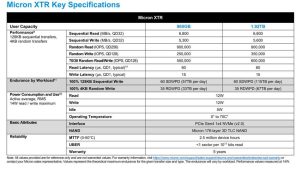 In Microsoft SQL Server Analytics workload testing, where storage performance and endurance are vital, the XTR and 6500 ION SSDs perform similarly to a solution using firm's 6500 ION and storage class memory (SCM) SSDs. (13) When the XTR and 6500 ION SSDs are combined, the XTR fulfills the same role as the SCM SSDs by delivering nearly identical query performance. (14) The 6500 ION SSD offers primary storage to meet the SQL Server performance and capacity needs, while the XTR SSD enables the endurance needed for the write-intensive operations in SQL Server, such as the tempdb volumes.(15)
Click to enlarge

With the availability of the 6500 ION and XTR SSDs, the company's delivers a duo of high-capacity and high-endurance NVMe SSDs. This SSD combination enables data center operators to massively scale storage, control costs and improve data center sustainability by using less power than previous technologies.
The 30.72TB capacity 6500 ION SSD is available in the U.3 (15mm) and E1.L (9.5mm) form factor, while the XTR SSD is available in the U.3 (15mm) form factor in both 960GB and 1.92TB capacities.
Resources:
Micron 6500 ION SSD DS
Micron XTR SSD DS
Blog: Micron beats competitor's QLC SSDs with innovation breakthrough     
Micron 6500 ION SSD Ceph Tech Brief
Micron 6500 ION SSD Cassandra Tech Brief
Micron 6500 ION SSD WEKA Tech Brief
Micron XTR SQL Server Analytics Tech Brief
(1) All comparisons to similar competitive product offerings are based on the Solidigm D5-P5316 30.72TB SSD from public information available at the time of this document's publication or on Micron testing. Value means the combination of performance, features, longevity, capacity, and purchase price. Performance refers to IO/s, GB/s or both. Latency statements refer to 99.99% read latency in 4KB 100% random, 100% read workload. Sequential write statements based on 128KB 100% sequential write workload. Random IO/s statements based on 4KB 100% random workloads.
(2) Average read latency for 4KB 100% random read at queue depth of 1.
(3) 58% improvement measured at QD32 and QD64. Measurements made at QDs 1 to 256 yielded a range of improvements from -7% to 58% when compared to the competitor's drive.
(4) 62% improvement measured at QD32. Other measurements were made at QDs ranging from 1 to 256 and yielded a range of 18% to 62% improvements over the competitor's drive.
(5) Solidigm documentation states that its endurance is rated using a 64KB 100% random write workload and is 0.41 DWPD. Rated Solidigm D5-P5316 endurance at 64KB transfer size is estimated to be 1/16 of the rated endurance for a 4KB transfer size, yielding a 4KB value of 0.0256 (0.41/16). Micron 6500 ION rates endurance using 4KB random write workloads and is 0.3 DWPD.
(6) Testing results are derived from Micron internal testing.
(7) Additional details on YCSB are available from https://github.com/brianfrankcooper/YCSB.
(8) Pricing statement based on public information available at the time of this document's publication.
(9) When software is licensed by chassis, CPU, or CPU core.
(10) Statements based on public pricing for the Intel Optane P5800x 1.6TB compared to NAND-based SSDs of similar capacity available at the time of this document's publication. Unformatted. 1GB = 1 billion bytes. Formatted capacity is less.
(11) Based on public power consumption data for the Intel Optane P5800X-1.6TB, P5810X-800GB, P5800X-800GB and P5800X-3.2TB SSDs
(12) Statement based on comparison of published usable capacities of the Micron XTR-1.92TB and the Intel Optane P5800X-1.6TB at the time of this document's publication.
(13) The SCM SSD used in the Microsoft SQL Server Analytics workload testing was the Intel Optane SSD DC P5800X. The supplier has announced that it is discontinuing future development of this product. See this link for the announcement details Intel Optane are trademarks of Intel Corporation or its subsidiaries.
(14) Based on Micron testing. See www.micron.com/XTR for additional details.
(15) See https://learn.microsoft.com/en-us/sql/relational-databases/databases/tempdb-database?view=sql-server-ver16 for more information on tempdb.
Read also :