Forward Conference: Rubrik Unveils Advanced User Intelligence on Security Cloud
Designed to empower organizations to become more proactive in fight vs. ongoing cyberattacks
This is a Press Release edited by StorageNewsletter.com on May 23, 2023 at 1:01 pm
At Rubrik Forward conference, Rubrik, Inc. unveiled user intelligence capabilities designed to empower organizations to become more proactive in the fight vs. ongoing cyberattacks.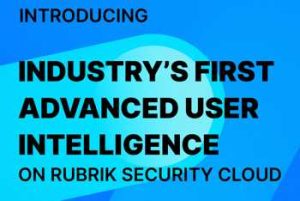 The company aims to deliver cyber resilience across both the data and users, including User Intelligence, so organizations can work to proactively prevent attacks from happening before they cause significant damage.
Data remains vulnerable to cyber incidents and as attack methods evolve, the user has become a lucrative hunting ground for cyber criminals. As highlighted in the Rubrik Zero Labs 'The State of Data Security' report, 100% of cloud investigations conducted by Permiso Security in 2022 were the result of compromised credentials.
"For too long, organizations have been susceptible to cyberattacks and users have become a vulnerable entry point. Today, we announce capabilities that we believe will enable our customers to become proactive and search for areas of vulnerability to mitigate cyber risk before the attack even happens," said Bipul Sinha, CEO and co-founder. "With Rubrik's industry-first advanced user intelligence designed to leverage time-series data and metadata, customers will be able to proactively fight against cyberattacks."
User Intelligence mitigates cyber risk
The company's user intelligence capabilities will utilize time series data recorded over consistent intervals of time in Rubrik Security Cloud to proactively mitigate cyber risk before they can be exploited by cyber criminals. Additionally, organizations will have visibility to the types of sensitive data they have, what users have access to the data, how that access has changed over time, and whether that access may pose risk to their business. By gaining more comprehensive visibility into user intelligence, organizations can better determine the root cause for cyberattacks and organizations will be able to proactively identify accidental exposure of data to unauthorized users to minimize damage from cyberattacks.
"AAA Washington members look to us in their most dire moments of need. In order to uphold our members' trust in us, it is mission-critical that we keep our data secure so we can maintain important business operations. That's why we've prioritized a strong cyber resilience strategy with Rubrik to enable us to uphold our commitment to customers, help us reduce risk, and prevail in the ever-evolving cyber threat landscape," said William Lidster, CISO, AAA Washington
"Republic Airways serves 33 million passengers a year and 1,000 flights daily. We rely on Rubrik to enable us to be cyber resilient, which is paramount for Republic Airways' commitment to innovation and providing our passengers with the best flying experience," said Nirav Shah, CIO, Republic Airways
This news comes on the heels of several announcements including the launch of the second Rubrik Zero Labs threat intelligence research, The State of Data Security, the unveiling of the firm's $10 million Ransomware Recovery Warranty, and the company's announcement of its partnership with Zscaler and industry-first double extortion ransomware solution.

The firm will showcased these innovations a Forward 2023, taking place virtually May 17-18, as well as through a series of in-person Forward World Tour events.
New innovations are planned to be available in the coming months.
Resources:
Blog: Stay Ahead of the Game and Identify Data Threats Faster   
Blog: Protecting Azure Active Directory with Rubrik Security Cloud     
Blog: Protecting Amazon Aurora, S3, and Other AWS Data From Cyber Threats     
Blog: Regain Control Over Who Has Access to Your Sensitive Data with Rubrik User Access Analysis