CloudCasa for Velero to Manage and Run Kubernetes Backups at Enterprise Scale
Open-source compatible solution empowers Velero users with centralized configuration, monitoring and advanced cloud recovery.
This is a Press Release edited by StorageNewsletter.com on April 21, 2023 at 2:01 pm
CloudCasa by Catalogic launched CloudCasa for Velero, an offering that combines the simplicity of the service and its cloud solution with the benefits of Velero, the battle-tested open source data protection solution.


CloudCasa for Velero gives enterprises and service providers the ability to scale their business with multi-cluster management for Velero backups, across all Kubernetes distributions and hybrid and public cloud environments. From a single console, developers and platform engineers can now manage and monitor their Velero-based backups with policy driven templates and guided recovery. Velero users can subscribe to the CloudCasa service and catalog their existing setup for centralized management within minutes.
"Velero is a useful tool for the backup and recovery of small and medium-sized Kubernetes environments. Okteto has over 10,000 persistent volumes today under management, and our growth has presented several management challenges," said Ramiro Berrelleza, founder and CEO, Okteto, Inc. "With CloudCasa for Velero, we can now add enterprise-grade operations and management to our existing Velero installations to better manage and protect our customers' Kubernetes applications."
CloudCasa for Velero is designed to deliver the benefits of open source and SaaS management to enterprises using Velero, with no vendor lock-in. Velero users can centrally manage and monitor their current backups and configuration across multiple clusters and cloud providers, perform guided recoveries from both existing and new recovery points, perform cross-cloud recoveries, and address enterprise management, governance, and compliance requirements for their Kubernetes data protection environments.
Click to enlarge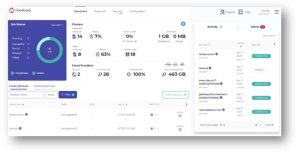 "Because of their popularity, CloudCasa and Velero have both been available in Rafay's Kubernetes Addon Catalog for quite some time. While platform solutions have made it easier to deploy and configure Velero, the ongoing management and recovery guidance needs have been largely unmet," said Haseeb Budhani, CEO, Rafay Systems, Inc. "It is great to see CloudCasa embrace the popular open source offering and add value on top of Velero."
CloudCasa will allow free management of Velero environments with up to 15 worker nodes. A baseline supported tier is available for $199/month.
"CloudCasa has been integrating with Velero for almost 3 years and has utilized and adapted its resources to protect over a thousand Kubernetes environments. Velero's success is undeniable, and we don't see any value in converting those users to an alternate backup solution," said Sathya Sankaran, founder and GM, CloudCasa. "With our latest offering, CloudCasa is fully compatible and complementary to a Velero user, allowing Velero to run at enterprise scale with absolutely no disruption or migration."
CloudCasa for Velero is available as a service option for CloudCasa, and it will be demonstrated at KubeCon + CloudNativeCon Europe 2023, that will be held April 19-21, in Amsterdam, The Netherlands.