Validation of Dell PowerProtect Cyber Recovery
By Evaluator Group Lab Insight report
This is a Press Release edited by StorageNewsletter.com on April 20, 2023 at 2:02 pm
Creating an isolated, or 'air-gapped' storage environment has long been a best practice for enterprise data protection, following the '3-2-1' rule that calls for an off-site data copy. Today, it becomes even more important, as ransomware attackers target backup environments in an effort to inhibit companies from being able to recover from compromised data.
In fact, recent Evaluator Group research found that, while in 2019, approximately 22% of enterprises had an air gap in place, today, more than 30% have implemented an air gap over the past year in response to ransomware resiliency requirements, and another 27% plan to implement or to expand their usage of air-gapped storage for cyber-resiliency.
The problem is that IT operations teams are struggling vs. the constraints of limited staffing and headcount resources. They are steadily running out of time to be able to manage the physically airgapped tape storage implementations that have traditionally been used to achieve the isolated storage environment. As a result, they are looking to the public cloud as well as managed service delivery for streamlined consumption. However, achieving isolation requires more than just shipping data to the cloud.
This paper reviews the capabilities of Dell PowerProtect Cyber Recovery, a solution for vaulting data to an isolated storage environment. In addition to detailing the specific capabilities of this solution, it includes items for IT operations to consider as they are evaluating all such data vault solutions.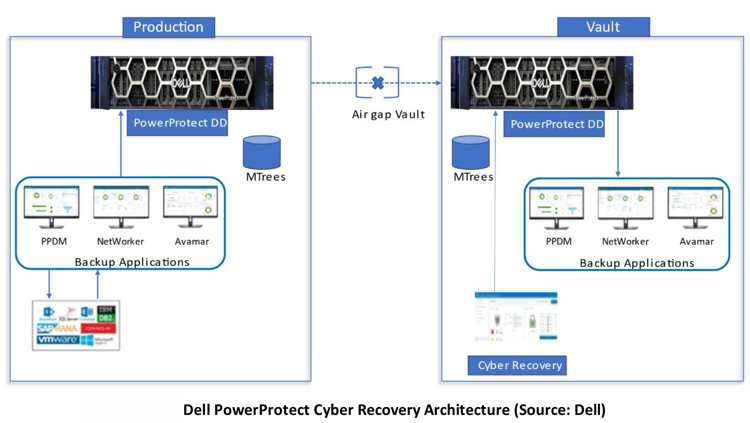 Background for Dell data vaulting
Dell PowerProtect Cyber Recovery provides an isolated environment that can be used as a vault for storing immutable and encrypted data copies, and as a sandbox environment for creating writeable copies for data validation and analytics (e.g., checking for signs of tampering). The solution is available on-premises and can be deployed in AWS, Azure and Google Cloud Platform. It's also available as a managed service offering through Dell APEX Cyber Recovery Services.
Evaluator Group validated the on premises, customer-managed deployment option that is based on Dell PowerProtect Data Manager running version 19.12 of Dell's PowerProtect Cyber Recovery software and CyberSense 8.0, which was developed by Index Engines.
To read the full Lab Insight report. (registration required)
Read also :