Cybersecurity Leaders Join Rubrik CISO Advisory Board Chaired by Chris Krebs
CISOs of Albertsons, Booking.com, Johnson & Johnson, Moderna, and Schneider Electric to drive strategies for cyber collaboration
This is a Press Release edited by StorageNewsletter.com on April 10, 2023 at 2:00 pm
The National Cybersecurity Strategy unveiled by the White House on March 2 began a new era of expectations for cybersecurity, one that shifts to shared responsibility between companies and vendors.
In the spirit of the new industry framework, Rubrik, Inc. announced the members of the company's CISO Advisory Board.
Rubrik's CISO Advisory Board is chaired by Chris Krebs, the first director of the US Cybersecurity and Infrastructure Security Agency (CISA) and founding partner of the Krebs Stamos Group.
New members include:
Aaron Hughes, SVP and CISO, Albertsons
Marnie Wilking, CISO, Booking.com
Marene Allison, former CISO, Johnson & Johnson
Amit Aggarwal, head of cybersecurity, Moderna
Christophe Blassiau, SVP, cybersecurity and product security, global CISO and CPSO, Schneider Electric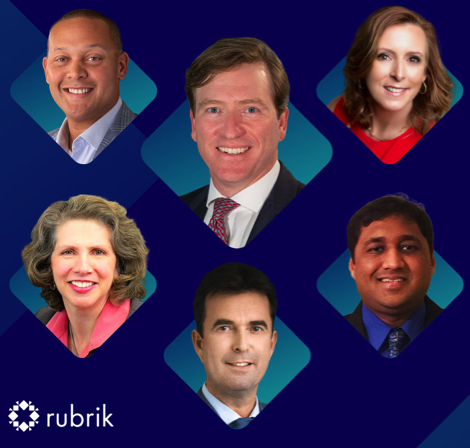 "Ransomware and cyberattacks of all types continue to pose one of the top risks to organizations of all sizes and sectors," said Krebs. "We have to work across industries and disciplines to address this global crisis. This CISO Advisory Board is on an important mission to best understand the challenges CISOs face and create solutions that help them succeed and build resilient, secure organizations today and into the future."
The mission of CISO Advisory Board is to lead on strategies for collaboration across private and public sector organizations to address the unprecedented growth of cyberattacks. Aligned with Rubrik's focus on cyber resilience, the Advisory Board will help to:
Identify emerging cybersecurity market trends;
Formulate best practices for strengthening organizational security posture and resilience;
Propel the industry to establish data security standards to advance cyber defense; and
Determine nation state implications and public policy frameworks.
"Cyberattacks have gone beyond human comprehension in recent years. The emergence of new AI technologies and an explosion of data in the move to cloud, have the potential to open limitless new ways for cyberattacks to happen, by many different actors," said Bipul Sinha, CEO and co-founder, Rubrik. "Our CISO Advisory Board brings together some of the brightest minds in cybersecurity, with real world experience to help us advance data security innovation. We believe data is the most critical asset for organizations and it must be secured to ensure cyber recovery and business resiliency."
Rubrik CISO Advisory Board to Focus on Shared Responsibility
During its inaugural meeting in early March 2023, the Rubrik CISO Advisory Board began to unpack the National Cybersecurity Strategy.
According to Krebs, "This is a clear signal that the administration sees working with the private sector as one of the key elements of any successful approach to enhancing America's cybersecurity strategy."
It's also evident that the administration recognizes the value of working with the private sector and that cybersecurity is a collective defense approach for protecting America's businesses. It's clear that across both the private and public sector, leadership must increase business resilience to ensure rapid recovery and restoration of business-critical operations when faced with a cyber event.
New CISO Board Members include:
Aaron Hughes

, SVP and CISO, Albertsons
He has over 25 years of experience and previously served as the deputy assistant secretary of Defense for Cyber Policy, where he was responsible for overseeing the development and implementation of cyber policies, strategies, operations, and plans for the Department of Defense. He is also a Colonel in the US Air Force Reserve, currently serving as a senior advisor to the Commander USCYBERCOM.

Marnie Wilking

, CISO, Booking.com
She brings more than 20 years of experience building and implementing cybersecurity strategies in alignment with regulatory requirements and business objectives to support and accelerate growth across financial services, healthcare technology, and e-commerce companies WW. Prior to Booking.com, she was the global head of security and technology risk management (CISO) at Wayfair.

Marene Allison

, Former CISO, Johnson & Johnson
At Johnson & Johnson, she was responsible for protecting the company's information technology systems and business data WW. Prior to that, she served as an FBI special agent and in the US Army, and graduated from West Point in the first class to include women. She also currently sits on the board of West Point Women.

Amit Aggarwal

, Head of Cybersecurity, Moderna
At Moderna, he shapes the company's cybersecurity program in support of research, clinical, and commercial manufacturing. Before that, he led teams at several pioneering technology companies including Nokia and HERE Technologies (Nokia divestiture) in Finland and USA.

Christophe Blassiau

, SVP, Cybersecurity & Product Security, Global CISO and CPSO, Schneider Electric
At Schneider Electric, he focuses on forging a trustful and secure cyberspace for critical infrastructures. Prior to his current role, he was the group CISO and held various digital and CRM roles at Schneider Electric. He was also a founder and GM of digital and data management company 3c-Evolution, and supported information security of cryptography for the DGA (Directorate General of Armaments), a French military organization.