SSD Market to Reach $67 Billion in 2028
From $29 billion in 2022 (dropping 14% Y/Y), 15% CAGR
This is a Press Release edited by StorageNewsletter.com on April 5, 2023 at 2:02 pm
SSD revenues dropped by ~14% in 2022, according to analyst firm Yole Group. The outlook for 2023 is worrisome, but long-term perspectives to 2028 are attractive.
The NAND flash memory market dynamic was positive in 2021 and the first months of 2022. However, several simultaneous macroeconomic trends, including global inflation, geopolitical tensions, and electronics manufacturer inventory digestion, have led to demand slowing dramatically. Consequently, 2022 was a bad year for SSDs with an approximately ~14% Y/Y decline compared to 2021, to $29 billion from $34 billion.
The outlook for 2023 is worrisome as slow inventory digestion and weak economy will persist, leading to significant near-term oversupply and therefore, a lower pricing outlook. For the long-term, the total SSD market size will increase from $29 billion in 2022 to $67 billion in 2028, with a CAGR for 2022-2028 of approximately 15%.
However, the situation will be very different between the client market including desktop, notebook, channel distribution and gaming systems, and the enterprise market, including server- and storage-attached drives. Client products will experience a weak demand in coming years. Enterprise SSD growth will be driven by low-latency storage needs of advanced workloads in the data center space.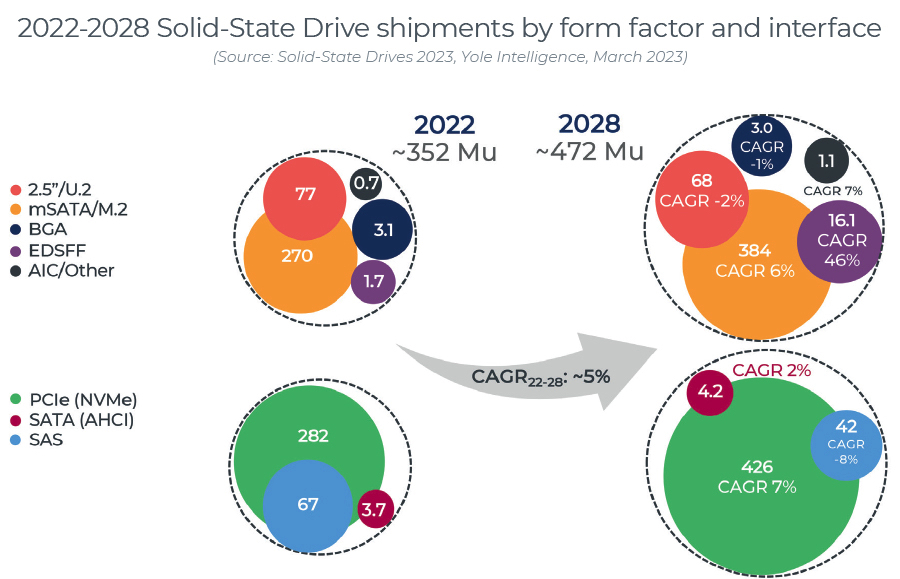 Integrated Device Manufacturers (IDMs) have a leading role in both the SSD and the SSD controller markets.
Two main types of SSD suppliers can be distinguished. NAND IDMs sell self-branded drives into the client and enterprise markets. Third-party SSD manufacturers buy NAND wafers or NAND chips from IDMs and manufacture their own drives. SSD suppliers sell SSDs to final customers including electronics manufacturers, large cloud service providers and channel distribution. The IDM-controller market was 82% of the total SSD market in 2022 and is led by Samsung, Kioxia, Western Digital, Micron, SK hynix, and Solidigm. The 3rd-party market is led by Kingston, Seagate, and Adata.
In the controller market, most IDMs have internal teams for SSD controller design. Their chips are used inside their self-branded SSDs or in SSDs sold by their subsidiary brands such as the Crucial brand that belongs to Micron. On the other hand, SSD controller suppliers provide chips to both IDMs and 3rd-party SSD manufacturers leveraging high degrees of specialization and optimizing design costs to maximize the returns on investment. This market is dominated by Silicon Motion, Phison, and Marvell.
Note: some large electronics manufacturers and large cloud service providers also buy NAND wafers from IDMs and manufacture SSDs leveraging services from OSATs, ODMs, and 3rd-party SSD suppliers. The resulting SSDs are used in their own storage products.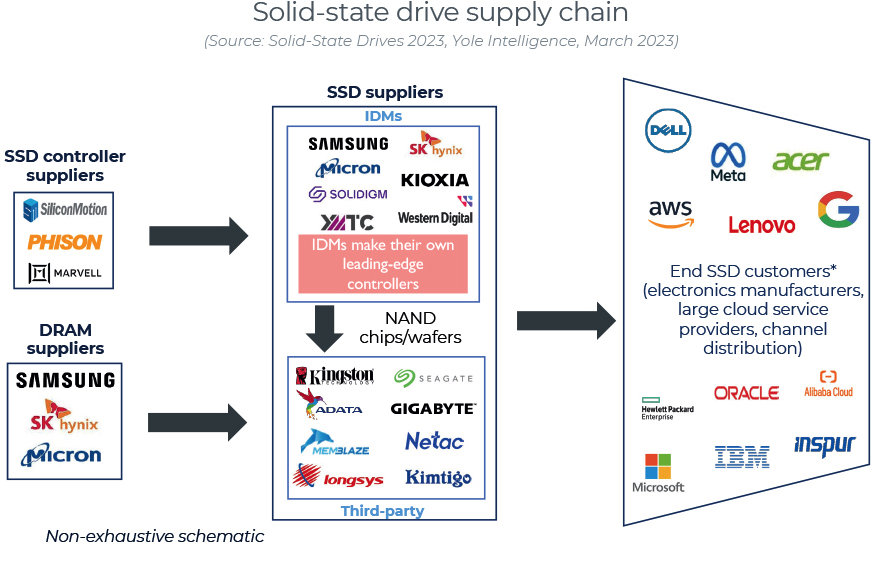 SSDs and PCIe: the perfect match 
NVMe is a communication protocol for transporting data for optimized storage in NAND flash that runs on the PCIe interface. The introduction of a new version of the protocol, along with new PCIe gens enable further growth of the SSD market. In 2022, PCIe SSDs represented ~55% (30 million units) of the enterprise SSD shipments. We expect this share to increase to ~71% or 79 million units by 2028. As for PCIe Client SSDs, their share will rise from around 85% in 2021 to around 96% in 2028, which is 252 million units vs. 347 million units, respectively.
The first PCIe 5.0 SSDs were released in 2022 for the enterprise market. In this space, PCIe 5.0 will overtake PCIe 4.0 in 2026. As for PCIe 5.0 client SSDs, the first commercial drives are expected to hit the market by the end of 2023 or early 2024. They will be first targeting gaming and workstation applications as high-end client SSDs. However, given weak consumer demand, PCIe 5.0 SSDs are not expected to be the most important for client applications, at least until 2028.