Revenue from Enterprise SSDs Totaled $3.8 Billion for 4Q22, Dropping by 27.4% Q/Q
Due to slumping demand and widening decline in SSD contract prices
This is a Press Release edited by StorageNewsletter.com on March 16, 2023 at 2:02 pm

This report, published on March 56, 2023, was written by Bryan Ao, analyst at TrendForce Corp.
Looking back at 2H22, as server OEMs slowed down the momentum of their product shipments, Chinese server buyers also held a conservative outlook on future demand and focused on inventory reduction. Thus, the flow of orders for enterprise SSDs remained sluggish.
However, NAND flash suppliers had to step up shipments of enterprise SSDs during 2H22 because the demand for storage components equipped in notebook (laptop) computers and smartphones had undergone very large downward corrections. Compared with other categories of NAND flash products, enterprise SSDs represented the only significant source of bit consumption.
Ultimately, due to the imbalance between supply and demand, the Q/Q decline in prices of enterprise SSDs widened to 25% for 4Q22. This price plunge, in turn, caused the quarterly total revenue from enterprise SSDs to drop by 27.4% Q/Q to around $3.79 billion. The NAND flash industry will again post a Q/Q decline in the revenue from this product category for 1Q23.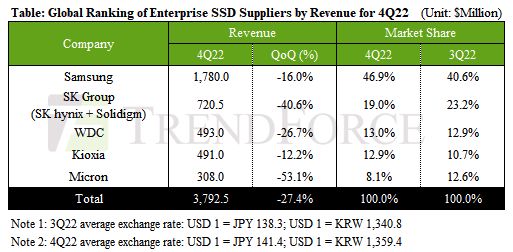 Regarding NAND flash suppliers' performances in the enterprise SSD market in 4Q22, Samsung posted a drop in revenue to $1.78 billion but also managed to raise its market share to 46.9%. Moving into 2023, Samsung will fend off challenges from its rivals and remain firmly as the leader in the enterprise SSD market. This is because Samsung has a well-rounded range of offerings and maintains a technological lead. Also, PCIe 5.0 will be incorporated into some new server platforms that will arrive in 2H23, and the Korean company has already sent samples of its PCIe 5.0 products to customers for qualification. Additionally, the demand related to HPC is rising because of the proliferation of applications and services supported by AI technologies. Consequently, orders for products featuring high bandwidth memory (HBM) is gradually increasing as well. Facing these new developments, Samsung has formulated effective product strategies for not only SSDs but also DRAM and HBM. Therefore, it is in a stronger position compared with its competitors.
SK Group's (i.e., SK hynix and Solidigm) revenue from enterprise SSDs came to around $720 million for 4Q22. Because of the slump in China's demand throughout 2022 and the delay in the launching of its new products, it saw its market share for enterprise SSDs shrink to 19.0% in 4Q22. According to SK Group's original plan, following the completion of the first phase of the merger between SK hynix and Solidigm, the development of SSD offerings would be mainly done by Solidigm. With these joint efforts, SK hynix initially intended to launch 176L TLC enterprise SSDs within 2023. However, Latest investigation finds that some changes have been made to this collaboration strategy. This will negatively affect both SK hynix and Solidigm with respect to the development and mass production of new products. Their shipments could suffer as well. This year, SK Group will depend on the anticipated demand recovery in the Chinese market to raise its market share for enterprise SSDs. Besides this, the progress on the adoption of its QLC enterprise SSDs will also be a crucial factor influencing its long-term shipment performance.
WDC's revenue from enterprise SSDs began to climb noticeably in 2Q22 thanks to the adoption of its PCIe products among North American server ODMs. Nevertheless, the company still posted a Q/Q drop in revenue for 4Q22 to $493 million due to the contraction of North American customers' procurement quantities. On account of its limited resources for R&D, it lags behind its competitors in the launching of PCIe 4.0 enterprise SSDs. Hence, there are some concerns about its ability to expand market share in the future. Furthermore, the NAND flash industry on the whole will begin releasing PCIe 5.0 solutions during 2H23 so as to complement the market growth of new CPU platforms. Compared with other NAND flash suppliers, WDC appears to be slightly less prepared for the arrival of PCIe 5.0. In sum, it will likely experience more difficulties in maintaining its market share during 2023.
Kioxia's performance in 4Q22 mainly benefited from its status as the main supplier for SAS SSDs. Because SAS products have a higher unit price compared with PCIe products, the firm was able to somewhat limit the Q/Q decline in its revenue despite the lower-than-expected order volume. Its revenue from enterprise SSDs fell by 12.2% Q/Q to around $491 million for 4Q22. Going forward, the company will accelerate the qualification of its PCIe 4.0 SSDs among server OEMs and expand the presence of these products in China. Therefore, shipments of its PCIe 4.0 enterprise SSDs are expected to be on a gradual climb this year. As for PCIe 5.0 SSDs, Kioxia already pushed them into the mass production phase and is actively seeking server ODMs' cooperation in promoting the adoption of these products. By achieving a stronger sales performance in the enterprise SSD market, it hopes to raise its overall profit and thereby obtain the resources that it needs to improve its NAND flash manufacturing process. Presently, it aims to catch up to other suppliers in the race to attain the 23X-L technology by 2024.
Micron's revenue from enterprise SSDs fell to $308 million for 4Q22 owing to 2 factors. First, SATA products still accounted for the majority of its enterprise SSD sales. Second, server OEMs scaled back capital expenditure for 2H22. Turning to its performance in 2023, shipments of its 176L PCIe 4.0 SSDs have been a bit weaker than expected. However, more of its clients have completed the qualification of 176L products, and buyers on the whole have been making steady progress in consuming the existing inventory. Therefore, Micron can expect a surge in shipments of 176L products during 2H23. In the aspect of product development, it is ramping up efforts to build new products featuring HBM and the next-gen interfaces so as to capture opportunities related to the emerging new services powered by AI, ML and HPC. It is also raising the adoption of its enterprise SSDs by expanding its collaborations with server ODMs.