PEAK:AIO Launches SDS by Powering NVMe AI Data Servers
80GB/s from 1U single storage node
This is a Press Release edited by StorageNewsletter.com on March 16, 2023 at 2:01 pm
PEAK:AIO, a provider of a transformative SDS platform designed to meet the needs of AI applications, announced its latest version of the AI Data Server, which doubles previous performance, reaching 80GB/s from a 1U single storage node and reduces the cost of ultra-performance AI storage by up to 70%.

Over the last few years, the company has established itself as a storage provider within the AI market, with a user base ranging from start-ups to leading projects including the high-profile UK NHS AI deployment trials.
The firm, founded in 2019, is a vendor within the EMEA AI market. Its software range, deployed on server technology, is made in collaboration with and support from vendors such as Dell EMC, Supermicro, Gigabyte, and will be distributed by PNY Technologies, Inc.
With the performance of the latest generation of CPUs, PCIe5 and Nvidia's networking technology, the company has achieved what traditionally would be considered HPC level performance, within a single cost-effective node, enabling resellers to provide fast AI solutions at a realistic price point.
Legacy storage solutions have evolved for traditional IT applications, rich in enterprise features unnecessary for AI. Parallel file systems are designed for HPC environments. Both options are complex and expensive, designed for much larger solutions and impact the budget for GPUs, draining resources away from innovation. The firm's solution reduces the cost, provides faster results for a more effective overall solution, and allows the user to spend funds where they best serve the project, on GPU servers and not storage.
Mark Klarzynski, founder and CEO, spearheaded the evolution of SDS, pioneering the development of a leading iSCSI, FC, and IB SDS framework (SCST) still used and licensed today by storage vendors. Pushing the then boundaries of performance, he went on to develop the initial ultra-performance all flash storage arrays in partnership with vendors such as Fusion-io.
"We started the development of PEAK:AIO when it was clear that AI simply did not fit the business model of the existing storage vendors. The user had to compromise between overly expensive flash storage, or a slower solution," said Mark Klarzynski, founder and CEO. "AI is less about 'big data' and more about 'good data'. Why would we expect storage designed for the world of big data, HPC or the enterprise to work perfectly for the new world of AI? It needed new thinking, not just new solutions, but a completely new type of solution. To any vendor that was listening, the message was loud and clear from the users and resellers. We listened and PEAK:AIO developed exactly what was asked for and was an instant success."
 As PEAK:AIO scaled through EMEA, a system integrator friendly solution was developed enabling the reseller to provide a complete solution using their skills and experience with their chosen hardware.
The latest version of PEAK:AIO, publicly available in 2Q23, provides HPC level performance with the simplicity of a traditional NAS at low cost. It changes the way the AI industry works with storage by enabling larger and faster GPU solutions to be priced for a wider market.
These solutions start at under $8,000 and scale from 50 to 700TB of NVMe flash per single node and is available to resellers for beta testing.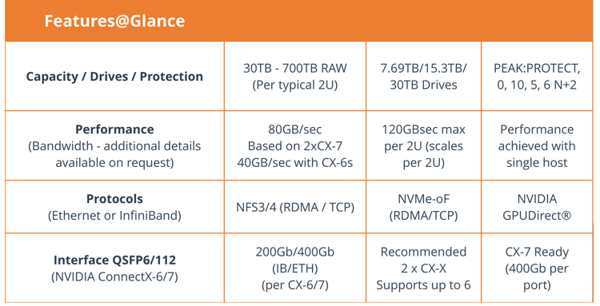 About PEAK:AIO: 
It is a SDS platform designed to meet the specific needs of AI GPU applications. Deployed on off-the-shelf server technology, it creates an NVMe AI Data Server that delivers the performance needed to optimise GPU utilisation. It was developed with mid-scale GPU clusters in mind and allows organisations to start small and grow as projects ramp, providing an alternative to storage over investment.