SNIA Smart Data Accelerator Interface Spec V.1.0
Standard for memory-to-memory data mover and acceleration interface
This is a Press Release edited by StorageNewsletter.com on February 23, 2023 at 2:00 pm
The Smart Data Accelerator Interface (SDXI) Specification v1.0 is a standard for a memory-to-memory data mover and acceleration interface.
Click to enlarge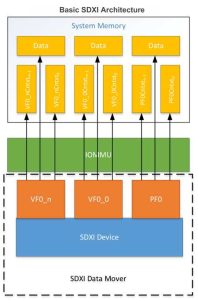 Benefits of spec include:
Data movement between different address spaces, including user address spaces located within different virtual machines.

Data movement without mediation by privileged software once a connection has been established.

Interface and architecture that can be abstracted or virtualized by privileged software to allow greater compatibility of workloads or virtual machines across different servers.

Well-defined capability to quiesce, suspend, and resume the architectural state of a per-address-space data mover to allow 'live' workload or virtual machine migration between servers.

Mechanisms to enable forward and backward compatibility across future specification revisions.

Allows interoperability between software and hardware designed to different specification revisions.

Ability to incorporate additional offloads in the future, leveraging the architectural interface.

Concurrent DMA model to support parallel operations for high performance.

PCIe device model is described in the specification and the interface can be extended to other device models.
"Using software to perform memory copies has been the gold standard for applications performing memory-to-memory data movement or system memory operations," said Shyam Iyer, chair, SDXI Technical Work Group, SNIA. "With new accelerators and memory types enriching the system architecture, the release of the SDXI v1.0 Specification provides the framework for standardization of accelerator-assisted memory data movement and transformation."
About SDXI spec
It was developed by the SDXI Technical Work Group, comprised of 89 individuals representing 23 SNIA member companies. Download complimentary version of the SDXI v1.0 spec.
"The SDXI Specification v1.0 is the culmination of a multi-year collaboration to define an open and extensible interface for data mover offload engines. Interface standardization is essential to protect the industry's software investment. Standards such as SDXI are especially important as memory systems, such as CXL, become an intrinsic part of data center architectures. AMD is proud to be one of the earliest contributors to the SDXI effort," said William Moyes,fellow, end-to-end server architecture, AMD (Advanced Micro Devices Inc.).
"As a member of the SNIA community, Arm is committed to advancing the open standards required by the new era of specialized computing solutions for cloud and data centers," said Rob Dimond, system architect and fellow, Arm Ltd. "The release of the SDXI v1.0 Specification will enable the industry to develop solutions with even greater data center flexibility and performance efficiency by following a foundational standard for acceleration."
"Dell is very pleased to see the release of SDXI Specification v1.0. With SDXI, the industry is defining a new class of accelerator devices that work in heterogeneous environments. Dell is proud to have pioneered the specification effort with other industry members and looks forward to standardized implementation of these devices and software to augment the system architecture,"  said Tommi Salli, CTO, ISG future growth engines, Dell Technologies, Inc.
According to Beau Beauchamp, technical consultant, MemVerge, Inc., "Memory-tomemory operations are important to Big Memory applications, and even more important with the increasing scope of CXL memory systems. Because an SDXI engine moves memory much more efficiently than a CPU, the SDXI standard will encourage inclusion of these engines across CPU and accelerator vendors, and support by software operating infrastructures."
"Microsoft welcomes the public release of the SDXI v1.0 specification. At Microsoft, we believe Accelerators will help usher in an era of heterogenous computing to deliver upon the performance, efficiency and scale requirements of next generation computing systems, potentially impacting all market segments from cloud to IoT devices. A standardized SDXI protocol has the potential to keep the ecosystem unified as momentum builds behind such heterogenous computing systems," said Jason Wohlgemuth, partner software engineering manager, Microsoft Corp.
Resources:
SNIA SDXI   
SNIA Feedback Portal – Technical Feedback is welcome
SNIA Educational Library – More about SDXI and Version 1.0
SNIAVideo/YouTube