Scality Inaugural Launch Partner for Veeam Smart Object Storage API
To simplify the 3-2-1 rule with a single-vendor architecture for immutable ransomware protection
This is a Press Release edited by StorageNewsletter.com on February 21, 2023 at 2:00 pm
Scality, Inc. was selected as inaugural launch partner for the Veeam Smart Object Storage API (SOSAPI) integration as part of the Veeam Data Platform to improve storage data flow and consumption reporting.
In addition, it has been integrated into data immutability processing with Veeam's direct-to-object storage capabilities.
As of Veeam Data Platform v12, Scality's products support 3 tiers: performance, capacity and long-term retention.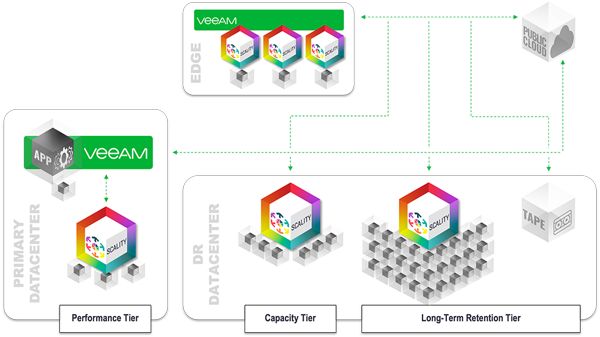 Ranked as the #1 object storage solution for the backup use case in the Gartner 2022 Critical Capabilities for Distributed File Systems and Object Storage, the French company is one of the first vendors supporting Veeam's newest capabilities at launch: direct-to-object storage and SOSAPI. The collaboration provides ransomware protection, data immutability and operational efficiencies without sacrificing flexibility or performance.
"Customers rely on Scality and Veeam to keep their data protected and safe from ransomware," said Andreas Neufert, VP of product management, alliances, Veeam. "Scality is a launch partner for software-defined object storage to support Veeam's new SOSAPI as part of the new Veeam Data Platform – a single platform delivering more advanced data security, recovery and hybrid-cloud capabilities than ever before. The Veeam Data Platform, which includes Veeam Backup and Replication (VBR) v12, provides best-in-class secure backup and fast reliable recovery that keeps businesses running. Veeam appreciates Scality's partnership and commitment to our joint customers in delivering the best and most trusted modern data protection."
Data protection strategies for backup is more business-critical. Ransomware attacks strike every 11s and will grow to every 2s by 20311. But an even more alarming trend shifts the ransomware focus to backup data. According to a recent Veeam report2, 94% of ransomware attacks target backups, and at least some repositories are impacted in 68% of cyber events. Yet challenges to protect backups abound due to infinite data growth combined with reduced budgets, complex infrastructures and stringent data retention compliance requirements. Enterprises are left with a multiplicity of unprotected data silos from non-scalable backup appliances, or architectures that are complex, costly and inefficient to maintain.
However, with Scality and Veeam, IT teams are empowered to meet these challenges head-on and protect their backup data with confidence using a time-tested immutable architecture that eliminates data silos and simplifies management.
Scality's approach to simplifying Veeam's 3-2-1-1-0 golden backup rule
Scality object storage helps IT master Veeam's upgraded approach to the 3-2-1 backup rule by simplifying the architecture for data protection. As a Veeam partner providing a single-vendor, multi-tier backup architecture, Scality gives IT businesses the flexibility to optimize for any required storage tier (performance, capacity or long-term retention). Both Scality's Ring and Artesca software support ready integration with Veeam 12.
Scality provides a single-vendor 3-tier architecture: Performance, capacity and long-term retention
Scality primarily focuses on the 3-2-1-1 aspect of Veeam's total 3-2-1-1-0 backup rule, as shown in the diagram above. Read the 6 reasons why Scality is  the best object storage  for Veeam v12 backups.
Paul Speciale, CMO, Scality, said: "Veeam is pushing the envelope to make backups incredibly simple, fast and reliable for customers. Scality has worked closely with Veeam to be one of the first software-defined object storage vendors to support the new Veeam Data Platform. We help customers further simplify backup management with a single-vendor backup storage solution that complies with Veeam's recommended architecture and offers unbreakable immutability at each backup tier."
Craig Somerville, CEO, Somerville Group Pty Ltd, said: "Our migration to the new Veeam Data Platform will move faster with Scality shoring up our backups. It's a powerful combo. Hands down, Scality is the best backup target to keep data safe and immutable. We have a measurable competitive advantage with a 3-site stretched architecture that streamlines our operations and eliminates siloed data. It's the ultimate 'insurance plan' to keep our data safe while reducing costs and improving efficiency. The benefits of Scality transfer directly to our own customers, giving them budget-friendly pricing and faster SLAs. As a result, we now win more business vs. AWS and other large public cloud providers."
Scality and Veeam = No budget-busting or compromising performance
IT teams are empowered to build a robust data protection architecture that's fast, flexible, easy to deploy.
Scality delivers:
Fast performance with 100% uptime: 4 to 8x faster than competing solutions; 80TB/hour backup and restore and always-on SLA3 
Flexible hardware and software integrations: Run Scality software on any standard server
Ransomware-proof data protection: Multi-level protection with S3 Object Lock, SEC 17a-4 compliance, 256-bit data encryption and immutable object storage
Cost-effective DR and zero RPO/RTO: Cost-efficient, highly available multi-site deployments for ultimate data durability
Cost efficiencies are validated in a 2022 IDC business value report4 that demonstrates how Scality customers save up to 59% TCO and can achieve a 366% 5-year return on investment by:
Eliminating silos: Single-vendor object storage backup solution satisfies Veeam 3-2-1-1 rule, provides unlimited scale-out, and eliminates data migrations for long-term retention
Simplifying growth/scaling: Proactive backup capacity management
Providing flexible pay-as-you-go plans: Capacity-based pricing (start small and grow)
Optimizing Veeam capacity requirements for Microsoft 365: Reduce capacity requirements for backup by 50%
Scality integrations with the Veeam Data Platform can improve security, reduce costs, and streamline operations. IT teams rest assured knowing they have a plan to survive – and even thrive – through any challenge. Unpredictable macro-economics, ransomware threats, natural disasters and limitless data growth are confidently managed – keeping data safe and unbreakable, no matter what occurs.
Cybersecurity Ventures, Global Ransomware Damage Costs Predicted to Exceed $265 Billion by 2031, June 2021
80TB/hour based on a 6-node RING, with 50% de-dupe/compression ratio on backups