2023-24 Top 5 High-End Storage Arrays
Dell PowerMax Series, Hitachi Vantara Virtual Storage Platform 5000 Series, Huawei OceanStor Dorado V6 Series, Infinidat InfiniBox Series, NetApp AFF A-Series (not including HPE and IBM)
This is a Press Release edited by StorageNewsletter.com on February 16, 2023 at 2:02 pm

This report was written on February 9, 2023 by Ken Clipperton, lead analyst, DCIG, LLC.
2023-24 Top 5 High-End Storage Arrays
DCIG announced the availability of its 2023-24 TOP 5 High-End Storage Arrays report. This report provides information about the best arrays for providing uninterrupted access to the world's most essential data.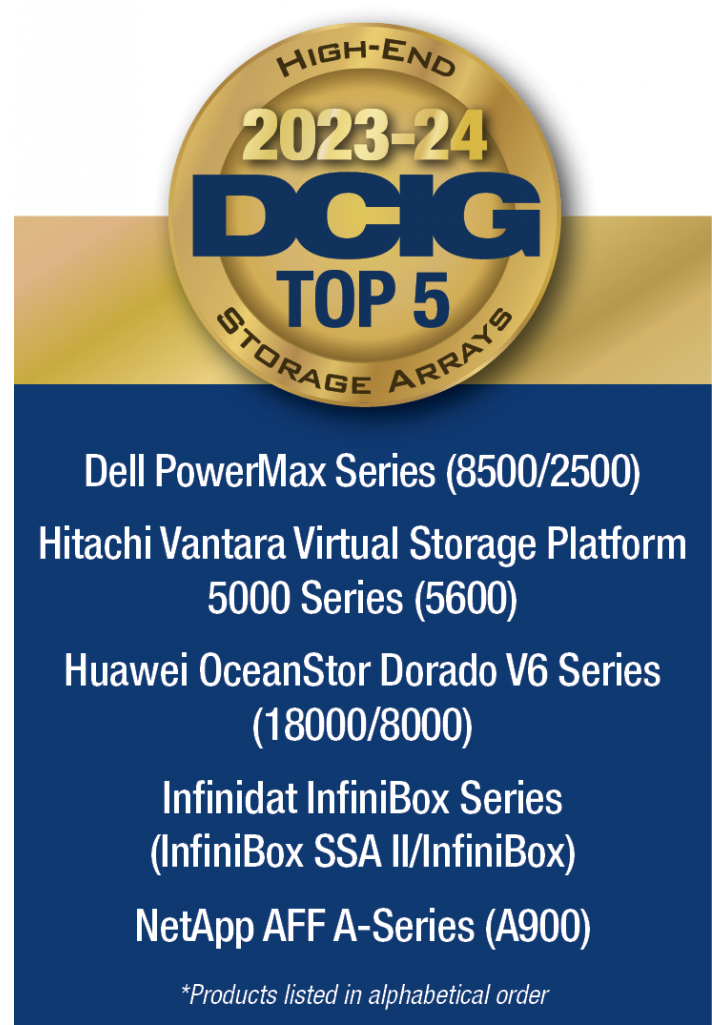 Critical need for high-end storage arrays
Organizations that provide critical infrastructure to the rest of society must provide uninterrrupted service availability-even in the event of a disaster. In hospitals, an interruption in service could mean life or death for a patient. In financial institutions, a brief outage could easily have multimillion-dollar ramifications; and an extended outage could affect a nation's economy. Organizations in these and other critical industries-such as telecommunications, energy utilities, and transportation, depend on high-end storage arrays to provide uninterrupted access to the most essential data. Many other organizations choose high-end storage arrays for the data that is essential to their own business operations.
Reimagining high-end storage
If your mental image of a high-end storage array is rack after rack full of blinking lights, you would be right only 30% of the time. Today, half of all high-end storage arrays, including some of the TOP 5 products in this report, fit into 8RU or less – just 14 inches of rack space. Thus, huge floor space requirements no longer define high-end storage.
Benefits of effective high-end storage solutions

Performance and availability. An effective high-end storage solution provides consistent high performance and continuous availability for critical business workloads. To obtain this result, high-end storage must provide sufficient performance resources, storage capacity, and protocol support to serve the needs of these applications. High-end storage arrays must also secure and protect the data, integrate into data center management and automation frameworks, and integrate with common enterprise software applications.

Consolidation. High-end storage arrays provide scalable capacity and storage density that complement the performance resources of the arrays, providing remarkable performance per floor tile and increasing the amount of work any data center can deliver. Broad storage protocol support further enables high-end arrays to provide storage for nearly any workload.
Recent advances in high-end storage
One section of the report identifies some of the significant advances in high-end storage that have emerged since the publication of the 2020-21 TOP 5 High-End Storage Arrays report.
These advances include new capabilities or enhancements around:
• Cyber resilience
• Advances in using analytics (AIO/s)
• Cloud integration
• Provision of object storage
• STaaS
• Sustainability enhancements and reporting
Top 5 high-end storage arrays
In preparing this report, 14 products were indentified that met its criteria for high-end storage arrays. DCIG evaluated these arrays based on multiple features and capabilities.
The general categories under which these features fell included:
• Acquisition and deployment options
• Workload consolidation features
• Performance management
• Efficiency features
• Data protection and security features
• Technical support
Based on these criteria, DCIG awarded the following high-end arrays a Top 5 ranking (in alphabetical order):
• Dell PowerMax Series (8500/2500)
• Hitachi Vantara Virtual Storage Platform 5000 Series (5600)
• Huawei OceanStor Dorado V6 Series (18000/8000)
• Infinidat InfiniBox Series (InfiniBox SSA II/InfiniBox)
• NetApp AFF A-Series (A900)
Read also :