UK Dentons Law Firm Leverages Pure Storage
For global expansion, supported by sustainable, secure infrastructure
This is a Press Release edited by StorageNewsletter.com on February 10, 2023 at 2:00 pm
Pure Storage, Inc. announced that law firm Dentons is leveraging its portfolio – including FlashArray, Evergreen//One, and Pure1 – to expand its global presence, drive sustainable business practices, and provide data security for its growing roster of diverse clients.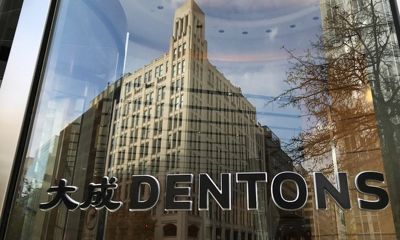 Customer challenge:
Law firms generate an incredible amount of documents, reports, and communications every day. With over 21,000 professionals in over 200 locations across more than 80 countries and clients ranging from individuals to global enterprises, to national governments and more, managing and storing a growing volume of complex data presented a challenge to Dentons.
Dentons UK, Ireland, and Middle East region (Dentons UKIME) was running multiple storage systems from a variety of providers across its data centers to maintain its global growth trajectory. The complex set-up was difficult to manage, with systems running close to capacity. Dentons UKIME's existing storage arrays were not only placing fundamental systems at risk, but inhibiting long-term scalability and slowing sustainable business practices.
Customer impact:
Moving to Pure Storage, however, enabled Dentons UKIME to benefit from secure, cloud-like flexibility across its storage infrastructure, while giving hundreds of lawyers a dependable set-up to deliver legal services.
By shifting its storage to Pure Storage FlashArray, Dentons UKIME achieves:
Cloud-Like Flexibility and Scalability to Support Rapid Expansion: Moving the bulk of its storage to FlashArray, supported by the Evergreen//One subscription model, enabled Dentons UKIME to standardize on a single, flexible, and extendable on-premises storage solution with cloud-like provisioning. With the flexibility and scalability that Pure offers, Dentons UKIME's storage can match its ambitions for long-term, rapid growth.
Efficient, Non-Disruptive Upgrades with Minimal Waste to Drive Sustainability: With Evergreen//One offering, the customer benefits from non-disruptive upgrades, avoiding the need to dispose and replace its own hardware every 3 to 5 years. Additionally, FlashArray consumes up to 50% less power than competitors and helps Dentons UKIME reduce its data center footprint, while the Evergreen//One subscription maximizes utilization and reduces overall e-waste.
Data Security to Meet Stringent Client Requirements: The heart of Dentons UKIME's business runs on Pure Storage, from the email system to the management platform, SQL database services, and DR. Because FlashArray is encrypted at rest, important security protocols and measures are now baked into its storage, a critical aspect of Dentons UKIME's IT infrastructure, given its diverse client portfolio.

"We're always looking to use technology and innovation to deliver services securely and more cost-effectively for our clients. Pure Storage's technologies not only provide the dependable foundation Dentons UKIME needs to deliver meaningful services for clients today, but the flexible storage infrastructure needed to match our long-term growth and sustainability ambitions now and in the future," said Paul Thurston, CIO, Dentons UKIME.
Case Study: Dentons UKIME Sets a Precedent for Flexible Growth