Pliops XDP Data Services to Empower Data-Infrastructure Optimization
Includes XDP-RAIDplus, XDP-AccelDB and XDP-AccelKV, and enabling data resiliency, reliability, scalability and protection.
This is a Press Release edited by StorageNewsletter.com on January 24, 2023 at 2:01 pm
Pliops Ltd. launched its XDP Data Services platform, a transformational approach to optimize data infrastructure and accelerate modern workloads, while reducing TCO by 50%.

Running on the company's Extreme Data Processor (XDP), the portfolio of XDP Data Services includes XDP-RAIDplus, XDP-AccelDB and XDP-AccelKV. These data services are designed to maximize data center infrastructure investments by exponentially increasing application performance, data reliability, storage capacity, and overall stack efficiency.
XDP-RAIDplus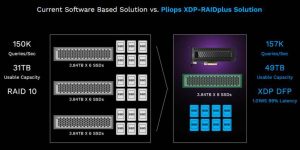 Because traditional RAID technologies were developed with HDDs in mind, when used with modern SSDs, traditional RAID behaves in a way that massively reduces drive performance and endurance, while requiring additional drives for redundancy, thus reducing available capacity. Delivering protection for NVMe and NVMe-oF environments – as well as enterprise SATA and single-port SAS environments – the company's XDP-RAIDplus is a data protection solution that overcomes the limitations of conventional RAID controllers. It accelerates application performance – and enables higher endurance, usable life and unlocking capacity for enterprise SSDs. Enterprises have lower application downtime, increased SSD lifetime and lower TCO for their data infrastructure.

XDP-RAIDplus employs inline data compression, allowing users to configure RAID 5-like protection with no physical capacity loss. It also rebuilds only the data on the drive when a failure occurs, reducing rebuild time by 65% while providing higher throughput than traditional RAID solutions.
With XDP-RAIDplus, applications using NVMe SSDs experience:
Up to 10x increase in throughput 

6x capacity reduction 

5x improvement in SSD drive endurance 

50% reduction in TCO 

Increased uptime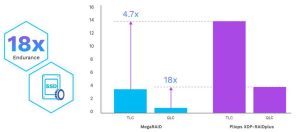 "Maintaining high-performance, high-reliability SSD-based storage systems can be hugely challenging," said Uri Beitler, founder and CEO. "SSD faults in servers hosting data-hungry applications are a leading cause of significant downtime, impacting productivity and affecting SLAs. With this in mind, XDP-RAIDplus was designed to maximize the capabilities of NVMe SSDs to the most demanding I/O needs of any system, while optimizing the system's cost/performance ratio. Numerous customers are sacrificing data reliability in order to avoid performance drops – we solve this by not only accelerating current solutions but also by providing this key feature to customers that cannot take advantage of existing solutions."
Added Brian Beeler, StorageReview: "We've spent extensive time with Pliops XDP accelerator hardware and have seen first-hand how easy Pliops makes it to take advantage of new NVMe SSDs, especially the high-capacity 30TB-class drives that are increasingly common in the market. In lab tests, we focused on the XDP-RAIDplus Data Service and tested with Solidigm 30.72TB P5316 QLC SSDs, which showed 1.5x to 5.6x better performance than software RAID0 across our workloads. Further, when initiating an SSD failure, we were able to rebuild an entire 30.72TB SSD, with a mixed workload running, in roughly 450mn. This generation of modern enterprise flash provides tremendous opportunity for organizations, but systems also need to be prepared to effectively manage this investment. From what we've seen in the StorageReview lab, the Pliops XDP does extremely well in this regard."
Other data services in portfolio include:

XDP-AccelDB is a database accelerator for SQL applications such as MySQL, MariaDB and PostgreSQL. It also accelerates NoSQL applications including MongoDB and SDS solutions. Thanks to features such as atomic writes, smart buffering and data shaping, XDP-AccelDB users experience 3.2x higher transactions, 3x latency reduction, and improved capacity expansion by 6x.

XDP-AccelKV
Click to enlarge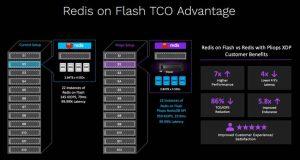 XDP-AccelKV data service is a key-value (KV) accelerator solution for storage engines such as RocksDB, WiredTiger and more. As a native hardware KV accelerator, it provides an order of magnitude higher performance than software-only solutions. As part of XDP-AccelKV data services, the company offers the XDP-Rocks, which streamlines architecture and eliminates complexities to deliver breakthrough levels of workload performance, scalability and efficiency to RocksDB deployments.
According to Gartner analysts, "The storage and data protection market is evolving to address new challenges in enterprise IT. Exponential data growth, public cloud adoption, talent acquisition challenges, new workloads, cyberthreats, requirements to connect and collect everything, and the data governance laws are demanding changes in storage platforms and operational models. Requirements for adaptable, robust, secure, scalable, simple and performant storage and data services are on the rise. As data centers are no longer the centers of data, IT leaders expect to deliver storage services and data platforms capable of hybrid cloud data flow, both at the edge and in the multiple public cloud."
Comments
This announcement marks a milestone for the company with a new set of Data Services. Three key functions are added to the XDP model to augment value of this approach. Values here means several dimensions: performance in terms of throughput, capacity, endurance, uptime and TCO.
The data protection aspect supports a variety of devices or media with the focus on flash-based entities. This new approach was designed with this media in mind which is by design completely different from platters and rotating disks.
One interesting aspect is the coupling of data reduction before RAID computation and for RAID-5, the space allocated to parity is covered by this reduction meaning that there is no loss of capacity. It was accepted in the past, you loose space but you gain protection. This approach solves that. The other key difference is the parity computation does not cover partition but data meaning a better granularity independently of the device. Classic RAID groups partitions and therefore protects data on these partitions.
The other key focus here reside in the 2 database models supported with SQL and KV based structure without any preference. The result is spectacular with real gain in transaction rate and capacity.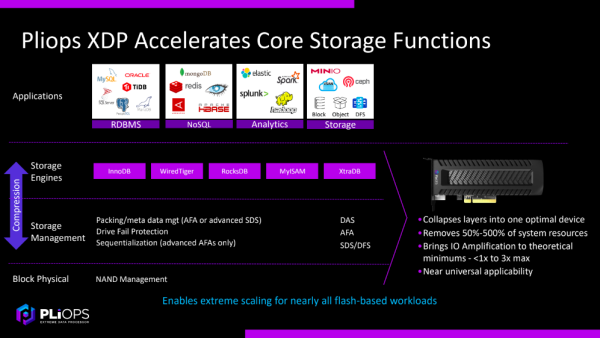 We see more and more approaches in this area, not to say similar. GRAID Technology for instance focus on data protection with an offload engine based on GPU and SpeeDB focus on RocksDB, just to mention 2 other offerings on the market that illustrate this dynamism. It turns out that the "Any to Any" approach, any applications, OS ... connected to any storage entity is the right path and we understand that different of maturity exist on the market with various data services.
The go-to-market will be key for the success to boost users adoption and clearly it seems that the OEM path is the right way to achieve that. Real battle in perspective as several players exist. Players with a set of comprehensive data services will dominate that area. But we also saw some difficulties for some DPU, Computational Storage or offload cards vendors, the more recent one was Fungible, acquired by Microsoft for an amount lower than the total of funding. In other words the beauty of the technical side doesn't imply market success even if founders have a name …