Synology SA6400 12-Bay 2U Rackmount NAS
1.9PB, with 12-core 3.2GHz AMD EPYC 7272 and 10GbE LAN ports
This is a Press Release edited by StorageNewsletter.com on January 23, 2023 at 2:01 pm
Synology, Inc. announced the 12-bay SA6400, its most versatile general-purpose storage system designed to provide enterprises and large studios with fast data transfer speeds and on-demand capacity expansion.


"SA6400 is the ideal solution to tackle today's ever-increasing amounts of unstructured data," said Julien Chen, product manager. "Its ability to quickly scale as data demands grow makes it suitable to serve as file or backup storage in agile and dynamic environments, getting businesses ready for future data growth."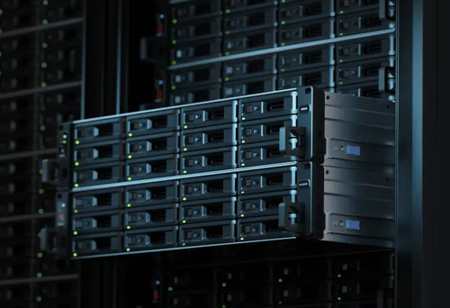 Scalability and performance
Storage capacity is expandable by adding up to 8 RX1223RP expansion units for a total of 108 drive bays, making room for over 1.9PB on a single system – 9x the original capacity.
With a throughput of over 6,500/4,000 MB/s sequential RW,(1) SA6400 ensures smooth operations even in the most demanding scenarios, including enterprise data centers, large production studios, and applications in the retail or hospitality sectors.
Performance can be boosted to accommodate more streams or tackle specialized applications by upgrading the built-in 10GbE networking to 25 or 40GbE. (2)
Flexible file serving for growing teams
Support for file and block protocols enables large-scale access to company resources over the local network or VPN, with management of access privileges made easy by Active Directory/LDAP integration.
The cross-platform Synology Drive file management and sharing solution enables organizations to create a private cloud that teams can leverage to access, edit, and share files securely, with granular permission settings for security and compliance.
Integration with the cloud – either Synology's own C2 Storage or third-party cloud service providers – allows for cross-site file synchronization for distributed teams or companies adopting hub-spoke organizational models. (more about file management)
Centralized data protection for entire infrastructure
Keeping critical data and services protected and available is necessaryr with continuous and emerging cybersecurity threats.
The firm's suite for endpoint protection, Active Backup Suite, enables Windows, Linux, and macOS (coming soon) devices, Hyper-V/VMware VMs, and Microsoft 365/Google Workspace accounts to be safely backed up onto the SA6400 and quickly restored when needed.
The system also includes data backup, snapshot, and replication automation services to protect shared folders and LUNs, with destinations that range from other firm's systems to the cloud for compliance with the 3-2-1 backup rule.
Service availability can be boosted with the Synology High Availability (SHA) service, which pairs identical units to create an active/passive cluster that ensures automatic service failover within minutes in case of unexpected downtime (more about data protection).
Versatile business application platform
A host of cost-efficient solutions are available through the company's DSM's (DiskStation Manager) own download center, containers, or VMs.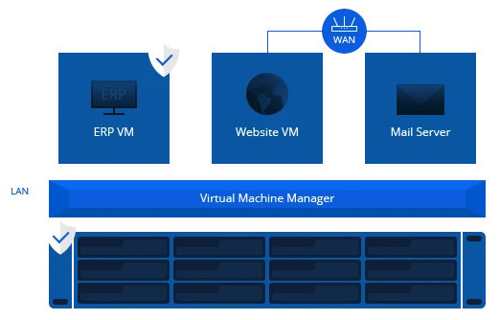 Built-in business applications include a suite of file management and productivity tools that teams can leverage to boost collaboration, as well as a private mail solution with 100% data ownership and a full-featured messaging platform for more convenient and secure communications.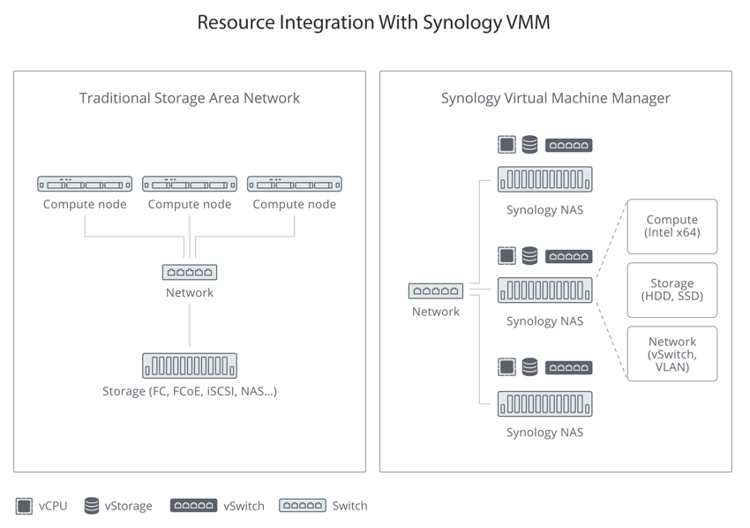 Docker containers and VMs can be run on SA6400 using Docker or Synology Virtual Machine Manager (VMM) – a hypervisor for virtualized versions of Windows, Linux, and DSM – to safely test and evaluate applications (more Virtualization on Synology).
SA6400 and RX1223RP are available through the company's partners and resellers.
Click to enlarge
Resource:
More about productivity solutions for Synology NAS
(1) Performance figures are obtained through internal testing by Synology. Actual performance may vary depending on the testing environment, usage, and configuration. See performance charts for more information.
(2) Check our compatibility list for the most up-to-date list of compatible NICs.
Read also :