Company Profile: Linbit
In block level virtualization and replication for Linux
By Philippe Nicolas | January 17, 2023 at 2:01 pm

Company name (and legal name):
LINBIT (LINBIT HA-Solutions GmbH and LINBIT USA, LLC)
HQ and offices:
Vienna Austria and Tualatin, OR
Date founded:
November 6, 2001
Founders:

He is a Linux and open source enthusiast with deep technical expertise. He started working with storage replication while graduating from the Technical University of Vienna, Austria. Since then, he has further extended his leadership in HA and storage with an international reputation.
Gerhard Sternath, CFO
He is the financial, process, and data backbone of the company. He previously had several leadership roles in IT companies, and by founding LINBIT, he mastered the commercial challenge of running a company based on open source products.
Other executives:
Brian Hellman, COO
He has been leading the US entity of LINBIT since 2008. Before that, his role was to design and implement complex IT infrastructures while maintaining industry compliance, maintaining client satisfaction, and managing application and server uptimes. He is an open source enthusiast and brings this spirit into the daily operations of LINBIT in USA.
Michael Paier, VP sales and transformation
He joined at the beginning of 2022 and is the sales brain of the firm. He joined from IBM, where he was a senior executive who performed several different leadership roles for sales, channels, transformation, and general management.
Joe (José) Moliner, chief growth officer
He joined in 3Q21 and started a transformation process at the company. Initially, he led the sales team before giving this role to Paier. Then he built and still leads the digital outreach team. He is a serial entrepreneur collecting experiences in China, Germany, Finland, UK, and Canada,.
Financial funding:
Start-up capital of €35,000 came from the initial founders in 2001. As of today, the firm is still privately held.
Employees numbers:
35
Revenue:
€4 million
Technology:
The generic Ethernet is strong enough to carry storage workloads these days. The general-purpose CPUs and the Linux kernel which host the workloads can also perform storage virtualization. By converging compute and storage machines, you gain by reducing storage access latencies and network load. SDS is they way forward.
Beyond that, Linux proved that the open source development model created a vibrant community, the leading OS. This will also happen in the world of storage software and the companies in that field.
DRBD, LINSTOR, Pacemaker, and Piraeus are open-source projects hosted on Git-hub and mainly backed by LINBIT.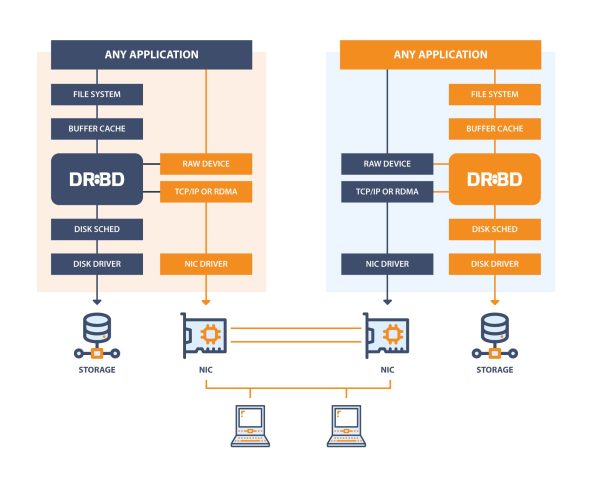 Products: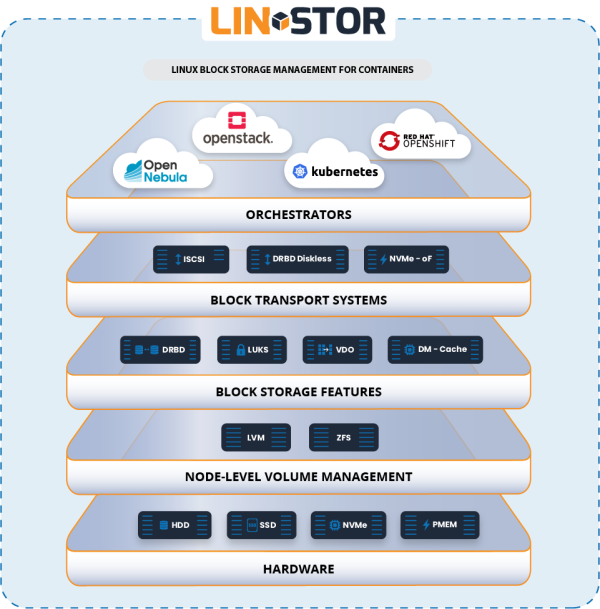 LINBIT SDS
It provides block storage volumes. Synchronous replication is natively built-in to ensure HA for the storage volumes. Additionally, it can do snapshots, thin-provisioning, optional caching, and snapshot shipping to other LINBIT SDS instances and S3 storage. It is available for Kubernetes, OpenStack, Apache CloudStack, OpenNebula, Proxmox, and XCP-ng. The product is a support subscription containing access to open-source projects' prebuild packages: Piraeus, DRBD, LINSTOR, and DRBD-reactor.
LINBIT HA
It is software to build HA clusters. Typical applications are databases (mySQL, PostgreSQL, DB2, Oracle DB, SQL Server, etc.), file servers (NFS, Samba), and custom applications.
It is available for Red Hat Enterprise Linux and clones, SUSE's SLES, Canonical's Ubuntu LTS, and Debian. The product is a support subscription that contains access to prebuild packages of the open source projects: DRBD or WinDRBD, Pacemaker, and DRBD-reactor.
LINBIT DR
It is an add-on for DRBD HA. It is a WAN optimizer for the DRBD network protocol. It enables customers to run DRBD online data replication across high bandwidth, high latency network links, such as satellite links.
LINBIT VSAN
It is a storage appliance software for physical machines or VMs. It provides HA iSCSI targets and NFS exports. Running it requires no Linux expertise. The product is a support subscription with access to prebuild .iso and .ova files. It includes the open source projects: DRBD, LINSTOR, and DRBD-reactor.
Release and roadmap:
LINBIT SDS 2.0 was released in October 2020. Highlights of that release are AWS' EBS, HTML-based GUI, snapshotting schedules, networking in the overlay network in Kubernetes clusters, support for self-encrypted drives (SED), and data plane speedups.
Subscription model and pricing:
The start-up is offering multiple SLAs up to full 24/7 coverage for mission-critical enterprises with guaranteed response times:
LINBIT SDS support is charged by storage capacity, starting with €40/TB/year.
LINBIT HA support is charged by node, starting at €2.490 per node per year.
LINBIT DR is charged by node, starting at €4.990 per node per year for a 24/7 SLA.
LINBIT VSAN is charged by the node at €4.990 annually.
Market:
Direct, regional and international SIs, regional and OEM partners and digital.
Customers and partners:
DB Schenker, SMBC Nikko Securities, Consorzio dei Comuni della Provincia di Bolzano, SSI Schäfer, KNAPP, IMC, Performance Matters LLC, Adamson Systems, TruckPro, KDDI Corporation, IQVIA, Accedian, DE-CIX, DNA Oyj
IBM, Kyndryl, NTT, Tata Consultancy Services, NCR, Science Logic, MicroFocus, Nokia, Alcatel, IndiQus Technologies
Workloads/use cases/applications:
Databases (OLTP, OLAP), enterprise message queuing, SAP, warehouse database, data evaluations (analyses) and production data acquisition, AI.
Target markets:
Cloud providers, service providers, SIs, financial industry, logistics ans distribution, and SMBs
Competitors:
Ceph, DataCore, KumoScale, Lightbits Labs, Ondat, Portworx, StorPool, StorONE
Read also :