New SNIA Board of Directors and Technical Council Members for 2022-2023
Association celebrating 25 years in storage industry
This is a Press Release edited by StorageNewsletter.com on December 12, 2022 at 2:01 pm
The Storage Networking Industry Association (SNIA) announces its 2022-2023 board of directors and technical council members as it celebrates 25 years in the storage industry focused on advancing storage and IT.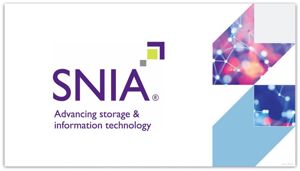 The organization has over 180 organizations, 2,500+ active members, and more than 50,000 IT end user and storage professionals around the world.
"The continued evolution of the board and technical council with new members and company representation is a testament to the impacts that SNIA has in the industry," said Dr. J Metz, chair, board of directors. "As we look forward to the next era of storage and networking needs, we continue to see SNIA evolve the entire organization to provide ongoing support of the industry."
"Much like the last 25 years, SNIA technical work continues to highlight SNIA's value, impact, and awareness of market changes in the industry," said Bill Martin, SNIA technical council co-chair. "The technical council is committed to driving the evolution of technical standards, architectures, and specs while continuing to foster collaboration with other industry organizations."
SNIA has published 3 new technical standards, another standard received International Standard accreditation (ISO), and 5 new SFF specs this year.
In 2023, SNIA will focus its technical work on the following areas:
Smart Data Accelerator Interface (SDXI) v1.0 became a new standard
Computational storage will continue with expansion of the computational storage API and the computational storage architecture and programming model toward new released versions
DNA storage, through the DNA Data Storage Alliance technology affiliate
SNIA Swordfish will continue to develop enhancements
Continued work on the SNIA Emerald program and Storage Device Level Power Efficiency Measurement (SDLPEM) activities
 Executive Committee:
Chair: Dr. J Metz, AMD
Vice Chair: Richelle Ahlvers, Intel Corporation
Secretary: Chris Lionetti, Hewlett Packard Enterprise
Treasurer: Sue Amarin
Member: Scott Shadley, Solidigm Technology
Chair emeritus: Wayne Adams, industry consultant
 Board Members:
Peter Corbett, Dell Technologies
John Geldman, Kioxia Corporation
Roger Hathorn, IBM
Jonathan Hinkle, Micron
Dave Landsman, Western Digital
Chris Lueth, NetApp
David McIntyre, Samsung Corporation
Co-Chair: Mark Carlson, Kioxia Corporation
Co-Chair: Bill Martin, Samsung Corporation
 Technical Council Members:
Curtis Ballard, Hewlett Packard Enterprise
Stephen Bates, Eideticom
Alan Bumgarner, Solidigm Technology
Anthony Constantine, Intel Corporation
Shyam Iyer, Dell Technologies
Glenn Jaquette, IBM
Fred Knight, NetApp
Dave Peterson, Broadcom
Leah Schoeb, AMD
The association is a not-for-profit global organization of member companies spanning the storage market. As a recognized andauthority for storage leadership, standards, and technology expertise WW, its mission is to lead the storage industry in developing and promoting vendor-neutral architectures, standards, and educational services that facilitate the efficient management, movement, and security of information.
Read also :