History 2000: WD Forms Subsidiary for Personal Video Recorder
Keen Personal Media
By Jean Jacques Maleval | December 5, 2022 at 2:01 pm
The personal video recorder (PVR) market is getting a lot of attention from HDD manufacturers as a likely replacement for videocassette recorders.
Seagate has allied itself on the subject with Thomson Multimedia to form joint-venture CacheVision.
Quantum and Maxtor are also both involved in the field.
This time it's Western Digital, no novice to the technology, which has decided to create its 3rd subsidiary (after Connex and SageTree), Keen Personal Media, Inc. to provide PVR hardware and software.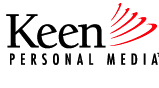 The new firm's president and CEO is Russ Krapf, who has run the AV business division of WO since May 1999.
In fact, Keen PM was conceived in 1999, and its initial software product, TV4me, utilizes intelligent agents to learn (up to 6) viewers' TV programming preferences in order to recommend, search for and download appropriate programs automatically onto the set-top box HDD for convenient viewing anytime.
The software includes recently licensed MbTV technology from Metabyte Networks.
The first customers will be cable TV multiple system operators (MSOs).
The start-up has already licensed the software to one, Scientific- Atlanta, a supplier of set-top boxes.
A second Keen PM product, Sidecar, is a peripheral containing a HDD that mates to digital set top boxes, creating a PVR.
This article is an abstract of news published on issue 154 on November 2000 from the former paper version of Computer Data Storage Newsletter.