Hammerspace and Seagate Collaborate
To deliver end-to-end bundled solutions through Climb Channel Solutions
This is a Press Release edited by StorageNewsletter.com on December 5, 2022 at 2:00 pm
Hammerspace, Inc. is collaborating with Seagate Technology Holdings plc to provide bundles that simplify the deployment of global data solutions for data-centric businesses that constantly collect, generate and manage obscure and large data sets from sources such as company networks, employee or customer personal devices, and the connected IoT.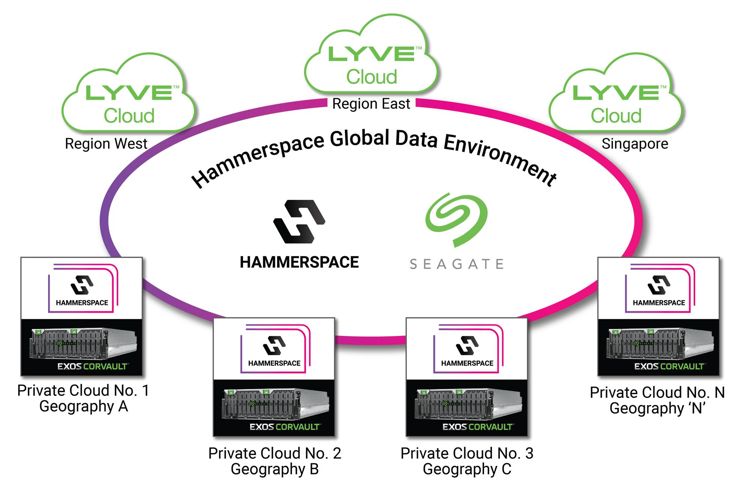 The bundles are provided through Climb Channel Solutions, Inc. with special pricing for deals booked by March 31, 2022. The bundles include the software, edge hardware or cloud capacity needed to present data at the edge, in the data center and in the cloud in a single global file system.
They allow users to access their data from anywhere in the world – no matter whether on primary storage or in the cloud – while staying unified in a single global file system. The 2 partners provide the maximum elasticity for customers to have total data control and experience true multi-cloud freedom with powerful, end-to-end, hybrid-cloud storage capabilities, smart data orchestration and infinite scalability. Data-placement policies between multiple on-premises storage systems and Seagate's storage-as-a-service (STaaS) Lyve Cloud platform are entirely transparent as a background operation. Users simply see their data in their applications or at the same mount point as always, whether the files are still on primary storage or have moved to secondary storage or the cloud.

Bundle Components:
Seagate Exos CORVAULT: The SAS storage system supporting petabytes of capacity with self-healing, mass-capacity block storage designed to deliver hyperscale efficiencies, rapid deployment, and streamlined data orchestration that delivers value, performance and data protection.
Seagate Lyve Cloud: An object storage solution for mass capacity storage and data workloads. It is delivered as STaaS with predictable economics to deliver multi-cloud, multi-region freedom with no ingress, egress or hidden fees.
Hammerspace Global Data Environment: Software-defined, parallel global file system, data management and orchestration
Bundle Details:
Bundle #1 – "Starting at the Edge" Bundle
Seagate Exos CORVAULT: 2.12PB raw

1-year subscription
7×24 support

Hammerspace Global Data Environment: 1.7PB managed capacity

1-year subscription
Installation included
7×24 support
 Bundle #2 – "Adding the Cloud" Bundle
Seagate Lyve Cloud capacity: 250TB

No long-term commitment required
7×24 support

Hammerspace Global Data Environment: 1.7PB managed capacity

1-year subscription
Installation included
7×24 support
Bundle Benefits:
Enable the hybrid cloud with data access to any system and cloud
Workload optimization, flexible data placement and orchestration
Combines on-premises and cloud storage
Limitless storage
Eliminate data silos
Simple and predictable public cloud pricing with no ingress or egress fees
Scalable, self-healing and five-9s durability low-cost storage for on-premises environments
"One of our core values is connection," says Dale Foster, CEO, Climb Channel Solutions. "We are proud that our valued partners have come together with us to provide a total solution for businesses in the channel to be able to access their data from anywhere in the world. We are connecting and scaling business with Hammerspace and Seagate's end-to-end solutions."
"Many businesses are not equipped to manage the massive growth of unstructured data across a more distributed enterprise. Mass capacity storage solutions are crucial in addressing the challenges of data sprawl to ensure data is traceable, accessible and securely stored across the hybrid cloud," said Mike Herbig, VP of Americas sales, Seagate. "Seagate is on a mission to create solutions to customer challenges to help them focus their time on their business, not on their infrastructure."
"Our collaboration with Seagate is synergistic because we both provide the Enterprise with on-premises and public cloud solutions. These aren't just check-off items for us but our core competencies," said Tony Asaro, SVP of strategy and business development, Hammerspace. "Our customers are amazed by the value of CORVAULT storage system and the fact that Lyve Cloud doesn't charge ingress or egress fees. And, Hammerspace provides the data services, orchestration and management to seamlessly leverage the Seagate systems and services. It's a powerful combination."
Available for all orders booked through March 31, 2023.
Read also :