History 2000: BDT, Unknown Tape Autoloader Manufacturer
Reason: products exclusively sold to OEMs
By Jean Jacques Maleval | December 2, 2022 at 2:00 pm
BDT in Rottweil, Germany, is an authentic manufacturer of cartridge autoloaders and low end libraries, yet who has heard of the company?
There's a reason for this, its name never appears on its products, which are sold exclusively in OEM.
One of its customers is ATL/Quantum, which contrary to popular belief, does not itself manufacture its PowerStor L200 autoloader. That's right, the device comes from BDT.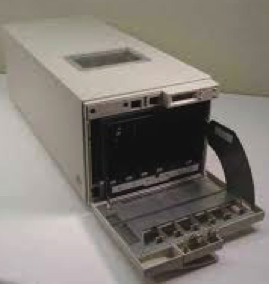 This holds true for the product resold to HP, Silicon Graphics or Sun.
BDT designs all these automation products for DLT and DAT, and will soon also handle LTO, VXA and AIT.
BDT is in fact a former manufacturer of magnetic ledger card feeders now involved in thermal printers, tape autoloaders, and paper input and output.
The firm has long been an OEM supplier of DAT autoloaders to HP. It acquired Kodak's CD/DVD jukebox activity, based in Germany, at the beginning of the year.
Along the same lines, there is a striking resemblance between 2 other autoloaders, Plasmon's 10-cartridge Guardian LTO 10 and the 15-cartridge Exabyte 215 for 8mm tape, announced in forthcoming versions for LTO and SuperDLT.
We were unable to determine the identity of the true manufacturers: Exabyte, Plasmon, or a mysterious third party (Shinei Sanyo).
Quantum began last month shipping its SuperDLT drives to 3 library manufacturers: ADIC, Overland Data, StorageTek and to its own ATL unit, as well as to Compaq.
Maxell is currently shipping SuperDLT cartridges utilizing Advanced Metal Particle (AMP) formulation and back coating containing optical servo tracks.
This article is an abstract of news published on issue 153 on October 2000 from the former paper version of Computer Data Storage Newsletter.