Dell: Fiscal 3Q23 Financial Results
Storage revenue at $4.4 billion, up 11% Y/Y and 2% Q/Q, 3rd consecutive quarter of growth
This is a Press Release edited by StorageNewsletter.com on November 23, 2022 at 2:02 pm
Revenue for storage only

| | | | | |
| --- | --- | --- | --- | --- |
| (in $ million) | 3Q22 | 3Q23 | 9 mo. 22 | 9 mo. 23 |
| Revenue | 4,003 | 4,429 | 11,966 | 12,993 |
| Y/Y growth | | 11% | | 6% |
Dell Technologies Inc. announces financial results for its fiscal 2023 third quarter.
Global revenue was $24.7 billion, down 6%.
Infrastructure solutions group delivered record third quarter revenue of $9.6 billion, up 12% Y/Y and its 7th consecutive quarter of Y/Y growth. Servers and networking revenue was $5.2 billion, up 14%. Storage revenue was $4.4 billion, up 11% Y/Y and 2% Q/Q, the 3rd consecutive quarter of growth. Operating income was a record $1.4 billion, up 54% and 14.3% of infrastructure solutions group revenue.
TAM growing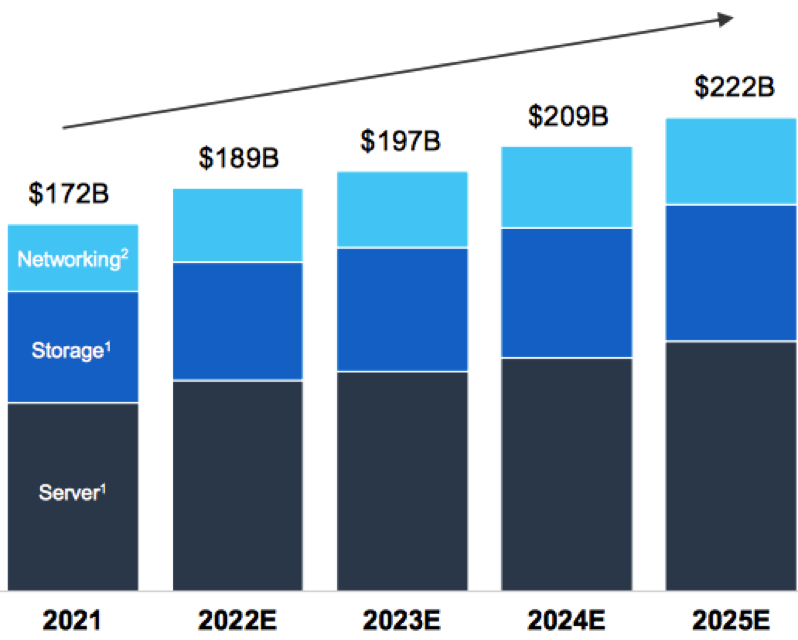 1) Dell analysis leveraging external data sources: IDC 2Q22 Forecasts (server, storage); TAM note: Storage includes core storage, data protection, and HCI; Server is total server less HCI HW. 2) Dell'Oro CY23-26 forecasts (networking).
Storage revenue of Dell
(in $ million)

| | | |
| --- | --- | --- |
| Period | Revenue | Y/Y growth |
| FY11* | 2,295 | 5% |
| FY12* | 1,943 | -15% |
| FY13* | 1,699 | -13% |
| FY14* | 1,518 | -11% |
| FY15* | 1,437 | -5% |
| FY16* | 2,217 | 54% |
| FY17** | 8,942 | 303% |
| FY18 | 15,254 | 71% |
| FY19 | 16,767 | 10% |
| 1FQ20 | 4,022 | -1% |
| 2FQ20 | 4,184 | 0% |
| 3FQ20 | 4,184 | 8% |
| 4FQ20 | 4,487 | -3% |
| FY20 | 16,767 | -0% |
| 1FQ21 | 3,758 | -7% |
| 2FQ21 | 4,011 | -4% |
| 3FQ21 | 4,149 | -7% |
| 4FQ21 | 4,409 | -2% |
| FY21 | 16,091 | -4% |
| 1FQ22 | 3,802 | 0% |
| 2FQ22 | 3,970 | -1% |
| 3FQ22 | 3.895 | 1% |
| 4FQ22 | 4,499 | -0% |
| FY22 | 16,465 | 0% |
| 1FQ23 | 4,237 | 9% |
| 2FQ23 | 4,327 | 6% |
| 3FQ23 | 4,429 | 11% |
* Without EMC
**without EMC for 1FQ17 and 2FQ17 following acquisition for $63 billion
Read also :