SC22: Weka Raises $135 Million
Doubles valuation in oversubscribed series D funding round.
This is a Press Release edited by StorageNewsletter.com on November 16, 2022 at 2:02 pm
WekaIO, Inc. (WEKA) raised $135 million in an oversubscribed series D funding round led by Generation Investment Management LLP.
Several new and existing investors also contributed, including 10D, Atreides Management, Celesta Capital, Gemini Ventures, Hewlett Packard Enterprise, Hitachi Ventures, Key1 Capital, Lumir Ventures, Micron Ventures, Mirae Asset Capital, MoreTech Ventures, Norwest Venture Partners, Nvidia, Qualcomm Ventures, and Samsung Catalyst Fund.
Despite recent volatility and uncertainty in the global financial markets that have widely impacted startup valuations and investments, the company also doubled its previous valuation in the round.
The new funding will enable the company's continued investment in developing the its Data Platform to expand its features and cloud integrations, support new use cases, and accelerate the delivery of innovative solutions to its customers. It will also allow the firm to reach profitability, fuel global expansion, and rapidly scale its cloud, customer success, sales, marketing, operations, and human resources teams.
"In 2013, WEKA set out with a bold vision to create a fundamentally new approach to managing and storing data that could power the possibilities of the future by eradicating the compromises of the past," said Liran Zvibel, co-founder and CEO. "This funding round represents a tremendous milestone in realizing that vision, and we are grateful to our new and existing investors for their support. The new capital will allow us to invest in our product and go to market, maintain hyper growth, and give us the runway we need to become a profitable, independent company."
Generation's investment in WEKA is part of its Sustainable Solutions Fund IV, which conducts deep research into innovative 'green data' companies that are helping to address the rapid increases in energy consumption associated with the exponential growth of data and modern data management environments. Today, the world's data centers are responsible for roughly 2% of its total energy consumption – equivalent to the energy use of the entire continent of Australia. By 2030, without intervention, it may account for 8% or more, as next-gen workloads like AI, ML, and HPC increase energy and resource demands.
"AI and ML applications fuel sustainable advancements like autonomous cars and intelligent manufacturing. However, these workloads demand massive volumes of data and computing power. Today, much of that power is wasted, sitting idle due to bottlenecks in the data pipeline," said Dave Easton, a growth equity partner, Generation Investment Management. "We believe WEKA is a leader in the growing green data movement, helping some of the world's best companies drastically improve their performance while providing the potential to avoid millions of tons of carbon. The WEKA Data Platform enables 10-100x performance gains for AI/ML workloads so customers can get the most out of their data, whether operating on-premises, in the cloud, or hybrid and multi cloud configurations."
Series D capital raise comes hot on the heels of a time of growth, gains, and expansion for the company. Last month, the firm was recognized as a Visionary for a second year in the 2022 Gartner Magic Quadrant for Distributed Files Systems and Object Storage.
In September, it closed a record third quarter that exceeded its entire FY21, achieving:
255% net dollar retention (NDR) while maintaining a zero-churn business
250% attainment against its 3Q financial plan
635% total contract value (TCV) growth
232% annualized run rate (ARR) growth
43% of 3Q customer transactions were deployed in the cloud
Significant expansion into the AsiaPac region and beyond
"The volume and diversity of investors joining WEKA's series D round are impressive for a reason. The need to unleash the potential of next-generation workloads has never been greater," said Jonathan Martin, president. "WEKA is winning the trust of leading global enterprises and research organizations because our platform can solve their data challenges without trade-offs and be an impact accelerator for their creativity and vision."
"As a long-time believer in the transformational power of AI and the associated evolution from storage to data pipelines, I am excited to be investing in WEKA. The reason is simple: any data science or AI application powered by GPUs can run 10-100x faster, more sustainably, and more cost effectively with the WEKA Data Platform. I wish I could divulge the identity of their largest customer, but in lieu, I will say that WEKA is helping to power one of the largest – and fastest-growing – production AI deployments in the world today. It is super impressive," said Gavin Baker, managing partner and chief investment officer, Atreides Management, LP.
"We believe WEKA is uniquely positioned to support a significant transformation in the market for data intensive applications using machine learning and AI. The WEKA platform delivers unparalleled computing performance while reducing energy consumption and facilitating innovation in several critical categories, including autonomous driving, essential healthcare applications, and more. Lumir is proud to support Liran, Amit, Omri, Maor, and the rest of the WEKA team on its journey. It's rare to see a team lead a paradigm shift with such humility," said Alex Dikman, managing partner, Lumir Ventures.
"WEKA helps HPE customers build agile and scalable solutions across a variety of use cases, including AI, high performance computing, and life sciences. We're thrilled to participate in WEKA's series D funding as the company looks to grow its operations and team and continue to deliver innovative solutions to customers," said Paul Glaser, VP and head, Hewlett Packard Pathfinder.
Comments
WEKA chose its moment, the first day of the full expo at SC22 here in Denver, CO, to announce officially the news and it was the right moment.
The total amount raised so far is $293.9 million in 7 rounds for a valuation that doubles since the last round.
Funding rounds:
2014 - $10 million A-round
2016 - $10 million B-round
2019 - $32 million C-round
2019 - $2.2 million C-round
2018 - $31.7 million C-round
2022 - $73 million C-round
2022 - $135 million D-round
As the company, founded in 2014, is not a unicorn yet, we know the range of that valuation and it's a very good number. The investors are worth a look with HPE, still naked in file storage (also in object), Hitachi Ventures, Hitachi Vantara being a key partner for WEKA, Micron Ventures, Nvidia and Samsung among others. In the current economic climate this is just masterful.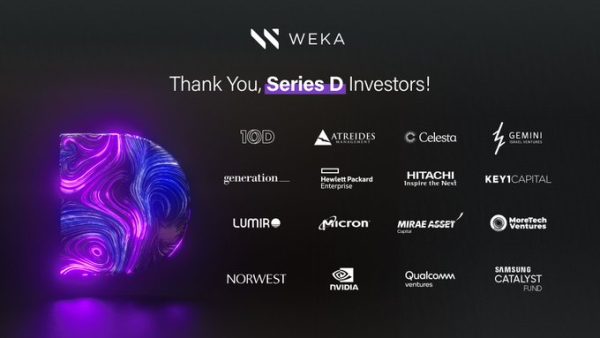 Other VC rounds but before crisis were MinIO with $103 million, Pavilion Data $45 million and WEKA again with $73 million in January, Lightbits Labs $42 million or HYCU with $53 million in June, Pliops $100 million in August and Wasabi with $250 million in September, among others.
Some people who watch this space for a few years have detected the gem as many market observers claim, it's all about execution. This can be applied to sales, product… and more globally to the company. And the WEKA's trajectory has something special we should say unique in that high performance file storage space and to be more precise in the HPC storage segment.
Some people may argue that WEKA is just a new parallel file system, bla bla bla… It's true and at the same time what and how they do it invite partners to resell it, users to adopt it and analysts to comment on it. The start-up already replaces some established Lustre installations, is chosen instead of Lustre or other parallel file system flavors. But it's more than that as they develop a data platform - ok we have others on the market as well - to support new demanding workloads in HPC, AI and ML world and deliver high performance numbers. No doubt the product is fast but it is rich as well. Leveraging a parallel file system with some unique architecture choice, this was possible because of containers, flash and NVMe.
One of the success of the vendor resides in the democratization of parallel file system, historically reserved for research centers universities or other specific scientific projects. The company has made a special effort to modernize this image and develop a "commercial" identity to be identified by enterprises. And it is true, enterprises have more and more AI and ML projects. Being modern and positioning the product for enterprises also requires some extra feature and functions, the team understood that and have developed and integrated some new interfaces like NFS, SMB and S3. The announcement made last June with WEKA 4 was a clear step in this direction, running anywhere, on-premises or on any cloud. And for such type of product, it represents a certain achievement.
The last IO500 numbers unveiled here at the show speak for themselves. In the top 100, WEKA is in 6 positions 26, 34, 53, 77, 85 and 91 in a list dominated by Intel DAOS and Lustre from DDN essentially.
And with Vast Data, the other gem in the high-end scalable fast file storage segment, the market has now 2 clear leaders, coming from Israel, driving innovation in that domain. These 2 players are again good examples of the U3 - Universal, Unified and Ubiquitous - model and it will be interesting to see the battle against them in the coming months but also again incumbents and "classic" players.