SC22: Atempo Showcases Miria V.4.0 All-in-One Data Management Platform
For moving, protecting, and archiving data on all HPC storage and processes
This is a Press Release edited by StorageNewsletter.com on November 16, 2022 at 2:01 pm
At Supercomputing 2022, Atempo SAS will showcase Miria 4.0, the latest release of its all-in-one data management platform for moving, protecting, and archiving data on all HPC storage and processes.
Click to enlarge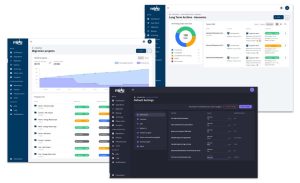 Members of the company's team will be onsite at the show exhibits from November 14-17 and will include senior product and sales management.
Miria 4.0 adds on-demand archiving and data movement accessible to scientists and non-IT resources via its intuitive web UI. It also adds support for the backup of Weka storage platform.
"In the last two years, we have been doing continuous improvements to Miria's interfaces which are now fully web-based and available for all modules, including core data movement engine to boost parallelization, to add support for more storages," explained Louis Laszlo, VP, product management. "We now offer Fastscan for Lustre and GPFS. We also now have support for Weka, Rocky Linux, AlmaLinux and Oracle Linux. We like to describe this 2022 version of Miria as the perfect petabyte scale data management platform where, we have an all-in-one solution, connecting any storage and any workflow with sizeable strength and unmatched scalability."
Modern HPC is no longer about performing complex calculations at high speeds repeatedly in successive cycles. Climate change has provoked not only awareness but a deep need to change habits; why compute the same data over and over again when archiving has a much lower energy impact ? Also, AI and ML are leveraged for a variety of purposes across the industry as well as academic research. Miria 4.0 is positioned to address the evolving need to deliver more data-centric services to the HPC community.

Miria's 5 pillar services include data mobility, archive, backup, migration and analytics:
Data mobility – fast and reliable data movement between HPC storage local or on remote sites.

Archiving – accessible from a simple web interface, simple drag-and-drop for the HPC user.

Backup – protecting data by delivering automatic and systematic backups of work and home storage to tape media or cloud storage.

Migration – migrate petabyte scale data sets between storage versions or types.

Analytics – scan and discover data on all file storage, enabling to optimize storage.
All 5 data management services can be pre-defined and activated via the web interface, via an API or even simply used without specific knowledge by a user dragging data from the Miria web user interface.
"Industry and academic research are adding more machine learning and AI to their compute cluster and need to adapt their storages and processes," stated Atempo Ferhat Kaddour, VP, sales and alliances, Atempo. "Using Miria, with its 5 pillars, or data services integrated into a single platform, any HPC team can take full control of their data and automate data movement at levels of scalability, interoperability, and security, simply not available on other systems. We are excited to be back at Supercomputing, in person and look forward to showing Miria to customers in person."
The Miria platform is also enriched with multiple security features such as external authentication providers, support for advanced password policies, native encryption of communications and data transfers, as well as built-in integrity checks of migrations tasks that guarantee compliance.
All the above technical features and capabilities are activated from the platform web user interfaces that enable any team, association, or other content owner to control their data and automate its data movements with ease and security.