Simplify Hybrid Cloud Backup and Recovery for HPE Alletra 5000
Learn how can meet every SLA with instant restores, rapid recovery, and cost-effective long-term retention in cloud with HPE Backup and Recovery Service.
This is a Press Release edited by StorageNewsletter.com on November 11, 2022 at 2:02 pm

By Parissa Mohamadi, product manager, storage data protection solutions, HPE
Now you can simplify hybrid cloud backup and recovery from a single pane of glass for your Alletra 5000 deployment. Learn how you can meet every SLA with instant restores, rapid recovery, and cost-effective long-term retention in the cloud with HPE Backup and Recovery Service.
Alletra 5000 appliance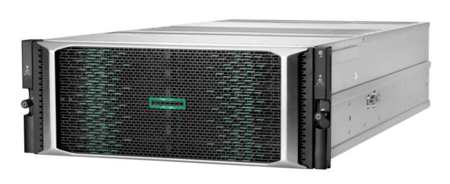 Last month, my colleague Jenna Colleran posted a blog on HPE Alletra 5000: The wait is over for the next generation of hybrid storage. If you haven't read her blog yet, I suggest you take a minute or two to learn about why and how Alletra 5000 enables you to go faster with the cloud experience, put your storage on autopilot, and optimize price performance. And that's only 3 of the 12 reasons why you should choose HPE Alletra 5000 for your general-purpose workloads.
Here, I'd like to take you through the reasons why you should choose Backup and Recovery Service for protecting data that resides on Alletra 5000. Combining next-gen hybrid storage with backup-as-a-service offering gives you the best of 2 worlds. The result? The peace of mind you need to protect your most valuable asset – your data.
Are you among the 50% of organizations who view enhancing data security and protection as the #1 priority? [1] Or do you consider yourself among the 50% who have suffered an unrecoverable data loss? [2] Then we've opened a window into the challenges your IT organization is constantly facing.
While it's true that you make every effort to safeguard your data and keep your mission-critical apps and general-purpose workloads highly available, you still face system downtime caused by outages, power failures and natural disasters. Unfortunately, to make matters worse, cybercriminals are taking advantage of the data growth from edge to cloud, and they attack with malware and ransomware. Where does that leave your IT organization? They're just spread too thin and can't meet your data protection needs with legacy backup solutions.
These legacy data protection solutions are struggling to provide a consistent data protection solution from ransomware to hybrid cloud and also a solution that simplifies backup and recovery operations for protecting data across every SLA.
Winning solution: HPE GreenLake, Alletra, and Backup and Recovery Service
HPE is responding to these challenges with HPE GreenLake edge-to-cloud platform, delivering a multi-cloud data and management experience that provides control and visibility of all your IT assets and data, including data that resides on HPE Alletra.
The GreenLake platform includes the Backup and Recovery Service that delivers every SLA from rapid recovery, plus ransomware protection to long-term data retention either on premises or in the cloud, along with operational simplicity.
Backup and Recovery Service provides the flexibility to retain local snapshots for instant data restores, local on-premises backups for rapid data recovery, and utilize cloud backups for cost-effective, long-term data retention on storage that is managed through an GreenLake Cloud Console portal like Alletra. You can learn how to protect VMs effortlessly, neutralize ransomware, and malware threats in a cost-efficient approach across the hybrid cloud.
Resources:
Short demo video on HPE Backup and Recovery Service.
Read the technical white paper highlighting the superior cloud storage efficiencies of HPE Backup and Recovery Service.
Experience Backup and Recovery Service free for 90 days – and see how easy it is to protect VMware VM across hybrid cloud in a few simple steps.
And always remember to check out the latest news on Alletra that powers your data from edge to cloud with a cloud experience for every workload and the latest HPE data protection portfolio of ion-premises and cloud-based data protection solutions and services.
[1] ESG Market Research of IT Decision Makers, April 2021
[2] Data Protection for Hybrid Cloud, Containers, and Virtual Machines, IDC Infobyte