Recap of OCP Global Summit 2022
CXL pop-uped in many places
By Philippe Nicolas | October 25, 2022 at 2:02 pm
The OCP Global Summit, the global event from the Open Compute Project foundation, happened last week in San Jose, CA at its classic conference venue and last 3 days.

It was the opportunity to measure the progress made by the foundation and its members especially in recent special years and even months. The theme for this annual rendez-vous was Empowering Open essentially covered by optics, CXL (Compute Express Link) and networking via keynotes, sessions, workshops, forum and symposium.
The OCP Foundation mentioned that the OCP ecosystem has represented $18 billion in 2021 with a trajectory to be $36 billion by 2026.
We count 75 sponsors and 64 exhibitors plus a few associations such DMTF, OpenInfra, OpenPower or SNIA. Of course we saw some products from some non exposing vendors on some booths. The organization has expected around 4,000 attendees and the number we got from the OCP CMO is 3,506 physically present not counting online presence.
This annual conference shows this impact of OCP and developments efforts with updated specs and examples for Open Rack, OCP NIC, Open OAI System Liquid Cooling among others with also the regional presence, events and key contributions.
We saw people from all over the world.
Transversely, sustainability was implicitly everywhere and we noticed the presence of Shell, the famous oil and gas company, and some liquid cooling samples.
The OCP Foundation has added Sustainability as a 5th Tenet and a top-level project.
CXL was a hot topic, no doubt about this, and a dedicated forum was organized the 3rd day and we met several vendors exposing CXL 1.1 and 2.0 implementations and demonstrations on various booths.
Among them, ASRock Rack, Astera Labs, FADU, Kioxia, Marvell, QCT, Samsung, SK hynix, Smart Modular, Wiwynn, all spoke about CXL in various flavors being contributors or adopters in the CXL Consortium meaning.
This CXL industry with memory expansion (CXL 1.x) and pooling (CXL 2.0) reminds us what some vendors like ScaleMP tried to do in the past especially around hybrid memory or even before with NUMA approach with Convex, Data General, Digital, Sequent or Silicon Graphics.
Some of us remember what the latter has brought to the market with its Distributed Shared Memory model in the mid 90's with Power Challenge XL machines connected with HIPPI interconnect. CXL 2.0 has introduced switching in addition to memory pooling and it is clearly the state of the art and the industry direction. Samsung markets its CXL SSD as a Memory Semantic SSD and the CXL.io, CXL.mem and CXL.cache remember us what the industry did with Persistent Memory a few years ago. This is a big trend in the industry now with many vendors claiming to be the first one in any CXL development.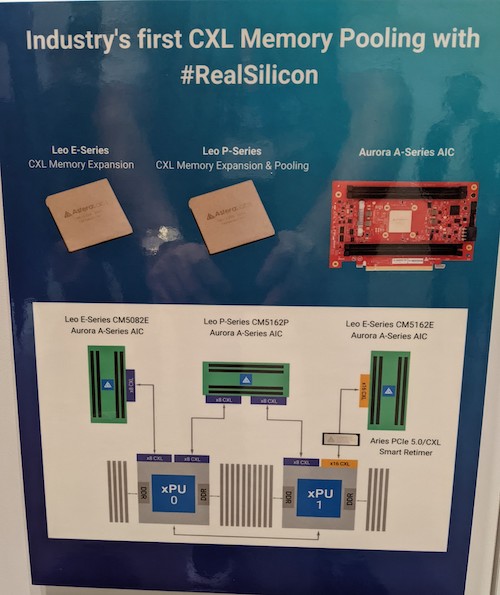 Clearly CXL is a perfect OEM candidate illustrated by the presence of Astera Labs on QCT and Wiwynn booths and XConn Technologies promoted at ASRock one. The US company IntelliProp and Israeli UniFabrix were absent, the latter being for the moment under stealth mode.
In addition to that, obviously PCIe Gen 3 and 4 was almost everywhere, Gen 5 as well, NVMe and SSD with some embedded processing engines were present with ScaleFlux and Samsung, all of these in various form factors.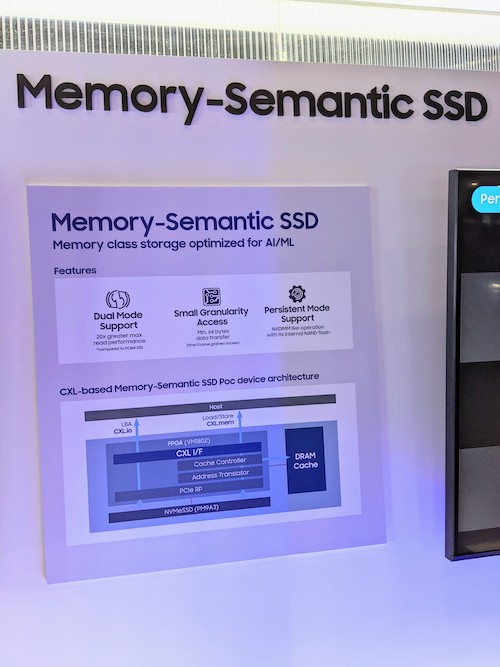 The event was also the moment for announcements.
Among them, we noticed:
AMI with its contribution to open source with its Tektagon OpenEdition.
Credo Technology announced the 1.6Tb OSFP-XD HiWire CLOS Active Electrical Cable.
Pliops introduced XDP-Rocks, its XDP iteration compatible with RocksDB.
IBM showed its brand new dense tape library with 27PB in 8 square feet.
Inspur unveiled 4 OCP certified systems NF5180M6, NF5280A6, NF5280R6, and NF8260M6.
Kioxia announced its XD7P Series, a second gen of OCP Data Center NVMe SSD 2.0 specification, in E1.S for factor for 7.68TB. The company also promotes its software enable flash technology being adopted as a Linux Foundation project. This open source layer allows flash segmentation enabling partitions for better dedicated resources in the coming tsunamii of full flash data centers.
Lubrizol demonstrated its last announced immersion cooling solution Compuzol ICS.
Meta showed Grand Teton, its next ge AI hardware platform at scale equipped of NVIDIA H100 Tensor Core GPUs, a new Grand Canyon storage system and PyTorch, the open source AI framework, is also given to the Linux Foundation and will operate as a PyTorch Foundation.
QCT unveiled its liquid to air cooling solution.
Supermicro announced a 8U 8-GPU rack optimized system, an OCP 3.0 compliant advanced IO module and offer OpenBMC plus Open BIOS software to the Linux Foundation.
In parallel of the OCP Summit, Solidigm launches its client PCIe Gen 4 SSD P44 Pro and of course didn't display the device at the conference.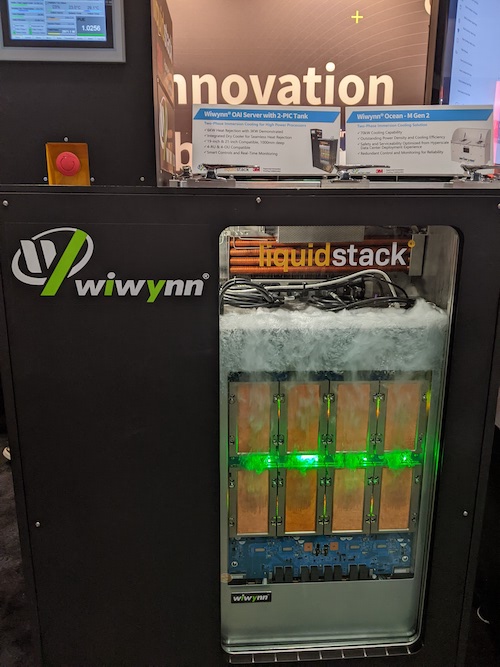 On the funny side, we saw Ampere promoting their processors as cloud native processors, interesting attribute for processors…