WD SanDisk PRO-G40 Thunderbolt 3 and USB 3.2 Gen 2 Up to 2TB Portable SSD
$300 (1TB) and $450 (2TB), up to 2,700MB/s and 1,900MB/s RW speeds
This is a Press Release edited by StorageNewsletter.com on October 11, 2022 at 2:02 pm
Western Digital Corp. expanded its SanDisk Professional line of storage solutions with the PRO-G40 SSD that supports dual-mode compatibility with both Thunderbolt 3 and USB 3.2 Gen 2 interfaces.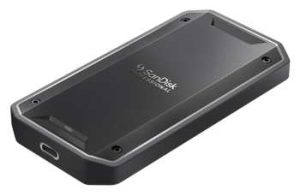 Inspired by the way people create and share data today, this drive is the company's most rugged offering to date with a high-level IP68 rating, allowing professionals to immerse themselves in the action wherever their work or vision takes them.
"The nature of my work is unpredictable and as a result I must be incredibly flexible and versatile. I share the same expectations for every piece of equipment that I use from capture to archive which is why the SanDisk Professional PRO-G40 drive will immediately be a crucial part of my workflow," said Andy Handcock, action, portrait and reportage photographer, and Pro-Team ambassador. "I need storage solutions that are lightweight, compact, rugged, and insanely fast. This checks all the boxes for me. The PRO-G40 SSD can easily withstand the rigors of travel and location work while doing so with a minimal footprint. Thanks to SanDisk Professional products like these, workflow is one less thing I need to stress about which frees me to focus more on the creative. That is paramount."
Whether for a business professional or creative pro, the PRO-G40 SSD is a flexible solution that offers efficiency to get the job done. Professionals who are ingesting, editing, rendering, and transferring large amounts of mission-critical content need portable storage that is enough to eliminate unnecessary downtime, and durable enough to handle heavy usage. The versatility of both Thunderbolt 3 and USB 3.2 Gen 2 interface compatibility when collaborating eliminates the need to have 2 different drives, one for each interface. The PRO-G40 SSD offers speed and durability for real-time editing 4K/8K straight off the drive, smooth AR/VR rendering, or transferring daily workloads in quickly.
"The new PRO-G40 SSD eliminates the problem we have all experienced before: grabbing the wrong USB-C cable or computer for our Thunderbolt 3 or USB devices," said Hector Sandoval, VP product marketing, pricing and programs, WD. "By supporting both interfaces and including a cable that does as well, this drive enables creatives to efficiently collaborate across devices without having to worry about carrying the right gear nor diminishing sustained performance as they continue producing impactful content that powers our world."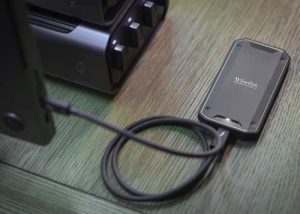 Key features:
Dual-mode compatibility with both Thunderbolt 3 (40Gb/s) and USB 3.2 Gen 2 (10Gb/s) hosts through a single port makes collaboration across devices easier for maximized efficiency.

Offering boasts speeds up to 2,700MB/s (**) read and 1,900MB/s (**) write with a Thunderbolt 3 (40Gb/s) interface. Move 50GB in 30 seconds or less and power through even the most demanding workloads. The cool aluminum core pulls heat away from the internal drive to help maintain fast transfer speeds over time.

The PRO-G40 SSD has a pro-grade enclosure that is ready for any adventure and delivers a premium strength you can feel. Its ultra-rugged design with IP68 dust/water resistance, up to 4,000-pound crush resistance, and up to 3m drop resistance (**) help withstand the elements in just about every location for durability.

The PRO-G40 SSD is available for MSRP $299.99 (1TB*) and $449.99 (2TB*) in USA with a 5-year limited warranty (1). Purchase it from the company digital store or through authorized SanDisk Professional retailers, e-tailers and distributors.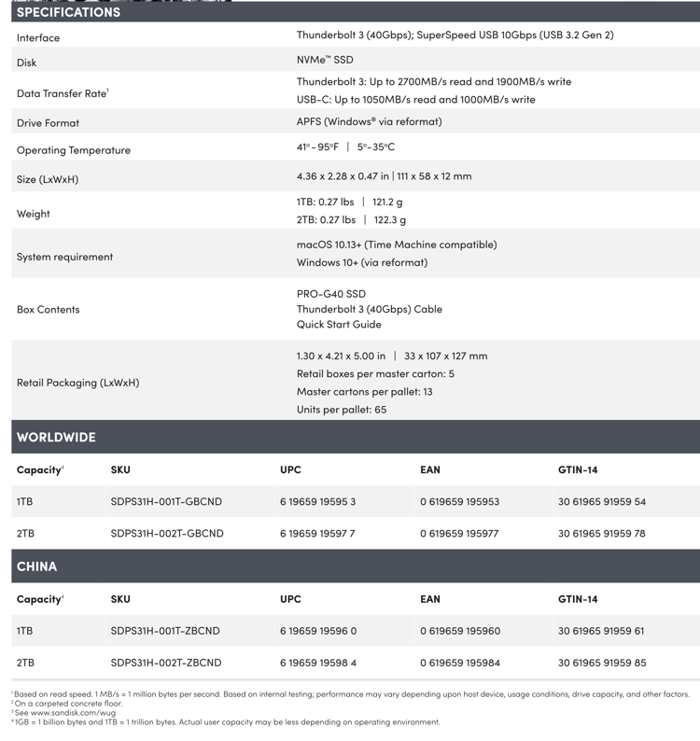 (*) 1TB=1 trillion bytes. Actual user capacity may be less depending on operating environment.
(**) 1MB/s =1 million bytes/s. Based on internal testing; performance may vary depending upon host device, usage conditions, drive capacity, and other factors.
(**)* On a carpeted concrete floor.
(1)  See