Quantum and Atempo Expand Partnership
Combining Quantum media server and secondary storage solutions with Atempo Tina software
This is a Press Release edited by StorageNewsletter.com on September 28, 2022 at 2:02 pm
Quantum Corporation expanded partnership with Atempo SAS.
As part of the expanded partnership, the companies are introducing validated solution bundles that combine Atempo Tina software, a Quantum media server and secondary storage solutions. As part of a new WW reseller agreement Quantum will resell Tina software with an all–inclusive, capacity–based subscription licensing model that is only available through Quantum.
"Resellers and end users are looking for easy–to–use, easy–to–purchase solutions that provide comprehensive data protection," says James Mundle, global channel chief, Quantum. "Providing complete solutions based on Atempo Tina software with Quantum's secondary storage portfolio simplifies procurement, deployment, and ongoing support."
The solution bundles are for organizations looking to enhance their data protection capabilities and lower costs relative to legacy backup architectures.
The new bundles include:
A

n SMB bundle

that combines Tina and a DXi V5000 virtual backup a

ppliance

into a converged media server and disk

–

based backup system

on a single server.

The

system can

scale to

80

TB of usable capacity (before de-dupe) and provides an all

–

in

–

one backup

solution for small to medium

–

sized businesses, departmental us

e, and remote offices.

A

n

enterprise

bundle that combines a

Quantum

media server

and

Tina

with

one or

more

Quantum

backup storage

options

to create multi

–

layered data protection

.

Options

include

DXi backup appliances, ActiveScale object storage,

and

Scalar tape libraries.

B

oth the media

server

and storage infrastructure can be sized to

fit Tina backup environments of any

size.
"Quantum and Atempo have a long–proven track record of deploying joint solutions that successfully enforce cybersecurity resiliency for medium to large international organizations," says Ferhat Kaddour, VP sales and alliances, Atempo. "It was natural to fully converge our offerings into validated solution bundles arming resellers and end users with a complete data protection solution including both backup software and storage. Our common goal is to improve the security posture of end users with efficient, easy to use solutions that are the last defense against threats such as ransomware.'
The solution bundles are configurable, supporting multiple onsite and offsite storage targets to address the growing need for durable, secure, online and offline data copies. These offerings enable backup and recovery, long–term retention, and compliance across virtualized infrastructures, databases, bare metal servers, NAS platforms, and Microsoft 365 environments.
"Tina, as the centerpiece of our backup architecture, and the Quantum DXi, enable us to replicate easily across sites," says Franck Duquennoy, IT and technical manager, Pitié Salpêtrière and St–Antoine Hospitals. "This bundle opens up the opportunity to have a multi–backup solution that allows for the volume growth needed for additional use cases."
The solution bundles are available.
Comments
This announcement confirms the entrance of Quantum into a value chain fueled by software.
Since Jamie Lerner joined the company as CEO more than 4 years ago, its software evolution for the company coupled its hardware with software or releasing new pure software iterations. This is today a reality, Quantum is a software machine having acquired key software assets in the past like RockSoft in 2006 (in fact it was ADIC who acquired RockSoft and ADIC has been acquired by Quantum in 2006 just a few months later), even recently with EnCloudEn, Pivot3, Atavium or CatDV, but also surfing on organic talents.
This reseller agreement between the 2 companies also illustrates the wish to offer an end to end solution, not only a target or subsystem or a device, and finally controls the account without inviting some co-opetition in the place. It marks a new iteration of the partnership between the 2 fims even if both of them work with many other competitive solutions. Quantum supports plenty of backup and archiving software and Atempo supports plenty of secondary storage targets. But the reality is that several hundreds of joint customers exist on the planet who already run Atempo plus Quantum, it could be for Scalar tape libraries, Active Scale object storage or DXi de-dupe appliance. This deal will allow Quantum to increase its footprint on accounts with a comprehensive data protection software.
Quantum offers two bundles, the first one targets SMB, ROBOs and departments with a converged media server and disk-based backup system coupling DXi V5000 based on Pivot3 software and Atempo Tina (Time Navigator), the second one, enterprise oriented, couples a media server in scale-out mode with external targets like DXi, Active Scale or Scalar. The question of the limit of 80TB before de-dupe for the first bundle is questionnable.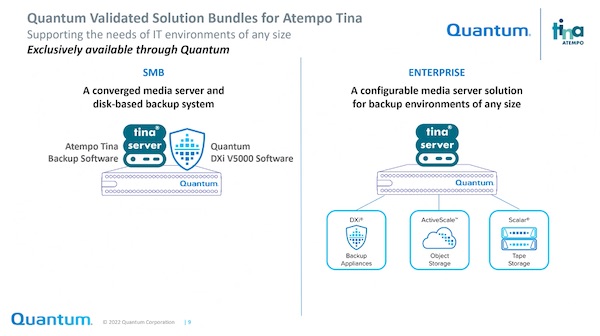 Quantum will resell the final solution integrated and validated by themselves to its own channel worldwide. This is the safest choice for end-users when you compare with the 2 other alternatives: integration by a partner - a reseller, a VAR or a distributor -, or integration at end-users site. The multiplication factor is the largest in this chosen model. The result offered to the market is an all-inclusive licensing model and a simple SKU. The licensing model is capacity based for DXi, Active Scale and Scalar with 25 slots licensed for tape. The support varies from 1 to 5 years in Silver and Gold options.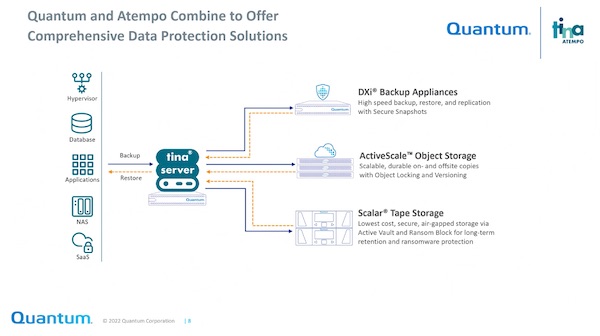 Tina is a comprehensive, well known and adopted data protection software that is developed for 30 years. Of course with many iterations the product of today is very different from the one we saw 1 or 2 decades ago. The French ISV will be deployed potentially in regions, countries or geos not touched in the past but well represented by Quantum. It represents a huge progress and is the result of a massive work on the market with already some famous partnerships with Miria like DDN, Qumulo, Vast Data or Huawei. And again for Tina it is a significant step in a world with modern challenges and needs with SaaS applications to protect, containers and Kubernetes, cloud and edge workloads to secure and still on-premises bare metal and VM-based environments.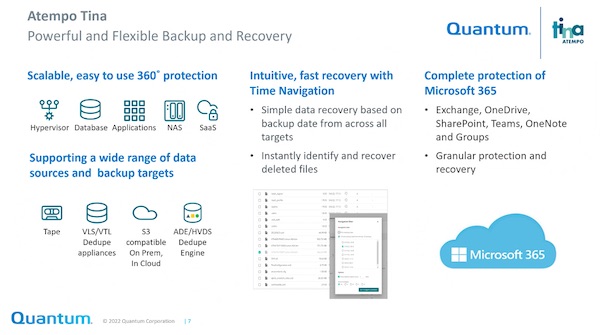 We even anticipate some extensions to this reseller deal with Miria of course for other use cases or configurations. We'll monitor this deal to see its adoption and its evolution plus how the market will react.