SNIA Storage Developer Conference: Kioxia Spotlights Software-Enabled Flash
With keynote address/breakout session, and presentation of engineering samples of software-defined technology and sample hardware based on PCIe and NVMe technology
This is a Press Release edited by StorageNewsletter.com on September 23, 2022 at 2:01 pm
At SNIA's Storage Developer Conference (SDC), Kioxia America, Inc. displayed engineering samples of its new software-defined technology and sample hardware based on PCIe and NVMe technology.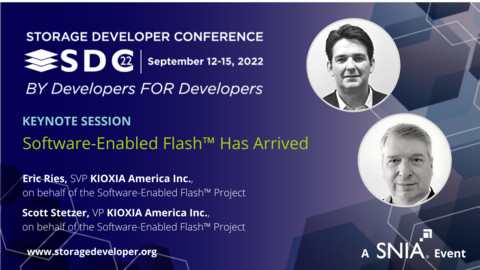 Managed by the Linux Foundation, the Software-Enabled Flash project was launched earlier this year, with the goal to enable software developers to maximize the use of flash media. After years of development and having been previewed at industry conferences such as SDC, OCP Global Summit and Flash Memory Summit, the company has now produced engineering samples of the technology in its labs.
Consists of purpose-built, media-centric flash hardware (called a SEF Unit) focused on hyperscaler requirements, an optimized command set at PCIe- and NVMe-level for communicating with host.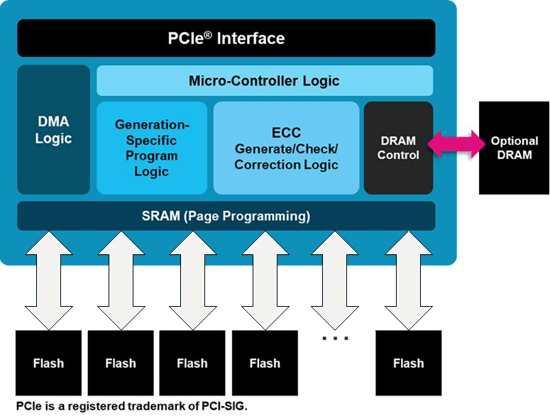 At SDC, the firm highlighted Software-Enabled Flash hardware in an E1.L form factor, as well as demos showing Software-Enabled Flash technology-based data placement control, I/O latency prioritization, copy offload, and multiple protocols running on a single hardware SKU.
Open source, low-level API and an open-source, high-level SDK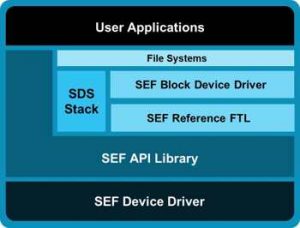 "Software-defined technologies are a crucial building block for cloud and storage developers, and SDC is a great opportunity to get new advances out to the community," said Eric Ries, SVP, memory storage strategy division (MSSD), Kioxia America. "We're excited that Software-Enabled Flash Technology, which makes flash truly software-defined, is becoming ready to put into the hands of these developers and look forward to presenting it at the show." 
Additionally, Ries, along with Scott Stetzer, senior director, memory and storage strategy division, Kioxia America, was giving a keynote address at the conference. Titled, Software-Enabled Flash Has Arrived, this presentation educated the audience on this new open source project, explain Software-Enabled Flash technology in detail, and highlight the progress of the engineering sample drives that are the key to ushering in a new, developer-focused paradigm. The company's keynote address took place on September 13.
Also speaking at SDC is Rory Bolt, senior fellow, memory and storage strategy division, Kioxia America. He  presented a session titled, Building Flash-Aware Applications with the Software-Enabled Flash SDK, on September 12. 
Read also :