4 Models of Qnap QuTS hero TS-hx87XU-RP Series Rackmount 9/18/22/30-Bay NAS with Xeon E-2300 and 10GbE/2.5GbE Multi-Gig Connectivity
With PCIe Gen 4 expansion, up to 128GB (4x32GB) RAM memory, reliable ZFS-based HDD/SSD hybrid storage with server-grade performance
This is a Press Release edited by StorageNewsletter.com on September 23, 2022 at 2:02 pm
Qnap Systems, Inc. launched QuTS hero NAS TS-hx87XU-RP series, available in 9, 18, 22, and 30-bay models.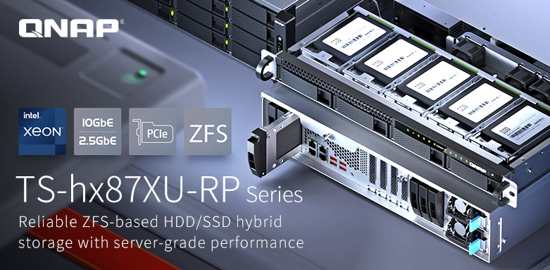 The series integrates the Xeon E-2300 series processors with 10GbE and 2.5GbE Multi-Gig connectivity and a HDD/SSD hybrid storage architecture that balances performance, capacity, and cost. Running the ZFS-based QuTS hero OS, the TS-hx87XU-RP series prioritizes data integrity and provides data reduction, near-limitless snapshots, up to 5PB capacity per shared folder, and more, serving as storage solution that meets business requirements for file servers, virtualization servers, VDI, and backup/restore.

Designed for heavy business workloads, the TS-hx87XU-RP has computing power from the Xeon E processor, along with up to 128GB DDR4 ECC memory to fuel multitasking demands and redundant power supply protection. In-built 10GBASE-T and 2.5GbE network ports fulfill bandwidth-demanding tasks such as virtualization, large file transfers, and real-time applications. Fast PCIe Gen 4 slots are included for extending core NAS functionality, such as adding additional 10/25GbE network interface cards,QM2 cards to add M.2 SSDs and 2.5GbE/10GbE ports FC cards for SAN storage, and storage expansion cards to connect the company's expansion enclosures. The TS-hx87XU-RP series can pair with the firm's managed and unmanaged 10GbE/2.5GbE switches, assisting organizations in implementing high-speed, secure and scalable network environments without going over budget.
TS H3087XU-RP rear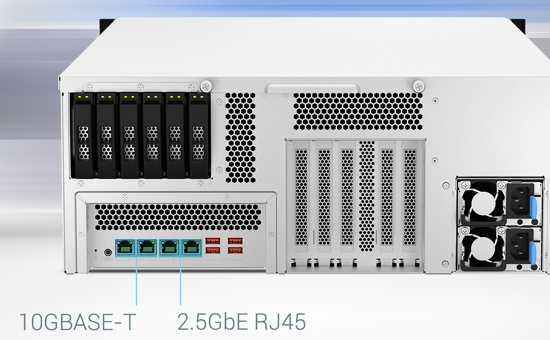 Compared with traditional storage arrays, the TS-hx87XU-RP series with HDD/SSD hybrid storage balances cost, performance, and capacity, while the 9-bay TS-h987XU-RP also supports low-latency U.2 NVMe PCIe Gen 4 x4 SSDs. Users can implement SSD caching to boost IO/s-intensive workloads for accessing vital data.
TS-h987XU-RP front and rear
"With falling SSD prices, using SSDs or hybrid storage in IT infrastructure has been widely embraced. The TS-hx87XU-RP series provides models of various storage capacity for organizations of any size to meet their performance and cost-effectiveness requirements," said Jason Hsu, product manager. "With flexible PCIe Gen 4 expansion, the TS-hx87XU-RP series can be further configured to meet extended mixed-use applications and data transfer needs."
TS-h1887XU-RP front and rear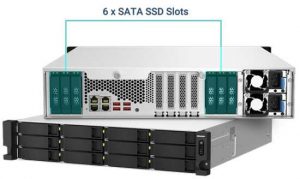 TS-h3087XU-RP front and rear

The ZFS-based TS-hx87XU-RP provides dependable, self-healing storage, advanced data reduction, and real-time SnapSync that ensures both the primary and secondary NAS maintain identical data to reinforce nonstop business operations. The company's QSAL (Qnap SSD Antiwear Leveling) technology helps prevent simultaneous SSD failure and improves data protection and system reliability. The inclusive App Center also provides various install-on-demand apps to further expand the application potential of the NAS, such as hosting VMs and containers, facilitating VMware/Hyper-V VM backup and Google Workspace/Microsoft 365 backup, simplifying local/remote/cloud backups, creating S3-compatible object storage, and more.
Key specs:
Model

Form factor

1U rackmount

2U rackmount

3U rackmount

4U rackmount

Models

TS-h987XU-RP-E2334-16G: Xeon E-2334 quad-core processor (up 4.8GHz), 16GB ECC DDR4 (1x16GB) memory

TS-h1887XU-RP-E2334-16G: Xeon E-2334 quad-core processor (up to 4.8GHz), 16GB ECC DDR4 (1x16GB) memory

TS-h1887XU-RP-E2336-32G: Intel Xeon E-2336 six-core processor (up to 4.8GHz), 32GB ECC DDR4 (2x 16GB) memory

TS-h2287XU-RP-E2336-32G: Xeon E-2336 6-core processor (up to 4.8GHz), 32GB ECC DDR4 (2x16GB) memory

TS-h2287XU-RP-E2378-64G: Intel Xeon E-2378 eight-core processor (up to 4.8GHz), 64GB ECC DDR4 (4x16GB) memory

TS-h3087XU-RP-E2378-64G: Xeon E-2378 8-core processor (up to 4.8GHz), 64GB ECC DDR4 (4x16GB) memory

Maximum memory

128GB (4x32GB)

128GB (4x32GB)

128GB (4x32GB)

128GB (4x32GB)

HDD slots

4×3.5-inch SATA

12×3.5-inch SATA

16×3.5-inch SATA

24×3.5-inch SATA

SSD slots

5×2.5-inch U.2/U.3 NVMe PCIe Gen 4 x4/ SATA

6×2.5-inch SATA

6×2.5-inch SATA

6×2.5-inch SATA

Fast network ports

2x10GBASE-T + 2×2.5GbE RJ45

2x10GBASE-T + 2×2.5GbE RJ45

2x10GBASE-T + 2×2.5GbE RJ45

2x10GBASE-T + 2×2.5GbE RJ45

PCIe Gen 4 slots

1

3

3

3

Power supply units

2x250W

2x550W

2x550W

2x800W

Warranty

3-year standard (extendable up to 5 years)

3-year standard (extendable up to 5 years)

3-year standard warranty (extendable up to 5 years)

3-year standard warranty (Extendable up to 5 years)
Read also :