PCIe 5.0 Arriving and to Invade SSDs
At 63GB/s vs. 32GB/s for PCIe 4.0
By Jean Jacques Maleval | September 20, 2022 at 2:02 pm
Electrical bus PCI Express (or PCIe), which stands for Peripheral Component Interconnect Express, is a standard developed by PCI-SIG for connecting peripheral devices to a motherboard including graphics cards, sound cards, video capture cards, network/WiFi cards, and storage devices. It is the dominant bus for connecting expansion cards and devices (alongside USB, used for externally connected devices). When PCIe is used for storage, the NVMe storage protocol is typically used
I/O bandwidth doubles about every 3 years for this popular interface for SSDs.
PCIe SSD projected market growth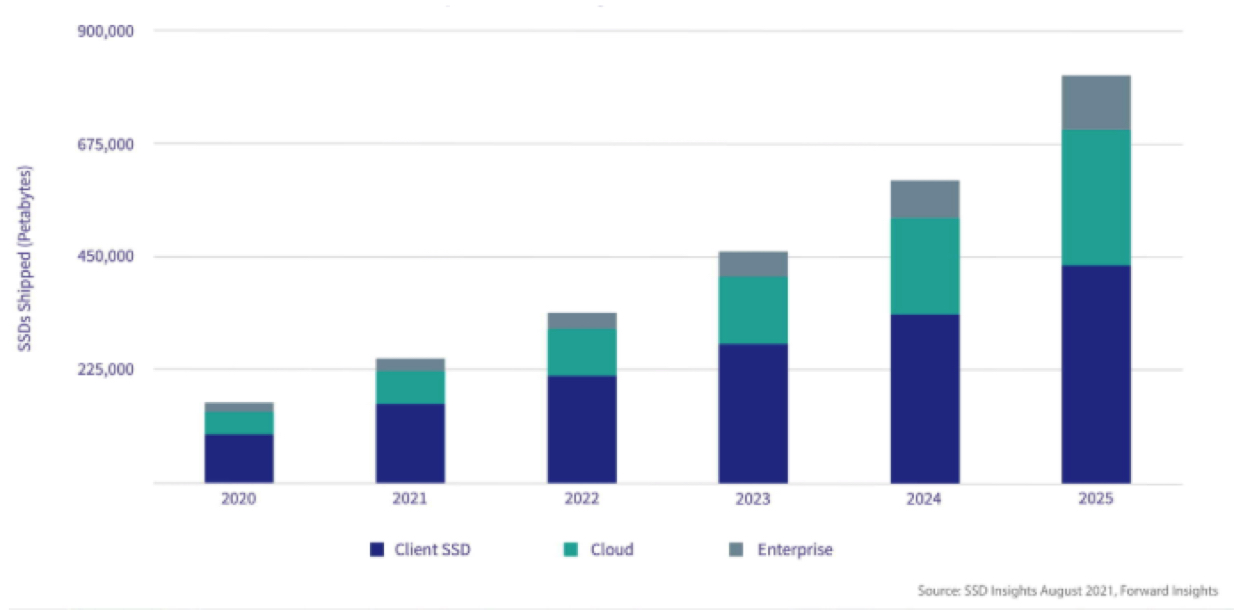 But, on its side, PCIe 5.0 doubles PCIe 4.0 spec bandwidth in less than 2 years.
The preliminary spec of PCIe 5.0 was announced in 2017, but was formally announced in May 2019.
Current graphics cards typically don't consume the total bandwidth of PCIe 3.0 or 4.0, so the upgrade to 5.0, by itself, won't provide a massive boost to graphics performance.
However, upgrading to the latest generate of CPUs can provide a boost from:
Support for the higher speed DDR5 memory
CPUs with more cores and threads, which are better optimized
PCIe 4.0 lanes for M.2 NVMe SSD devices
More M.2 storage device bandwidth for Intel 12th gen CPUs (DMI 4.0 has double the throughput of DMI 3.0)
The key benefit of upgrading to PCIe 5.0 is the increased bandwidth. Each version of PCIe roughly doubles the bandwidth available per lane.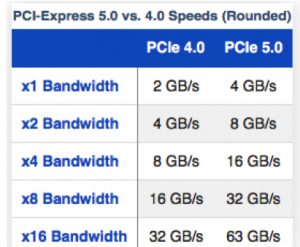 Still in its infancy, PCIe 5.0 will progressively and definitively replace PCIe 4.0 on SSDs, an also M.2 cards.
But the new level of performance includes some heat-related concerns. More speed equals more power, and more heat. This means that the next gen of SSDs will likely require cooling.
"In practical terms, you no longer need 8 channels to saturate the Gen4 and even Gen5 PCIe interface. You can potentially saturate the host interface with 4 NAND channels," said Sebastien Jean, CTO, Phison.
This reduction in NAND channels could result in up to 30% less power draw on the SSD.
PCIe 6.0
This next standard has been finalized and will offer transfer rate up to 256GB/s.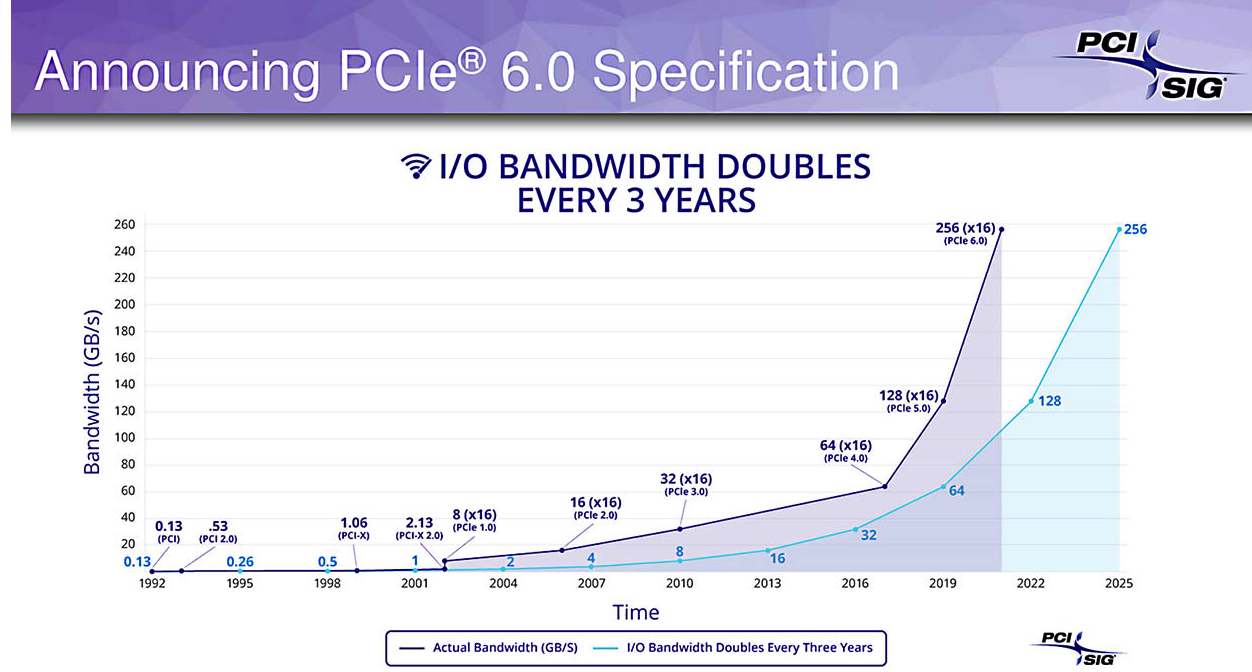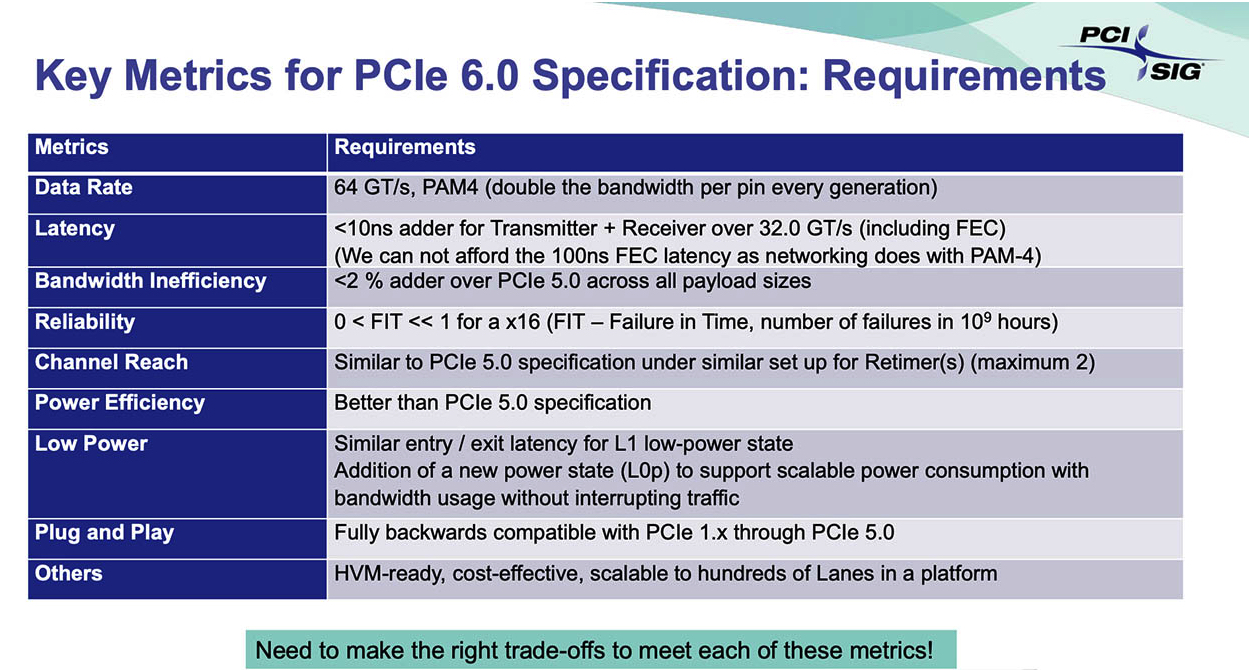 PCIe 6.0 spec features:
• 64GT/s (GigaTransfert/second) raw data rate and up to 256GB/s via x16 configuration
• Pulse Amplitude Modulation with 4 levels (PAM4) signaling, leveraging existing PAM4 already available in the industry
• Lightweight Forward Error Correct (FEC) and Cyclic Redundancy Check (CRC) mitigate the bit error rate increase associated with PAM4 signaling
• Flit (flow control unit) based encoding supports PAM4 modulation and works in conjunction with the FEC and CRC to enable double the bandwidth gain
• Updated Packet layout used in Flit Mode to provide additional functionality and simplify processing
• Maintains backwards compatibility with all previous generations of PCIe technology
Then PCIe 7.0
PCI-SIG technical workgroups will be developing the PCIe 7.0 (supposed to be available in 2025) specs with the following feature goals:
• Delivering 128GT/s raw bit rate and up to 512GB/s bi-directionally via x16 configuration
• Utilizing PAM4 (Pulse Amplitude Modulation with 4 levels) signaling
• Focusing on the channel parameters and reach
• Continuing to deliver the low-latency and high-reliability targets
• Improving power efficiency
• Maintaining backwards compatibility with all previous generations of PCIe technology
He are some of the products already announced and supporting PCIe 5.0 …
PCIe 5.0 currently available on most Intel Z690 chipset motherboards, like those featured on Raptor Z55, AMD confirming its next Ryzen 7000 available later is 2022 will support 5.0 as well
Gigabyte Aorus Gen5 AIC Adaptor with 4 NVMe M.2 slots and PCIe 5.0 support, Aorus Gen5 10000 PCIe 5.0 M.2 2280 up to 4TB SSD with 3D TLC NAND
Team Group T-Force Cardea Series PCIe Gen5 NVMe 2.0 M.2 up to 4TB SSD
Silicon Motion MonTitan PCIe Gen5x4 SSD solution platform
Adata/XPG PCIe 5.0 SSD up to 8TB
Kioxia CD7 Series up to 7.68TB SSDs with E3.S form factor and PCIe 5.0
Kioxia CD8 Series 2.5-inch up to 15.36TB 2nd gen data center NVMe SSDs with PCIe 5.0
Kioxia CM7 Series Enterprise NVMe 2.0 E3.S and 2.5-inch PCIe 5.0 SSDs
Memblaze (demo) Mango next-gen SSD solution based on Marvell Bravera SC5 PCIe 5.0 NVMe
DapuStor Haishen5 PCIe 5.0 E1.S FF enterprise and data center up to 15.36TB SSD
Samsung could be the first manufacturer to distribute in volume SSD NVMe M.2 with PCIe 5.0.
Corsair and Goodram with SSDs based on Phison's E26 controller with PCIe 5.0 x4
Sony's Nextorage demos PCIe 5.0 SSD as it enters SSD market.
… And even PCIe 6.0
Tektronix new PCI Express 6.0 solution to accelerate next gen of high-speed devices