Phison Helps Skycorp to Test SSDs on Lunar Missions
As quest for enhanced space-based computing and storage is extending to lunar missions.
This is a Press Release edited by StorageNewsletter.com on September 19, 2022 at 2:00 pm
Skycorp, Inc. announced plans to send a commercial SSD from Taiwan-based Phison Electronics Corp. to the moon next year as the quest for enhanced space-based computing and storage is extending to lunar missions.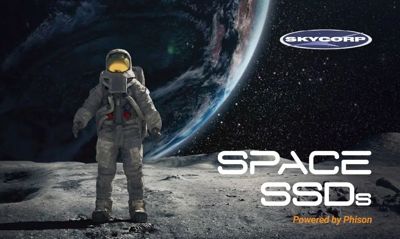 "Space truly is 'the final frontier' and we are proud to partner with Skycorp to deliver SSD innovations that will make space missions possible. Our cutting-edge technology will play a pivotal role in fostering the future of space exploration to the Moon, Mars and beyond. Whether in space or earth, our mission is to provide the world's best-in-class SSDs," said K.S. Pua, Phison CEO.
Ramon.Space, Inc. unveiled plans to provide computing technology for a lander being developed for Israel's Beresheet 2 lunar mission scheduled for 2025.
Like missions in low-Earth and geostationary orbit, deep space missions will require extensive computing capability. Still, companies are reluctant to adopt technology without space heritage.
"We are breaking through that wall," Dennis Wingo, CEO of California-based Skycorp, told SpaceNews at the World Satellite Business Week conference here. "We hope to bring advanced computing and storage technology into the space arena."
Skycorp is currently testing Phison technology on its intelligent Space Systems Interface experiment on the International space station. The SSD Skycorp plans to test on the moon, an upgraded version of the ISS drive, is designed to offer 8TB of storage.
Skycorp plans to send the HDD to the lunar South Pole on LoneStar LLC's data server demonstration slated to fly on an intuitive machines lander as part of the NASA Commercial Lunar Payload Services program.
Israeli companies Ramon.Space and Lulav Space are working together on the navigation system for the Beresheet 2 mission being developed by SpaceIL, another Israeli firm. Beresheet 2, the follow-on to the original Beresheet mission that crash landed on the moon in 2019, includes 2 small landers.
Lulav Space is relying on Ramon.Space's radiation-hardened computer and digital signal processor for the landing sensor's computer-vision system.
"An accurate, robust navigation sensor is critical to support lunar landings," Noam Leiter, Lulav Space CEO. "We are thrilled to have been chosen by SpaceIL for the Beresheet 2 mission. By using Ramon.Space's computing platform, we can develop our advanced algorithms easily, rapidly, and reliably to ensure the most accurate and detailed information and support this historic mission."
Wingo, who also founded Skycorp, has been interested in improving space-based computing and storage for decades. He began testing spinning HDD drives on NASA Space Shuttle flights in the 1990s, including a 1GB HDD in 1992.
Lonestar announced plans in April to deploy a miniature PoC data center on the moon.
"Advanced compute is moving into space," Wingo said. "The test of the Phison HDD helps get that ball rolling."