Sports Broadcaster Kanal 75 in Sweden Chose Vast Data
As backend to real-time video for live productions
This is a Press Release edited by StorageNewsletter.com on September 6, 2022 at 2:00 pm
Vast Data Ltd announced that Sweden's Kanal 75 AB has chosen its  Universal Storage architecture as the backend to real-time video for its live productions.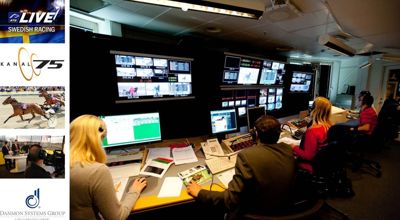 One of the largest multimedia companies in the Nordic region, Kanal 75 produces TV, Internet and news content focused on horse racing and the betting culture surrounding it. It produces more than 100 hours of TV each week and delivers more than 1,000 live productions each year for viewers in Europe, Australia, South Africa, and the US. Kanal 75's renown grew exponentially during the Covid-19 pandemic as viewers across the world embraced horse racing at a time when almost all other sporting events had been canceled due to global social distancing efforts.
Kanal 75 turned to Vast when growing interest in its content highlighted shortcomings in production infrastructure that were caused by a legacy storage solution they had previously deployed.
"Our previous production storage simply couldn't keep up with new demands," said Stefan Hammerlund, CTO, Kanal 75. "Our storage was tiered, which made video capture, editing and broadcast unpredictable and caused a number of production problems due to fluctuating storage latency issues."
These latency issues impacted Kanal 75's ability to broadcast live video, forcing Hammerlund and his team to add buffers to account for the delayed output.
"For every second worth of buffers we had to add, our broadcast schedule became less and less 'live'," he recalls.
Kanal 75 chose Universal Storage architecture to overcome these challenges and prime itself to cater to a new and growing live audience.
"After a lengthy evaluation period in which we looked into alternative tiered storage and very expensive all-flash solutions from others, we were impressed by the simplicity and cost efficiency of Vast's solution, coupled with the capability of the support team," added Hammerlund. "In contrast to our previous setup, Vast's solution has allowed us to provide consistently-predictable broadcast performance and is delivering additional savings in the form of data reduction by efficient de-dupe on our video assets."
When asked about its overall experience with Vast so far: "It's performed extremely well. No tuning whatsoever. No latency issues. It's helped us overcome the limitations of our previous solution, but its benefits don't stop there," he added.
Previously, Kanal 75 had more than 7 different SAN and NAS systems supporting its production environment, and is working to reduce that to one. From a technical standpoint, Vast has reduced Kanal 75's storage complexity and has brought about reductions in the usual costs associated with storage management and development.
Before experiencing Vast's 'simplicity at scale', Kanal 75, like most media companies, had to manage huge amounts of data without dedicated storage administrators. The out of the box software tools for capacity planning and performance management-combined with Vast's customer success Co-Pilot program-allowed Kanal 75 to focus on creating and broadcasting great content without the pressures of managing storage at scale.
"Latency issues are simply not tolerable in a real-time environment like Kanal 75's, lest it loses its 'real-time' live aspect and the interest of its audience," commented Peter Gadd, VP, international, Vast Data. "Kanal 75's dedication to its viewers and the production standards it holds itself to are admirable. We are thrilled that our Universal Storage can help them produce and broadcast buffer-free, real-time racing events with ease."
Read also :