SP Industrial: BiSC5 Flash Cards for Surveillance Edge and Professional Cinema Storage
Including up to 512GB SDT3R0 microSD and up to 2TB Cinema EX and Cinema EX Plus CFexpress 2.0 Type B cards with 112-layer 3D TLC NAND
This is a Press Release edited by StorageNewsletter.com on August 26, 2022 at 2:03 pm
SP Industrial (Silicon Power Computer & Communications Inc. ) announced BiSC5 flash cards for surveillance edge and professional cinema storage.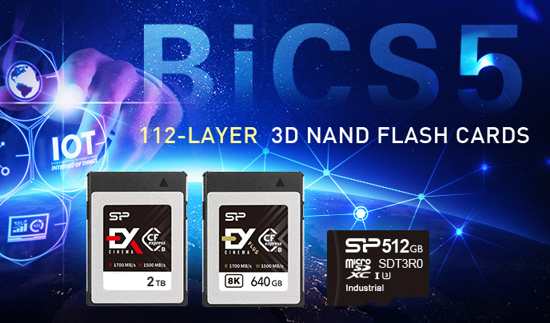 Leap forward with BiSC5 technology
BiCS5 is the latest version of 3D TLC NAND technology, featuring 112 layers in a single NAND flash chip. The higher storage density is achieved by more layers of memory cells vertically stacked and more cells horizontally placed on a chip. It is the answer to the growing demands for higher capacities, faster speeds, and greater volume processing. Compared to its predecessors, BiSC4 and BiSC3, BiSC5 delivers capacity, performance, and reliability – all at a compelling cost.
The company leverages this 5th gen of 3D TLC NAND technology in its industrial-grade flash card storage products to provide advanced, market-competitive performance. SDT3R0 series microSD card, Cinema EX CFexpress card, and Cinema EX Plus CFexpress card are solutions that take advantage of BiSC5.
SDT3R0 microSD Series for surveillance edge storage
The SDT3R0 microSD series features 112-layer 3D TLC NAND technology to gain large storage capacities up to 512GB. It was designed to handle 24/7 continuous video recording and high endurance without any frame drops. It also includes our SMART software to monitor the health and functionality of the card. This series is for surveillance edge devices such as security cameras, action cameras, and drones. Utilization of BiSC5 delivers reliable and performance coupled with plenty of storage space to capture a ton of footage.
Professional cinema storage: Cinema EX / Cinema EX Plus
The company offer 2 CFexpress 2.0 Type B cards featuring 112-layer 3D TLC NAND technology, the Cinema EX and Cinema EX Plus. These cards boast up to 2TB of storage capacity and were designed to support the professional photographers and videographers who require long, uninterrupted shooting sessions. With some of fast write speeds around (up to 1,500MB/s), they ensure that no frames will be dropped for smooth playback in 4K or 8K UHD video quality and are for uncompressed continuous RAW shooting of fast-moving action.
The firm's line of 112-layer 3D TLC NAND flash cards harnesses the power of BiSC5 technology to deliver performance to surveillance edge devices and professional cinema storage devices. These industrial-grade solutions allow businesses and professionals to enjoy larger capacities, greater speeds, and lower latencies at a competitive cost.