IBM FlashSystem and SVC Models with Additional Ethernet Connectivity
Using 100GbE HBAs
This is a Press Release edited by StorageNewsletter.com on August 5, 2022 at 2:02 pm
IBM FlashSystem and IBM SAN Volume Controller (SVC) models offer additional Ethernet connectivity options
SVC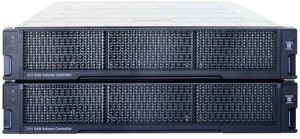 IBM FlashSystem and SVC models offer RJ45 adapters to use with 10/25GbE HBAs and multifiber push-on (MPO) connectors to use with 100GbE HBAs.
An additional SAN24B-6 switch option is also introduced for FlashSystem 9500R, replacing the existing b-type switch with an equivalent 32GB model supported by IBM Storage Expert Care.
Key requirements
For a list of supported environments, devices, and configurations, go to the IBM System Storage Interoperation Center.
Planned availability date: July 26, 2022