Sanjay Poonen President and CEO and President, Cohesity
Formerly COO of VMware and president of SAP, replacing Mohit Aron
This is a Press Release edited by StorageNewsletter.com on August 4, 2022 at 2:00 pm
Cohesity, Inc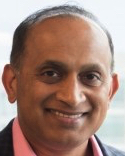 . appointed Sanjay Poonen as CEO and President.
He will also join the board of directors. He was formerly COO of VMware and president of SAP.
Mohit Aron, who has been CEO since founding the company in 2013, will accelerate Cohesity's product innovation and roadmap as founder and CTO and product officer. He will continue to lead the company's R&D, support and services, as well as the office of the CTO. He will remain on the board.
"Cohesity sits at the intersection of three of the highest priority business issues today – cyber security, cloud, and data management – and is poised to become a major powerhouse with industry analyst firms naming the company a leader and one of the fastest growing in its category," said Poonen "In my due diligence with customers, I've found that Cohesity has the best technology in its category and protects data for many of the biggest brands in the Fortune 500. Above all, Mohit has built an incredible team across the organization that is committed to driving innovation while putting customers first. I look forward to leading this talented organization and driving even further success in strong partnership with Mohit and all Cohesians."
In his most recent role as COO of VMware, Poonen oversaw sales, marketing, services, and alliances and played a key role in doubling revenues from approximately $6 billion to $12 billion. He also played a vital role in architecting multiple successful cloud partnerships, including AWS, Microsoft, Google, and Oracle. He led the company's security and end-user computing businesses, including the acquisition of AirWatch and Carbon Black. Prior to VMware, he served as president of SAP where he led applications, industries, and platform teams, serving in engineering and sales roles that helped double SAP revenues from approximately $10 billion to $20 billion.
"As we scale, it is important to me to have a tighter focus on where I spend my time to have the greatest impact. I approached the board with the goal of finding a seasoned and proven executive that I could partner with to achieve our ambitious goals. I'm excited to work with Sanjay as we continue to grow and disrupt the $25B data management market," said Aron. "I'll continue to work closely with our customers and partners to further drive Cohesity's technology and product leadership forward as we combat ransomware, eliminate data fragmentation, and simplify data management in the hybrid and multicloud world."
"Sanjay is ideally suited to be the next CEO of Cohesity. He is one of the software industry's most successful and respected executives, has an incredible track record of driving growth and operational excellence, is passionate about customers and partners, strongly believes in company culture, and is focused on delivering best-in-class innovation," said Gaurav Garg, chairman of the board and founding partner of Wing Ventures. 
"Mohit helped lead the development of the Google file system, co-founded the industry's premier hyperconverged infrastructure company, and at Cohesity, created the leader in next-gen data management. With Sanjay and Mohit, along with the rest of the seasoned leadership team, Cohesity will continue to drive innovation and solve our customer's most critical data management and security challenges for years to come," he added.
Comments
This is a significant news as we all have expected an IPO since the company has made a confidential S1 filling in December 2021 but finally it's a CEO swap.
It happened right before Gartner published its annual Magic Quadrant on Enterprise Backup and Recovery Software Solutions with 6 leaders: Cohesity, Commvault, Dell Technologies, Rubrik, Veeam and Veritas Technologies with IBM as challengers and HYCU as visionary.
This key management change arrived following several management dances with various sales leaders who stayed not very long probably exposed to a usual business pressure. It seems that the company has reached a form of asymptote, is it a true feeling but clearly there is a limiting factor somewhere. We'll see if Poonen will be able to pass this virtual barrier and expand sales to finally bring the company into a new dimension.
Founded in June 2013 with today approximately 2,100 employees, the company has raised $661 million in 6 rounds with investors such Sequoia Capital, Wing Ventures, Qualcomm Ventures, Accel, GV, Cisco, Morgan Stanley, HPE or SoftBank among others. Cohesity belongs to the storage unicorn.
Launched as a next gen data protection (NGP) vendor delivering new way to protect and manage data as scale, wherever they reside, on-premises or in the cloud, the company plays in a dynamic landscape with other NGPs like Rubrik, HYCU, Clumio or OwnBackup to name a few. We have to add the momentum with other vendors solving their gap with acquisition or partner integration, this is especially true with the Kubernetes tsunami.
The company is recognized for several technologies they developed like their distributed file system and products iteration such Helios, SmartFiles or FortKnox. The team introduced a dual approach being a data protection software but also a secondary storage platform. Does Poonen and Aron have now the plan to move a bit towards primary storage and embrace all data from creation to long term preservation? We'll see.
We also noticed that the chairman is not or no longer a company founder as the role is occupied by Gaurav Garg, a founding partner of Wing. Daniel Warmemhoven who joined the board of directors in 2015 is no longer listed. Cohesity even mentioned in the announcement that Aron stays at the board. Was his board seat a question?
Moving as CTO, Cohesity has 2 CTOs now on his leadership page, the one who was CTO before this recent shift since September 2020, Apurv Gupta, and now Mohit Aron who also takes the CPO role. This kind of move is pretty common, changing from CTO for many new CEOs being the right person to start and take-off the company with all ideas in mind but struggle to expand, develop and reach a new dimension.
In the company announcement, Cohesity didn't mention Poonen's Veritas Software experience, probably a miss, as it was the only true data management experience he got especially still from the obvious leader in the market category. Poonen didn't forget that point in his own blog but as we write this article his LinkedIn doesn't yet reflect this new position. His move represents for him a natural next step after so many years in top positions at various companies and Cohesity is probably a good choice being a pre-IPO company. He also probably has been affected by the CEO choice made at VMware after several years as COO, then he took some time off.
At the same time, the real ambition of Aron is a bit impacted especially in a gentle race with his founder friends of Nutanix and ThoughtSpot.
Will Cohesity finally do its IPO or be acquired? What is sure is the valuation at IPO or the current one represents a significant amount even in a growing and strong market. Who is ready to pay $5 billion or more even for a gem?
We'll also check if the go-to-maket will change, same remark for the management layer of the company and I won't be surprised to see a few to ingest some new blood...