Quanta Cloud Technology Selects Samsung PM1743 PCIe Gen5 SSDs for QuantaGrid Servers Powered by 4th Gen Xeon Scalable Processors
QuantaGrid D54X-1U and D54Q-2U with 32 DDR5 DIMM slots and support for Optane persistent memory
This is a Press Release edited by StorageNewsletter.com on August 4, 2022 at 2:02 pm
Quanta Cloud Technology (QCT) announced the validation of Samsung Electronics' PM1743 PCIe Gen5 SSDs in their all-flash NVMe servers powered by 4th Gen Xeon Scalable processors.
Mike Yang (left), SVP and GM, QCT, and Yongcheol Bae (right), EVP, Samsung Electronics,
announce collaboration to pioneer PCIe Gen5 SSD systems.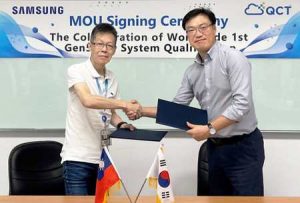 4th Gen Xeon Scalable processors will deliver substantial compute performance across traditional data center usages with purpose-built workload optimizations for today's edge to cloud models. These technology updates in the company's growing line of QuantaGrid servers add additional performance for Samsung's high-bandwidth flash storage due to the 4th Gen Xeon Scalable processors support of standard technologies such as DDR5, Intel Optane persistent memory, and PCIe Gen5. Furthermore, these solutions provide flexibility for modern data center needs ranging from low latency applications to data processing, and HCI.
PM1743 PCIe Gen5 SSDs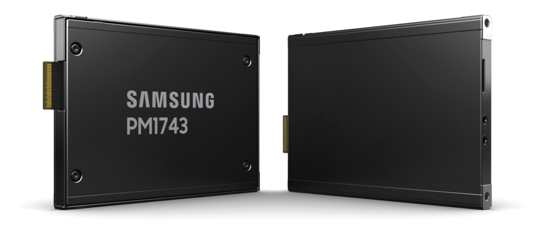 To accommodate the increasing performance requirements of data centers, PCIe Gen5 doubles IO/s/watt and throughput compared to the previous generation. PM1743 SSD for enterprise servers integrates the PCIe Gen5 interface with Samsung's 6th-gen V-NAND to deliver 30% enhanced power efficiency than the previous gen, resulting in lower server operating costs and increasing scalability for virtualized environments like HCI and SDS.
QuantaGrid D54X-1U

With the evolution of data centers to the  growth of data and proliferation of applications that demand performance, the company's upcoming QuantaGrid series offer flexibility for scaling out with Samsung's storage innovation. The QuantaGrid D54X-1U and D54Q-2U are designed for dual 4th Gen Xeon Scalable processors with 32 DDR5 DIMM slots and support for Optane persistent memory, which provides affordable memory capacity expansion and support for data persistence. The 2 servers mainly differ in storage capacity and number of expansion slots that will be further revealed with the release of 4th Gen Xeon Scalable processors.
QuantaGrid D54Q-2U

"QCT worked closely with Samsung to test and be among the first to validate Samsung's PM1743 PCIe Gen5 SSDs on our Intel powered systems," said Mike Yang, president, QCT. "Together with Samsung, and Intel, our technology leadership will continue to drive new applications as we accelerate the growth of the server market and deliver unparalleled performance advantages for IOPS-intensive applications."
"Samsung has been working closely with QCT and Intel to show PCIe Gen5 PM1743 SSDs provide optimized performance for all-flash NVMe workloads in their QuantaGrid 1U and 2U systems," said Yongcheol Bae, EVP, memory application engineering team, Samsung Electronics. "Collectively, with the introduction of our PCIe Gen5 SSD, Intel's 4th Gen Xeon Scalable processors, and QCT's QuantaGrid server line we will further solidify our technological leadership in the enterprise server market."
"Our goal is to deliver industry leadership to accelerate data center performance and user experiences with our upcoming 4th Gen Intel Xeon Scalable processors," said Zane Ball, corporate VP and GM, data platforms engineering and architecture, Intel Corp. "The collaboration with QCT and Samsung signifies Intel's commitment to providing our customers with a multitude of ways to enhance their applications with high-speed NVMe SSDs that enable deployments from edge to cloud."