Synology Adds Direct-to-Cloud Data Protection Solution C2 Backup
For macOS and Microsoft OneDrive
This is a Press Release edited by StorageNewsletter.com on July 19, 2022 at 2:01 pm
Synology, Inc. announced its direct-to-cloud data protection solution, C2 Backup, which supports macOS and Microsoft OneDrive as the company continues to unlock cloud protection for more backup sources.

It also announced the Synology Cloud Engage 2022 virtual user event to be premiered on July 14, 2022.
Protect all data on Mac devices
C2 Backup, part of the firm's C2 cloud ecosystem, provides protection and restoration for an unlimited number of desktops and laptops through full-device backups of Windows and Mac systems.
Leveraging native snapshot capabilities found in macOS, it makes reliable and consistent backup copies to ensure complete protection of employee devices, including applications and system configurations. Thanks to Time Machine integration, it tracks any changes, achieving backup efficiency without dragging system performance.
Support for macOS' built-in Migration Assistant tool, available later in the year, will allow users to restore all their information to the same system or another Mac device.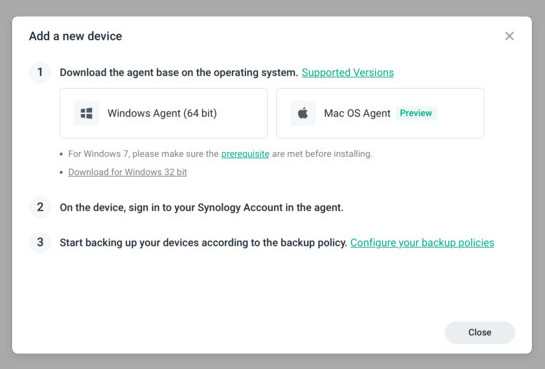 Back up Microsoft OneDrive for Business
C2 Backup has also added the capability to back up data stored on Microsoft OneDrive for Business. Businesses that use Microsoft 365 for cloud storage can protect data including employee accounts, Microsoft 365 Exchange mail data, and files in OneDrive with scheduled daily backups and file-level restoration.
C2 Backup for Microsoft 365 uses incremental backup technology that uploads only changed data blocks after the initial backup, both saving time and reducing the storage capacity used.
Click to enlarge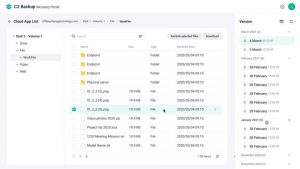 Availability:
Mac and Microsoft 365 backup support is available for all new and existing C2 Backup users.
C2's virtual user event premiered on July 14, 2022
The first annual user event of the company's C2 cloud, the Synology Cloud Engage 2022, was introducing C2's features and solutions covering personal data protection, endpoint and service protection, as well as the infrastructure of data. Premiered on July 14, the event offered multiple sessions and languages for an audience across the globe and went into more details on features and services. More details about different sessions and register.
Personal data protection
The growth of interconnectivity suggests that there will be an increasing number of devices and connections in every household. The implication suggests there will be more data to be generated, more websites and apps will be accessed, and more devices and nodes to be safeguarded. Therefore, each household ought to predicate personal data protection on the likes of password managers and personal backup solutions.
In the event, individuals learned how to leverage C2 Password to protect their login information and other sensitive information, establish a strong credential management practice, and enjoy a seamless online experience. In addition, the audience was also learning the essence of C2 Backup for Individuals which teaches individuals how to back up their devices and cloud services, as well as perform full device or single file restoration, through the C2 Backup portal.
Endpoint and service protection
The modern workplace often struggles with credential management for employees due to the lack of support for multiple device types and a variety of cloud services from the legacy directory services. C2 Identity ensures that the users of Windows or Mac devices, SSO of Microsoft 365, Google Workspace, as well as other SaaS applications, can be centrally managed across the entire organization.
Other than credential management, organizations' data loss is often attributed to human error, hardware failure, or malicious attack. In hindsight, C2 Backup for Business can help organizations centrally back up Windows PC and servers, Mac devices, and Microsoft 365 Exchange mails and OneDrive, while performing bare-metal or file-level recovery.
In addition, for files and documents to be exchanged more securely externally, C2 Transfer's. End-to-end encryption and user identity authentication let you transfer files securely. C2 Transfer's content protection features allow the organization to protect uploaded content with links that expire, download limits, and watermarks.
Infrastructure for storage
As business data continues to grow, to address how to manage data within and outside of the organization, C2 Storage's Hybrid Share and C2 Object Storage will help businesses elevate their IT infrastructure for business storage.
For companies that deploy the firm's NAS across multiple branches for cross-office file syncing, Hybrid Share connects Synology C2 to on-premises NAS to deliver a hybrid enterprise file syncing and sharing infrastructure that is easy to manage for IT administrators.
In contrast, for organizations who possess IT resources to develop archive, backup, or service solutions, or wish to establish storage back-end for externally generated data from manufacturing, IoT devices, or applications, C2 Object Storage provides them a simple and scalable solution [1] that is compatible with Amazon S3 API, and costs lower than other alternatives in the market.
Trusted cloud and security
C2's server-side and client-side encryption through user-generated private keys ensures users' data will be shielded against unauthorized access. The company also follows procedures preferred by industry leaders to design an estimated 'eleven nines' (99.999999999%) of data durability to help users to prevent data loss and unforeseen corruption. In addition, with data centers established in the US, Germany, and Taiwan, users can store their data in the preferred data center to meet compliance requirements.
Resources:
FAQ at Synology C2 Support Center    
Video: Synology C2 Backup
Read also :