Micron Shipping 176-Layer NAND SATA M.2 and 2.5-Inch Up to 3.84TB 5400 Series SSD
Up to 540MB/s and 520MB/s RW
This is a Press Release edited by StorageNewsletter.com on July 4, 2022 at 2:02 pm
Micron Technology, Inc. is shipping the first 176-layer NAND SATA SSD designed for data center workloads.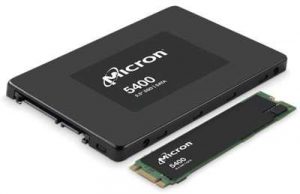 The 400 SATA SSD is the most advanced data center SATA SSD available. Built on a proven 11th gen SATA architecture, it enables broad use cases, delivers better performance than traditional HDDs, and extends the life of SATA platforms.
"Micron is uniquely positioned to lead the SATA market with 176-layer NAND," said Alvaro Toledo, VP and GM, data center storage. "This cutting-edge NAND enables long-term availability of SATA SSDs while extending a trusted architecture that speeds and simplifies customer qualifications."

Advanced SATA SSD
The 5400 is
a
nt advanced data center SATA SSD, thanks to
the company
's
176-layer NAND
,
which offers performance while supporting product availability for years to come. Featuring a broad portfolio of deployment options, it allows data center operators to install new servers or upgrade existing servers while continuing to use the SATA interface. Customers can continue to get more from their SATA servers with performance to saturate typical network bandwidth.
(1)
Built on
p
roven
a
rchitecture
The 5400 SSD features an established, stable SATA architecture trusted by all major server OEMs.
The company
has shipped nearly 20 million units built on the SATA architecture, which continues to be widely used in data centers. The SSD provides a
n
alternative to lower capacity 10K and 7.200rpm SATA HDDs. Customers can qualify the drive with ease and confidence, knowing their critical infrastructure will be supported by a leading provider of SATA SSDs.
"Enterprise SATA customers' SSD demand is expected to remain strong through at least 2026, when I project it will still be over 26EB," said Greg Wong, principal analyst, Forward Insights. "This announcement reinforces Micron and its OEM partners' commitment to support this critical segment for years to come."
Reliability and
e
ndurance

Users of the 5400 SSD can benefit from reduced downtime, more usable life per drive, and fewer failures than other leading SATA SSDs, thanks to its performance, reliability and endurance advantages. Its reliability is 50% better than competing SSDs. It also boasts 50% more data sheet endurance than other leading SATA SSDs in the market. That endurance allows customers to extend the life of their servers, improving the RoI and decreasing the TCO of their SATA SSD-based platforms. The 5400 SSD delivers mixed-use write performance to enable customers to get the most out of the endurance.
"
Reliable IT solutions are crucial for every business," said Senthil Reddy, executive director and GM, servers for infrastructure solutions group, Lenovo, Inc. "Lenovo's optimized servers leverage the proven architecture of Micron's advanced SATA SSD to help organizations enable next-generation applications on broadly-deployed infrastructure."

The 5400 SSD is backed by 5-year warranty and is
shipping to customers and partners
.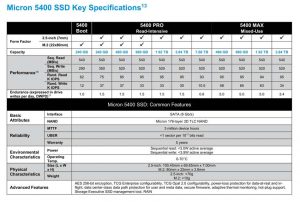 Read also :